Program encourages graduate student research and publication

  Friday, March 15, 2019
  Research
By -
RIO GRANDE VALLEY, TEXAS – The UTRGV Graduate College hosted its first Presidential Graduate Research Assistantship (PGRA) reception March 7 in the University Ballroom on the Edinburg Campus, to honor recipients and their mentors and give participants updates on the program.
Under the PGRA program – established in fall 2018 by Dr. Parwinder Grewal, executive vice president for Research, Graduate Studies and New Program Development – 50 new, full-time graduate students received the assistantship. In the first year of the program, awardees receive a $12,000 stipend, as well as a $6,890 scholarship, to help support their commitment to their research, which is expected to result in a thesis and peer-review publication.
Those who maintain eligibility will again be awarded the scholarship in their second year, as well as a teaching assistantship in place of the research stipend. Working with students as a teaching assistant provides valuable experience for a future career in higher education.
Grewal welcomed the group and congratulated them on the dedication that earned them this scholarship.
"Students, this is something special that you have earned," he said. "We expect that you will make something of it, conduct research, and publish a paper or two out of the work."
Publishing a peer-reviewed paper based on that research will take them much farther than finishing a thesis alone, he said.
"I understand that not every piece of research is publishable – some experiments don't work out as expected – but you have to take that next step and make every effort to publish it," he said. "But being published in research journals helps toward gaining admission to the Ph.D. program of your choice. That will make a difference in your life."
Dr. Grewal informed the group that this fellowship is a major investment the university is making, both for the students as individuals and for UTRGV as a whole. He explained that in addition to opening doors for the PGRA recipients themselves, the PGRA program also benefits undergraduate students, as they relate well to and learn quickly from the master's students who will be serving as their teaching assistants. Additionally, the PGRA program will increase the productivity of URGV's research departments, as these master's students are provided additional support to be successful in carrying out and publishing research.
Dr. Grewal also thanked their faculty mentors, program coordinators, deans and associate deans for their support of the students. "As a professor in Ohio State, I mentored 25 students, so I know it takes a lot of your time – especially when they're finishing, you are working harder than the student to see them finish," he said. "So, I thank you for all that work! Please continue to give your time to these students."
For Ana Prado, a PGRA recipient, the PGRA means she can dedicate time to research that she's passionate about. Prado is pursuing her master's in clinical psychology in the College of Liberal Arts. Her research is going to focus on the mental health of caregivers, specifically in the Hispanic population. "A lot of them do suffer from depression, anxiety, stress – it impacts the individual with the illness and the rest of the family, too," she said. "It's fascinating research that can impact our community and everyday living for people all over the world. I'm really thankful for this opportunity," she said.  
 
Grewal said PGRA recipients are expected to register for a zero-credit research experience course in the summer, so they can make progress on their research without the distraction of classes. While the PGRA scholarship does not cover summer courses, UTRGV does pay their stipends throughout the summer – and expects they will honor their commitment to their research, as well.
"We will anticipate a report at the end of the summer," he said.
The PGRA program is taking applications and will award new fellowships for the fall 2019 semester.
The graduate college has eliminated application fees for all programs except professional programs, as well as the $200 transcript evaluation fee, and now has rolling admissions deadlines.
FOR MORE INFORMATION: Contact Ana Giron Rubio, Accountant II, UTRGV Graduate College, at Ana.GironRubio@UTRGV.edu, (956) 665-2550.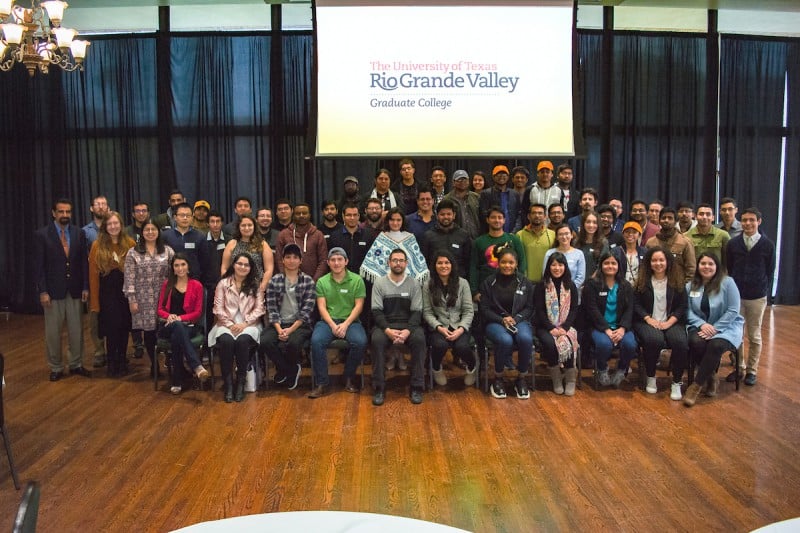 ABOUT UTRGV
The University of Texas Rio Grande Valley (UTRGV) was created by the Texas Legislature in 2013 as the first major public university of the 21st century in Texas. This transformative initiative provided the opportunity to expand educational opportunities in the Rio Grande Valley, including a new School of Medicine, and made it possible for residents of the region to benefit from the Permanent University Fund – a public endowment contributing support to the University of Texas System and other institutions.
UTRGV has campuses and off-campus research and teaching sites throughout the Rio Grande Valley including in Boca Chica Beach, Brownsville (formerly The University of Texas at Brownsville campus), Edinburg (formerly The University of Texas-Pan American campus), Harlingen, McAllen, Port Isabel, Rio Grande City, and South Padre Island. UTRGV, a comprehensive academic institution, enrolled its first class in the fall of 2015, and the School of Medicine welcomed its first class in the summer of 2016.