Friday, December 7, 2018
  Community
By Amanda Alaniz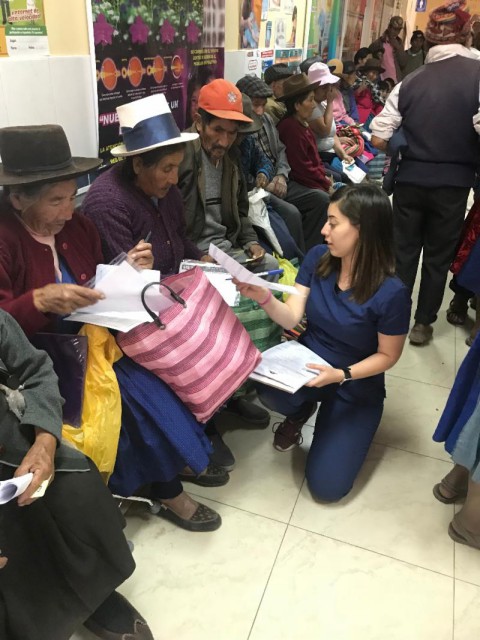 RIO GRANDE VALLEY, TEXAS – Visiting the dentist or making a doctor's appointment are simple errands that we, in the United States, are able to schedule to keep our health on track. In Peru, however, that is not the case as a group of UTRGV students and faculty discovered back in May.
Twenty-two UTRGV students and two faculty members traveled to Peru, during spring 2018, to assist communities that continuously face difficulties gaining easy access to healthcare in the South American country.
The group, part of the UTRGV Medical Brigade, a student organization, journeyed to Cusco, Peru, led by Dr. Hugo Rodriguez, clinical associate professor, Department of Health and Biomedical Sciences, and Dr. Saraswathy Nair, associate professor, Department of Health and Biomedical Sciences chair, to provide adults and children with medical and dental care.
The UTRGV Medical Brigade, comprised of biomedical sciences majors, all sharing the ambition to go into the medical field and help people, primarily focuses on providing healthcare to under-resourced areas. 
Rodriguez explained the team stayed in Peru for about two weeks and traveled to surrounding rural communities to visit patients and provide medical care. 
"We divided the students into five different stations, which were pharmacy; shadowing doctors and dentists; triage; dental and hygiene; and patient education about serious diseases and nutrition," Rodriguez said. 
Each day the students were divided into two sessions – one in the morning and the other in the afternoon to help in the various stations.
"Some of the kids go with the idea they give a lot, but we received more than what we gave," he said.
Life-changing Experience
Rodriguez said the students were able to apply the knowledge they learned in their classes to real-life scenarios. They also witnessed firsthand the lack of medical resources. 
McAllen native Odalyss Romero, who is studying to become a pediatric or family medicine doctor, said the brigade experience helped her appreciate more of the resources that are readily available in the United States. 
"Some patients lived up in the mountains and they had to walk two hours to see a health professional. Transportation was a big obstacle," the biomedical sciences major and junior said.
Romero said the hardships she saw, and listened to, solidified her choice of going into the medical field. 
"It motivated me even more. I got to experience and help other people," she said, "And, I would like to help in my own hometown, help the people in the Valley. If I can help them (in Peru), I can help us too."
Biomedical sciences major and sophomore Adriana Cavazos said she knew she was going to help people when she first signed up for the brigade. The overall experience for her was impactful; she didn't realize certain areas, like those she visited in Peru, struggled to gain access to medical care.
"Here in the U.S., you have so many resources at hand. Over there, you have very limited resources," the Brownsville native said. "We tried to go over there with the most we could offer them. But even at that, it fell short in my opinion. There was so much we wanted to do, but we couldn't do, sadly."
Cavazos called traveling to Peru "eye-opening," seeing firsthand the problems people faced when it came to seeing a health professional. She said some people had to travel miles to visit a hospital with no guarantee of treatment.
The trip also influenced her to give back to her community and continue her path into the medical field.
"I've advocated it many times when people ask me – go out and do something like this. This is important, and this is what can change the world," she said. "Take the first step – do something in your town, do something in your community, and make a positive change."
To learn more about the Medical Brigade, contact Dr. Hugo Rodriguez at hugo.rodriguez@utrgv.edu.
ABOUT UTRGV
The University of Texas Rio Grande Valley (UTRGV) was created by the Texas Legislature in 2013 as the first major public university of the 21st century in Texas. This transformative initiative provided the opportunity to expand educational opportunities in the Rio Grande Valley, including a new School of Medicine, and made it possible for residents of the region to benefit from the Permanent University Fund – a public endowment contributing support to the University of Texas System and other institutions.
UTRGV has campuses and off-campus research and teaching sites throughout the Rio Grande Valley including in Boca Chica Beach, Brownsville (formerly The University of Texas at Brownsville campus), Edinburg (formerly The University of Texas-Pan American campus), Harlingen, McAllen, Port Isabel, Rio Grande City, and South Padre Island. UTRGV, a comprehensive academic institution, enrolled its first class in the fall of 2015, and the School of Medicine welcomed its first class in the summer of 2016.