Welcome from Director of Mexican American Studies Academic Program
Welcome/Bienvenid@s to the MAS academic program!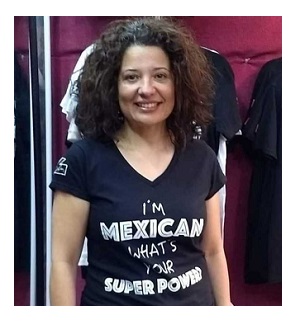 I'm Dr. Cinthya Saavedra, the MAS Academic Program Director since 2017. I was born in Managua, Nicaragua and moved to Brownsville, Texas with my family in the early 80s. My formative years were in Tejas moving around to different cities with my familia—Uvalde, Corpus Christi, Austin, Dallas and now here in the RGV. My experiencias as an immigrant-- fleeing a war-torn country and second language learner-- drew me to the study of Latinx and Mexican American students and communities. In particular, I study the experiences of immigrant, Latinx, and emergent bilinguals in and out of schools. I examine how Latinx communities use their epistemologies or ways of knowing to navigate and transform systems of oppression. These navigations and transformations produce rich knowledges and skills that can help us see the strength, resilience and wisdom of Latinx, Mexican American, and other communities of color.
Feel free to contact me (cinthya.saavedra@utrgv.edu) to discuss how the Mexican American Studies program is a versatile degree that can lead to many career opportunities but most importantly how it is a catalyst for changing our society. Join us in the lucha!
For more information on MAS undergraduate major and minor, contact our undergraduate coordinator: Dr. Maritza De La Trinidad (maritza.delatrinidad@utrgv.edu).
 For more information on the graduate program and certificate, contact our graduate coordinator, Dr. Christopher Carmona (christopher.carmona@utrgv.edu).