MAIS — Mexican American Studies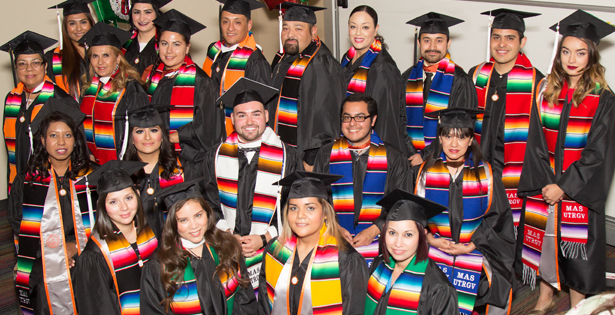 Masters of Arts in Interdisciplinary Studies in Mexican American Studies
The MAIS in MAS provides master's students with a concentrated study in the transdisciplinary field of Mexican American Studies, including Chicana/o and Latina/o studies. Our location as a border institution in South Texas and the available resources (such as our numerous, established faculty in the fields of Mexican American studies and Chicana/o studies, and other academic resources, such as our growing Mexican American Studies program, and other institutional resources, such as the border studies archive) makes this an exciting program for UTRGV students. Many careers today in South Texas and nationally – including those in Education, Health, Social Services, Communication, Law, Humanities, among others – require students to have a specialized knowledge of the Mexican American community and experiences, due to regional and national demographic trends. The MAS concentration in MAIS will strengthen your competitiveness in the job market in various fields. The MAIS in MAS, as evidenced by our Graduate Certificate student placement in PhD programs, will lead to continued and increased student placement in PhD programs in various fields, including in Chicana/o Studies, English, American Studies, Spanish, Education, among other programs, both state-wide and nationally. Ultimately, the interdisciplinary nature and culturally relevant curriculum of the MAIS in MAS, offers exciting, rich, and unique opportunities for UTRGV students and faculty engaged in research, experiential learning, and community engagement, related to Latina/o communities in South Texas and nationally.
MAIS- MAS Primary Area of Concentration (Non-Thesis Option) Total 36 hours
Research Methods in Mexican American Studies (3 hrs) Mexican American and/or Latina/o Studies Coursework (15 hours) 9 hours in Discipline Two 9 hours in Discipline Three
MAIS-MAS Primary Area of Concentration (Thesis Option) Total 36 hours
Research Methods in Mexican American Studies (3 hrs) Thesis Hours (6 hrs) Mexican American and/or Latina/o Studies Coursework (9 hrs) 9 hours in Discipline Two 9 hours in Discipline Three
MAIS in MAS Courses
MASC 6300 Research Methods in Chicana/o Studies
Introduction to the historical and contemporary development of Chicana/o and Latina/o studies as a field. Readings will be drawn from interdisciplinary readings in the field and will focus on history, gender, and culture.
MASC 6315 Chicana/Latina Feminist Epistemologies
Students will examine the methodological landscapes offered in Chicana feminist repistemologies. Focus will be on the contributions of Chicana/Latina researchers that offer anticolonial conversations, critical ethnography, theories and methods of the flesh, critical reflexivity, testimonios, and autohistoria teoría. Students will explore how methodologies are extensions of epistemology and ontology and thus central to the way researchers embody and perform research.
MASC 6320 Chican@/Latin@ Schooling
This course is an analysis of Chicanx/@ & Latinx/@ educational experiences. This course is concerned with how Chicanx/@ & Latinx/@ educational experiences reflect coloniality and how educators have and can create transformative experiences for Chicanx/@s and Latinx/@s.
MASC 6324 Crimmigrations and the Militarization of the U.S.-Mexican Border
This course will examine the movement of relations among people of minoritized status on the border through a perspective of cultural relevance and place. In particular we will examine the movement from the Military-Industrial Complex, to the Criminal-Industrial Complex, to the Immigration-Industrialization Complex, through the systematic process of militarization of the US Mexico border since the Treaty of Guadalupe Hidalgo. We will take a more in depth look at the implementation of law and policies and the creation of public sentiment, due to the rhetoric of war, imposed on issues of justice and the further depth of work moving from justice to injustice in areas of immigration policies and the subsequent criminalization of the status of immigration rather than actions of individuals. Justice, security, immigration, culture and education will be examined in our exploration of this phenomenon.
MASC 6330 Critical, Liberation, and Indigenous/Chicano Psychologies
This course will focus on the review of critical theories that stimulated the rise of European and North American critical psychologies and Latin American liberation psychology, for example, Marxism, feminism, poststructuralism and postcolonialism. These approaches led to arguments within psychology aiming to correct for mainstream scientific psychology's individualism, sexism, essentialism, reductionism, and ideological collusion with the status quo. After reviewing these critiques, the seminar will address implications for rethinking psychosocial practices in the human services and community development.
MASC 6335 Chicanx/Latinx Language and Identity
Students will examine the language experience of Chicanxs and Latinxs in the U.S. The course will focus on identity and power in the U.S. and specifically the borderlands locally and globally. Students will analyze the experiences and knowledges (or ways of knowing) of Chicanxs and Latinxs associated with the language/linguistic repertoire of communities who use translanguaging and or hybrid forms of communication in their everyday practices.

MASC 6340 Critical Race Theories
This course is a survey of the Critical Race Theories that encompass the Black, Latinx, Indigenous, Asian, and Middle Eastern experiences dealing with racism and racialization. Although this course will primarily focus on the United States, we will be reading texts and utilizing theories that have worldwide implications. In this course, the students will learn the various theories and concepts that will build an understanding of how race has been constructed since its creation in the Enlightenment and how it is integrated throughout the media (movies, TV shows, music, comedy, and the news) and into our daily lives today.
MASC 6345 Latin@ Critical Decolonial Theory
This course aims to understand what decolonial theory is in the context of Latin@ and Latin American Studies, what some of the prominent theories are, and how can we use those theories to unpack or expose inequalities, understand how Latin@s and Latin Americans have fought/fight against colonial forces & ideologies and, examine our own positionality in respect to the complex colonial relationships at play. Therefore, this course is as much about theory as it is about power, decolonial thought and social justice. We look at a wide variety of texts that may date back to the 16th century to the present time. The primary aim of the course is not just to learn and critique theory, but apply theory so that we are able to critique culture or "the real world" in an attempt to unpack "the everyday" with the ultimate objective of decolonization as proposed by the theorists to be studied.
MASC 6350 Learning and Reflective Service: The Mexican American Experience
This course will provide students with an experiential learning opportunity in a topic related to social justice in Mexican American communities. Students will gain hands on experience while reflecting on that experience critically through the lenses of Chicana/o and Latina/o studies. The purpose is different from an internship in that the process is geared towards developing a lifelong ethic of service and civic engagement and is not necessarily career or job oriented. (May be repeated once)
MASC 6355 Gloria Anzaldúa
The purpose of this course is to engage in readings, discussions and deeper investigation of the transformative and decolonizing work of Gloria Anzaldúa. Anzaldúa is undeniably the most influential figure in Chicana/Latina feminism. Her work has had far reaching implications not only for Chicana/Latina feminist theory and borderlands studies, but also for women's, queer, and postcolonial studies. This course will focus on the Anzaldúa's major theoretical concepts as lenses to embody and use as a way to analyze, rethink, and reimagine the world within oneself and the outer world.

MASC 6392.90L Introduction to Ethnic Studies: Shared Histories, Shared Stories                                 The course uses interdisciplinary and comparative approaches to study race from many angles, which means the classes draw on and integrate work in history, literature, sociology, gender studies, cultural studies, among other disciplines, in order to develop holistic understandings of the lives of people of indigenous, white, black, Latino, Asian, and Arab heritage. There are also critical analytical tools necessary for engaging in public discourses around race and identity outside of the classroom. 
MAS Pedagogies
This course takes a nuanced look at Mexican American Studies pedagogies that create academic spaces where students feel comfortable engaging in critical stimulating intellectual conversations aimed at reaching a deeper understanding of their own lives and world. Mexican American Studies pedagogies are simultaneously innovative, culturally responsive and transformative that challenge traditional pedagogies within academic institutions in which Mexican American students have historically been considered as deficient and often told that their success in these spaces require that they shed much of their culture, language, identity and history. Students will consider the evolution of Mexican American Studies pedagogy spanning from the origins of Mexican American Studies to current discussions and approaches. This course also studies how Mexican American pedagogies are ingrained within U.S. Mexican American history and culture along with the implementation challenges within traditional higher education frameworks. Students will consider how Mexican American Studies pedagogies can be used to reclaim and retell the Mexican American experience and struggle in the U.S.
MASC 7300 Thesis Course A (Thesis Option Only)* 3 Credit Hours
MASC 7301 Thesis Course B (Thesis Option Only)* 3 Credit Hours
For additional information please contact the MAS Graduate Coordinator, Dr. Christopher Carmona at christopher.carmona@utrgv.edu or mas@utrgv.edu