Resources
Hardware
About the UTRGV High Performance Cluster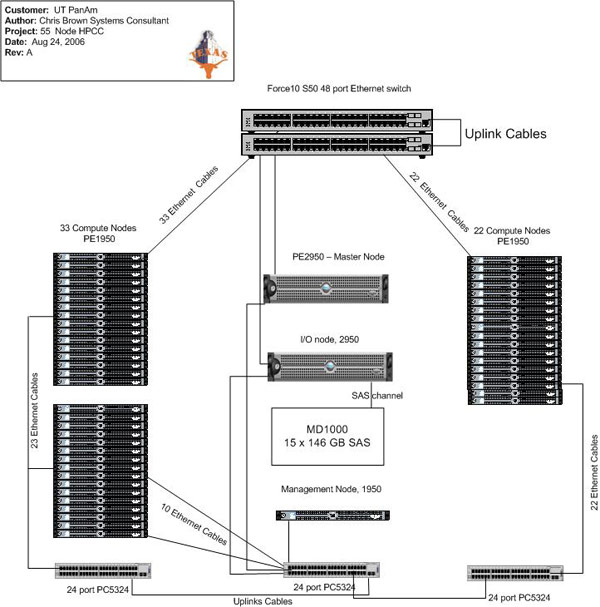 The UTRGV High Performance Computer consists 55 compute nodes, one management node and a storage node.
All of these nodes use 2 Dual Core Xeon 2.33GHz processors each node also has 4GB of Main Memory. Communication between the nodes is accomplished through Gigabit Ethernet. High Performance Computing Resources can be monitored at http://bambi.utpa.edu.
Networking and Cluster node connectivity is provided by TCP/IP over switched Gigabit Ethernet. Hard drive space of over 2 TB and Linux ext3 filesystems allow for applications support, simulation scratch space and temporary storage of datasets.
Software Requests
Request to install software on the High Performance Computing Center can be made via the Software Request Form.
Tutorials
Software
Application Software installed on the UTRGV High Performance Cluster
Gaussian

Definition: Gaussian is a high-performance computational chemistry software package.
Example with script:

To compute the energy of a methyl-cyanide molecule with a medium basis set (6-31g*) using the Hartree-Fock self-consistent field method, copy the files:

mecn.inp
g03run

to a new directory. Run the job by typing the command

qsub g03run

This will submit a job to the workq queue. The file mecn.inp is the Gaussian input script and the job will generate several output files. The main output information is stored in the mecn.out file.

Note within the g03run script, that Gaussian requires definition of the GAUSS_SCRDIR environment variable. On Bambi, PBS defines TMPDIR for each job and removes the definition when the job completes. GAUSS_SCRDIR can also be pointed to a specific location on the /tmp partition (which will not be deleted when the job completes) but should never be directed to the /home partition.

MatLab

a high-level technical computing language and interactive environment for algorithm development, data visualization, data analysis, and numerical computation.
Example with script:
Local Reference:

Mathematica

Widely known as a "computer algebra system", Mathematica is a program used for scientific, engineering and mathematics calculations.
Example with script:
Local Reference:

NAMD

Definition:NAMD is a high-performance molecular dynamics software package from the Theoretical Biophysics group at UIUC.
Example with script:

To simulate an ATP molecule in a box of water molecules, copy the files

atp_03.psf
atp_03.pdb
atp_04.inp
namdrun
par_all27_prot_na.inp
par_atp.inp

to a directory. Run the job by typing

qsub namdrun

This will submit a job to the workq queue. The file atp_04.inp is the NAMD input script and the job will generate several output files. The main trajectory information is stored in the atp_04.dcd file. The results can be viewed with VMD.

NWCHEM

Definition:NWChem is a high-performance computational chemistry software package from the Environmental Molecular Sciences group at Pacific Northwest National Laboratory.
Example with script:

To compute the energy of an acetate molecule with a small basis set (3.21g*) using a B3LYP density functional method, copy the files

acet.nw
nwrun

to a new directory. Copy the file default.nwchemrc to your home directory as .nwchemrc, if you don't already have a .nwchemrc file defined. Run the job by typing the command

qsub nwrun

This will submit a job to the workq queue. The file acet.nw is the NWChem input script and the job will generate several output files. The main output information is stored in the acet.nwo file. The results can be viewed with ECCE via the output file acet.ecce.

Note within the nwrun script, that NWChem requires definitions of the PERMANENT_DIR and SCRATCH_DIR environment variables or definitions within the script file acet.nw. For portability, it is generally better to provide the definitions through the nwrun script and keep installation-dependent definitions out of the .nw file. On Bambi, PBS defines TMPDIR for each job and removes the definition when the job completes. SCRATCH_DIR can also be pointed to a specific location on the /work partition but should never be directed to the /home partition.

VMD

Definition: VMD is a molecular graphics program used to view and analyze the results of molecular dynamics simulations.
Example with script:
Local Reference:

FFTW

FFTW is a high-performance Fourier transform library. There are major changes to the application interface between versions 2 and 3.

Usage

module load fftw/3.2

will define the environment variables FFTW3_DIR, FFTW3_LIB and FFTW3_INC. Compilation of whatever source files use the library should include the directives -I $FFTW3_INC and -L $FFTW3_LIB -lfftw3.

Similarly

module load fftw/2.1.5

will define the environment variables FFTW2_DIR, FFTW2_LIB and FFTW2_INC. Compilation of source files using the library should include the directives -I $FFTW2_INC and -L $FFTW2_LIB -lfftw2.

Intel Compilers

Intel MKL Math Kernel Libraries

mkl Is Intel's Math kernel library. It contains vendor-supplied versions of many basic math routines, including BLAS.

OpenMpi

The OpenMPI Project is an open source MPI-2 implementation that is developed and maintained by a consortium of academic, research, and industry partners. Open MPI is therefore able to combine the expertise, technologies, and resources from all across the High Performance Computing community in order to build the best MPI library available. Open MPI offers advantages for system and software vendors, application developers and computer science researchers.

PBS

The PBSPro scheduler is used to provide access to the compute nodes. Jobs are submitted with the qsub command and their progress can be monitored with the qstat command. Most jobs will be run in batch mode but interactive access to the compute nodes is available with the qsub -I directive. Example scripts are provided for all of the common applications. The examples can be easily modified for other uses. Contact operations staff or faculty advisors for additional help.

NOTE: Use of ssh to access compute nodes directly is considered to be inappropriate conduct. PBS is unaware of such processes and job performance for other users will be adversely affected.

X-Deep/32

X Window Server for Windows NT/2000/9X/ME/XP operating systems -  used to connect to host systems running UNIX, LINUX, IBM AIX, HP-UX, Sun Solaris or any other operating system that supports X Windows System, in a LAN environment or from a home PC connecting to office LAN via a Virtual Private Network (VPN).
Download (15MB)
More Information