The Village Apartments
The Village is our on-campus apartment complex that can house over 200 residents, conveniently located next door to state-of-the art Wellness Recreational Sports Complex. The Village Apartment offers three different options within our apartment community with a full kitchen and are furnished in the bedroom and living areas.
The Village offers three types of apartments: All bedrooms are private
1 bedroom/1 bath
2 bedroom/1 bath
4 bedroom/2 bath
The Village Apartments Floor Plan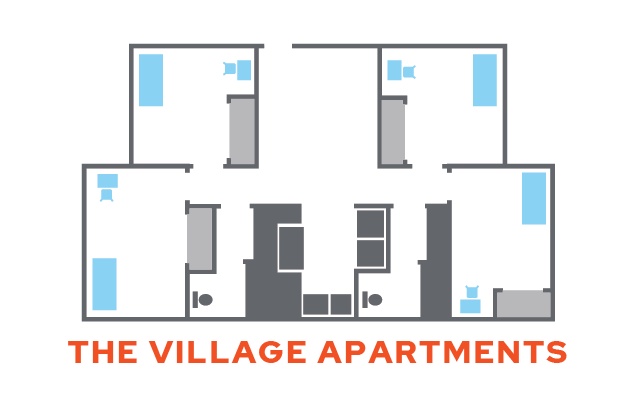 The Village Apartment Eligibility
Student housing at The Village Apartments are available for enrolled UTRGV students, faculty and staff.  
 
Priority on room assignments are given to students based on the following criteria.  
 
Students with a current lease at UTRGV (Returners) or;

At least 19 years on the first day of classes of the initial semester of enrollment or;

Students in a UTRGV Cohort or participating in a Living Learning Community or;

Students who apply by March 1 annually or;

Students with good academic standing, minimum 2.0 GPA




 
Individuals seeking housing accommodations at The Village must sign a Reservation Agreement identifying either a 9-month fall/spring lease period or a 3-month summer lease period.  
Apartment/Room Furnishings:
All bedrooms are private.
XL Single beds, desks and task chairs
Chests of drawers & built-in closets
WiFi Internet access throughout the hall
Furnished living room with sofa, lounge chair, multi-use cube/end table
Private washer and dryer
Heating, air-conditioning, all utilities, Internet access, cable are included in the room and board package
Room Dimensions: approx. 12 ½ x 8 ½
* No pets allowed except service animals
* Smoke-Free facility (including e-cigarettes)
For convenience, the following services are provided
Mailbox and parcel area
Snack and soft-drink vending
Room Charges- Fall & Spring Semesters
Students moving in for the fall semester are required to live on campus for fall and spring semesters representing a 9-month contract.
| | | | | |
| --- | --- | --- | --- | --- |
| Residence Hall / Apartments | Room Type | Fall Semester Room Charges | Spring Semester Room Charges | Total Room Charges (Fall + Spring) |
| The Village | Four-bedroom | $2,525/semester | $2,525/semester | $5,050 |
| The Village | Two-bedroom | $3,050/semester | $3,050/semester | $6,100 |
| The Village | One-bedroom | $3,825/semester | $3,825/semester | $7,650 |
All rates are subject to change pending approval from UT System Office
As a condition of living on campus, All students residing on campus are

required

to select one of the available meal plans for each semester to be used for on campus dining.
A meal plan is required for all freshman residents regardless of which building they reside at the Edinburg campus.
Housing Dining Services
 All residents must purchase the minimum required meal plan per semester. An all-you-care-to-eat dining program is available in the Vaquero Dining Hall. This great food value is available to the entire campus community.
http://utrgvdining.sodexomyway.com
Family Housing
Limited housing is available to students, faculty and staff on campus.
Married Couples or Families with children may only reside at the Village Apartments in Edinburg, Texas or Casa Bella Apartments in Brownsville, Texas.
Rooms are not set aside for family housing and may be reserved based on availability.
Please speak to our staff in person to verify availability before submitting a completed application for on campus housing.