Heritage & Troxel Hall
Heritage Hall, located conveniently on campus, accommodates 192 total students.  Heritage & Troxel is a coeducational traditional-style residence hall with community space in each suite.   
Heritage Hall Floor Plan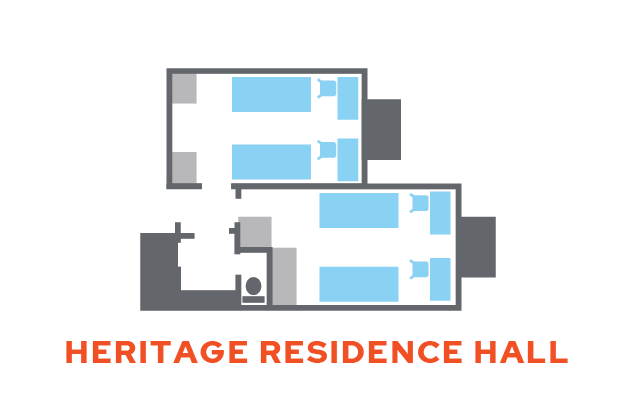 Room Furnishings
Each of our traditional Residence Halls is designed in suite-style, defined as two rooms sharing a bathroom (four people max).  All rooms are furnished for double occupancy. These rooms may be reserved as private rooms as space permits.
Single rooms in our Residence Halls will not be assigned until we have determined our housing needs, so please select a double room as one of your preferences.  All single room requests will be placed on a waiting list and we will notify students if a single room is available. 
Residents are responsible for providing their own bed linens, blankets, towels, and toiletries.
Room contents include – fixed furniture in each room
XL Single beds, built-in desks, and task chairs
Chests of drawers & built-in closets
WiFi Internet access throughout the hall
Heating, air-conditioning, all utilities, Internet access, cable are included in the room and board package
Room Dimensions: approx. 15' x 12'
* No pets 
allowed except service animals
* Smoke-Free facility (including e-cigarettes)
For convenience, the following services are provided
Card swipe access and 24 hour Front Desk assistance
Mailbox and parcel area
Free Laundry facilities – located on the 3rd floor
Equipped with a small living area on each floor
Study area, TV/Game lounges
Computer lab
Wireless printing available through the Front Desk- Vaquero Print
Snack and soft-drink vending
Community kitchenette area with microwave in building lobby (personal microwave are no allowed in Heritage & Troxel Hall)
Recreation rooms (billiards, ping pong, game tables)