Bioinformatics
Bioinformatics Website: https://faculty.utrgv.edu/marzieh.ayati/research.html
What We Do
---
Our research focuses on designing algorithms and development of models and software to extract information from variety of molecular biology data including genomic, transcriptomic, proteomic and phospho-proteomic (i.e. omics data).
Current Projects
Analysis of Phosphoproteomics Data in Alzheimer's Disease
Analysis of Phosphoproteomics Data in Hypertrophic Cardiomyopathy
Prediction of Kinase-Substrate Interactions
Rewiring of Biological Networks
Post-Translational Modifications Crosstalk
Bioinformatics Research Advisors 
---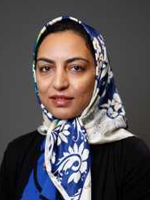 Dr. Marzieh Ayati
Assistant Professor
marzieh.ayati@utrgv.edu
Areas of Research
Data Mining
High-Throughput Data Analysis
Systems/Network Biology
Omics Data
Related Courses
---
CSCI 4341 Introduction to Data Science
This course provides an introduction to computational and statistical approaches to analyzing data. While this course will substantially overlap with courses such as introductory statistics, data mining, and machine learning.
CSCI 4344 Bioinformatics
This course provides an introduction to the analysis of biological data using computational methods.Topics include sequence analysis, gene finding, pairwise and multiple alignments, gene mapping, motif identification, polymorphisms, phylogenetic analysis, microarray data analysis, and analysisof proteomic data.