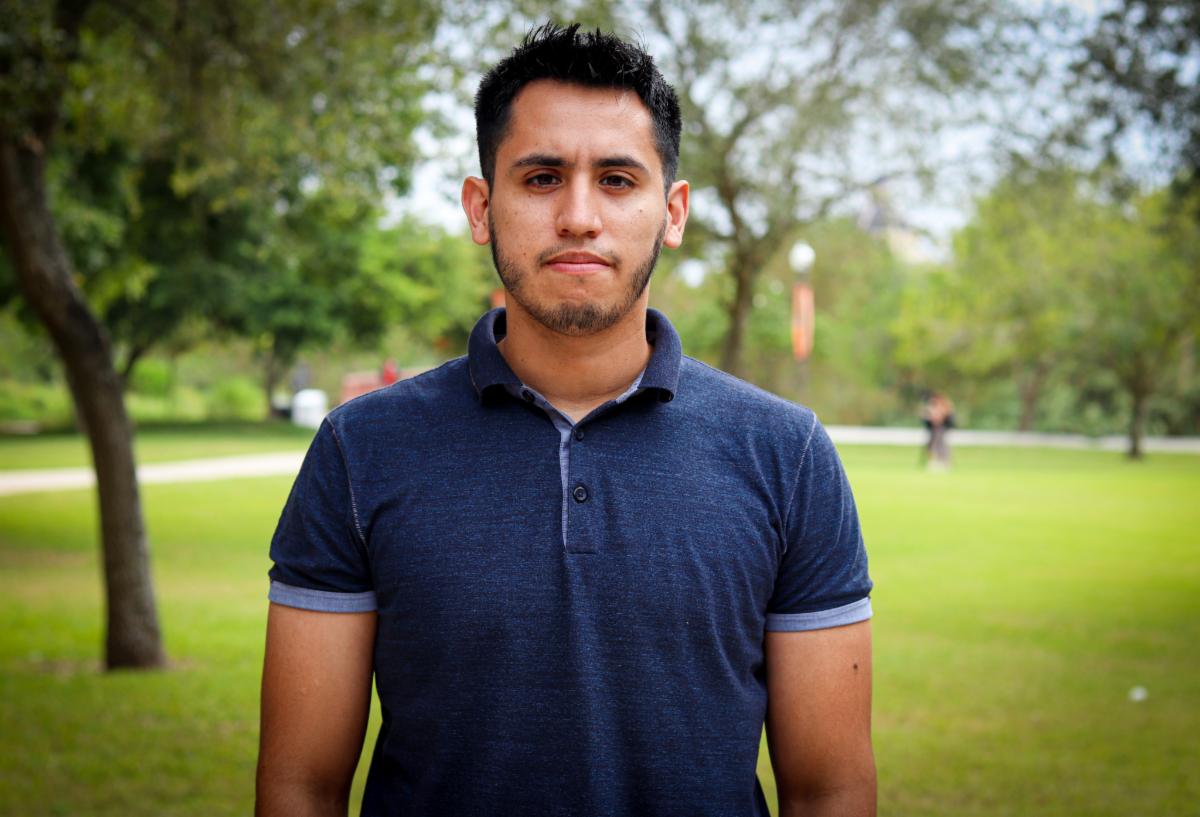 Meet Jesus Sanchez, a UTRGV Unsung Hero
Text by Amanda A. Taylor

Jesus Sanchez, program adviser within the UTRGV Department of Student Media, advises students in radio, TV and print media on policies and procedures within the communications field. He works with students on both Edinburg and Brownsville campuses providing guidance on assignments or lending an ear to students to help work out challenges. "No one day on the job is ever the same," he said, "and I love it."
WHAT IS YOUR ROLE AT UTRGV?
My role is to advise students in our four media programs—Vaquero Radio, KVAQ-TV, The Rider newspaper, and Pulse magazine—regarding policies and procedures related to facility/equipment usage, university services and program policies. In addition, I help coordinate implementation of programs and events through interaction with faculty, staff, and students, as well as review records and reports of activities to ensure progress is being accomplished toward our specified program objective. I also recommend modifications to methods or procedures as required to redirect activities and ensure that objective is attained while interacting with university departments, student groups and external agencies. Most importantly, I help train and coach our student employees, so they acquire the skills necessary to produce professional-level work.
HOW LONG HAVE YOU WORKED HERE?
I've worked at the university for seven years, four as a student employee and three as a full-time employee.
WITH THE SOCIAL CHANGES DUE TO COVID-19, DESCRIBE YOUR AVERAGE DAY IN THESE TIMES?
An average day for me consists of checking in with students from all four of our media programs, whether that be in Edinburg or Brownsville. I answer questions they may have, provide them with guidance on assignments, teach them how to use specific software or hardware and/or give advice as needed. If I have a report or other administrative duties to complete, I always aim to get them done early in the day so I can be available for students in the afternoons. On the Edinburg campus, I'm constantly going back and forth from the Student Media office in ELABS to the TV/Radio studio at the University Library building. Oftentimes, I'll have a meeting to attend with the student media team, another university department, the assessment committee or other internal and/or external stakeholders. At the start of the pandemic and throughout the 2020-2021 academic year, my day consisted of the same activities with the only difference being the extensive use of Zoom and phone calls.
WHAT IS YOUR BIGGEST CHALLENGE MAINTAINING YOUR ROLE UNDER COVID-19?
The biggest challenge maintaining my role under COVID-19 was how to coach and guide our students when they had questions. Phone calls and Zoom meetings could only do so much, and at times, it was not enough, especially with hands-on training. Thanks to the efforts of UTRGV and the campus community, I am grateful to have our students back on campus. No one day on the job is ever the same and I love it. Our student employees make the job so much fun for me and I am thankful to have the opportunity to perform in person once again.
IN WHAT WAYS ARE YOU HELPING YOUR DEPARTMENT MITIGATE THE SPREAD OF THE VIRUS?
In the Student Media department, we all are asked to disinfect our work area every day, encourage the use of face masks and continue to follow the UTRGV protocols. I like to believe that I've done my part to help mitigate the spread of the virus by wearing a face mask every day, social distancing when possible and getting vaccinated. As we continue to move forward, I will continue to do my part to not only protect myself but to also make others feel safe.
DO YOU HAVE A FAVORITE MEMORY, OR STORY, ABOUT YOUR TIME HERE?
I have so many to choose from. As mentioned, almost every day is different at work and I wouldn't want it any other way. However, I will mention a couple. In Fall 2019, I was working what I call a "half day," meaning I would spend half of my day on each campus. That day happened to fall on my birthday, and my students from both campuses surprised me with a mini-birthday celebration. Another great memory occurred while attending the Texas Intercollegiate Press Association Convention in 2019. UTRGV Student Media won the Director's Trophy for the first time in school history, which means our students were the best across the state at the convention's on-site contests. Most recently, however, a great memory I have is from this past summer when I got to see our students return to campus and produce the best work they can.
TELL US SOMETHING MOST PEOPLE DON'T KNOW ABOUT YOU?
Most people probably don't know that I was not born in Brownsville, Texas. I was born in Marietta, Georgia. However, I've essentially spent my whole life in Brownsville and absolutely love the city, which is why most people may find it hard to believe that I was not born there, only raised. After all, I was known as Brownsville's Baby Boy for a short while, but I'm technically from Georgia.
WHAT IS YOUR RELATIONSHIP WITH THE UTRGV COMMUNITY?
I like to help and be involved in whatever I can bring value to. I love working with our sister departments in Student Involvement any chance I get. Recently, I've have had the opportunity to work with others, such as Alumni Relations and University Recreation, and help them achieve a goal. I think the sense of fulfillment is something I like experiencing and being able to help whenever I can is always fun.
WHAT ARE SOME ENCOURAGING WORDS YOU COULD SHARE WITH YOUR PEERS ABOUT COVID-19?
Stick by your faith. It's been a difficult and heartbreaking road, but we're getting through it. I always like to believe that no matter how bad things get, they will eventually get better, and this is no different. We've come so far, and we've done so many outstanding things. Let's keep going.