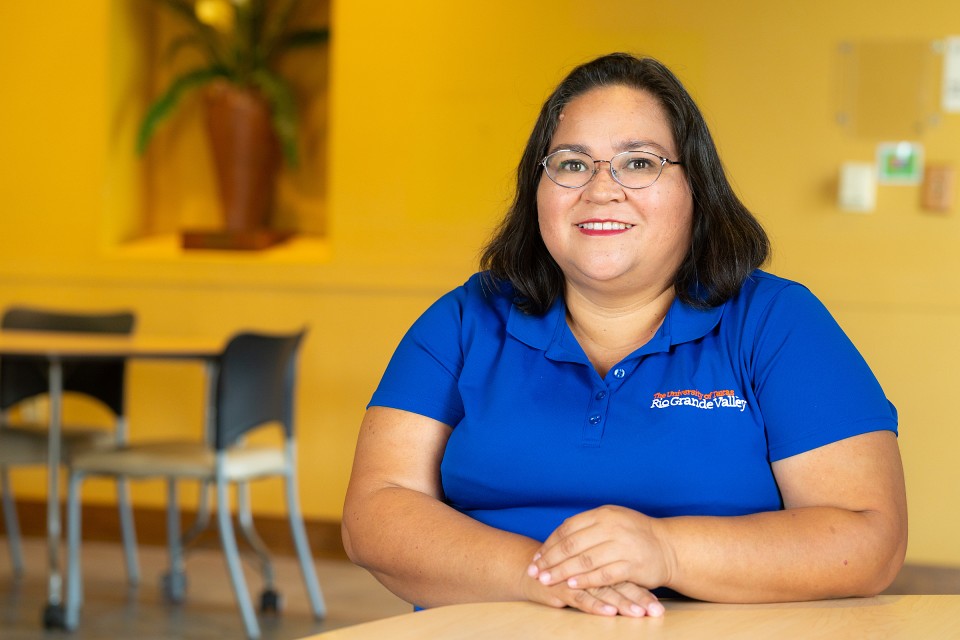 Meet Ana Sanchez, a UTRGV Unsung Hero
Text by Amanda A. Taylor-Uchoa

Over her 22 years at UTRGV, Ana Sanchez has worked helping her department and assisting students in a myriad of ways. An administrative assistant in the Student Media Department on the Brownsville campus, Sanchez said the ability to learn something new, both on a personal and professional level, is her favorite part of the job. She said during her time at UTRGV, she has developed longstanding friendships and has plenty of wonderful memories from her time here.
WHAT IS YOUR ROLE AT UTRGV?
My role is to provide administrative support to the Student Media director, staff and faculty advisers. That includes handling travel arrangements, processing mileage reimbursements, ordering supplies and equipment, maintaining and reconciling five accounts, reconciling purchases for two credit cards, preparing budget reports, and maintaining an advertising/underwriting sales log for each of the Student Media programs (The Rider newspaper, Pulse Magazine, Vaquero Radio, and KVAQ-TV). I also assist my director in the preparation of budgets and with other special projects.
HOW LONG HAVE YOU WORKED HERE?
I've worked at the university for 22 years.
DESCRIBE YOUR AVERAGE DAY?
My average day consists of responding to emails, running financial reports, emailing invoices to customers, updating budget spreadsheets, ordering supplies and reconciling accounts.
WHAT IS YOUR FAVORITE PART OF YOUR JOB?
My favorite part of my job is that I'm always learning something new – either professionally or personally. I love working with excellent people and every day is different at Student Media. One day I'll be working with numbers and the next day I might be assisting with advertising.
DO YOU HAVE A FAVORITE MEMORY, OR STORY, ABOUT YOUR TIME HERE?
There are a lot of stories and memories, but a good memory was when I was working at the UTB Learning Assistance Center and was surprised with a birthday celebration. Another is when students would come to my desk seeking advice or just to chat and joke around. Also, being able to see our students grow professionally and graduate.
TELL US SOMETHING MOST PEOPLE DON'T KNOW ABOUT YOU?
Well, people might not know that I have a Christian recording album.
WHAT IS YOUR RELATIONSHIP WITH THE UTRGV COMMUNITY?
I've been here for 22 years and have made very good friends. I like to help people from other departments with whatever I can.