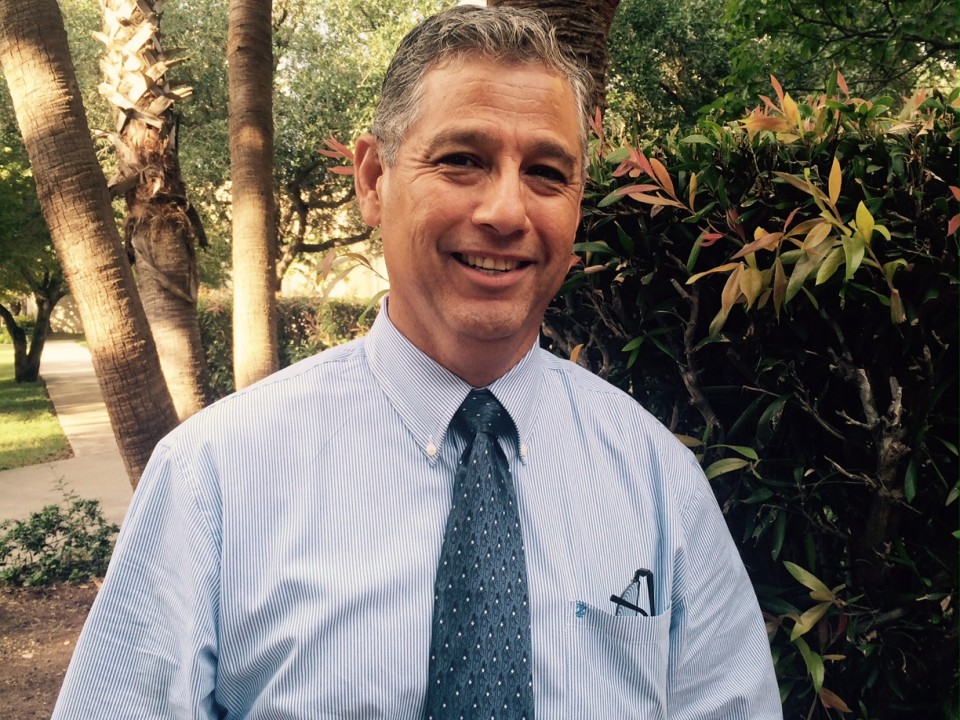 Meet Mario Torres, a UTRGV Unsung Hero
By Amanda A. Taylor

What happens after graduation is a factor that Mario Torres, program manager for the Employer Relations Department at UTRGV, takes seriously.  
Finding a job after graduation might seem like a natural next step for some, but preparing for job interviews and internships requires certain skills. That's where Torres steps in. He helps students with all facets of entering the workforce, including practicing resume writing, mock interviews for potential future employers and helping with how to prepare for internships.  
When students succeed after graduation – well, that's when Torres feels the most gratification.  
NAME:  Mario Nava Torres
JOB TITLE: Program Manager for Employer Relations
CAMPUS: Brownsville
DEPARTMENT:  UTRGV Career Center  
WHAT IS YOUR ROLE AT UTRGV? 
I facilitate with the Edinburg Campus Career Center staff in planning for Career Expo events throughout the year, including career fairs, teacher expos, graduate and professional school expos, the internship week expo, and health and nursing expos for both campuses. I also assist undergraduates, graduate students and alumni seeking full-time and part-time jobs, and internships. I help prepare students for jobs including resume writing, mock interviews for employment, job search strategies and advocating on behalf of student's for employment. I write recommendation letters for students, attend community networking events, and collaborate with businesses and organizations to market our students and UTRGV.  
HOW LONG HAVE YOU WORKED HERE? 
I have been working with the university for 20 years. 
GIVEN THE SOCIAL CHANGES DUE TO COVID-19, DESCRIBE YOUR AVERAGE DAY IN THESE TIMES 
I report to the office on Mondays, Tuesdays and Wednesdays and work from home two days a week. My responsibilities and duties are to ensure that I continue to engage with community business leaders, to secure jobs for students and search for other job opportunities. The ways in which the COVID-19 pandemic has shifted our normal ways of conducting business now consists of business through emails, Zoom meetings and Skype. 
WHAT IS THE BIGGEST CHALLENGE TO MAINTAINING YOUR ROLE UNDER COVID-19?  
Not being able to connect with companies face to face. Not being able to host job expos on campus, bringing companies to our campuses for students to network and seek job opportunities. And having to conduct recruitment events virtually.   
IN WHAT WAYS ARE YOU HELPING YOUR DEPARTMENT MITIGATE THE SPREAD OF THE VIRUS? 
By protecting myself and others by following the rules and regulations of our university – using face coverings, washing hands constantly, cleaning and disinfecting office and workspaces, practicing social distancing, avoiding large crowds, self-screening and educating our staff and student workers. Those are just some of the critical guidelines we are using during the pandemic.  
DO YOU HAVE A FAVORITE MEMORY, OR STORY, ABOUT YOUR TIME HERE? 
I started with The University of Texas at Brownsville in September 2002, and now that I am employed with UTRGV, it has been a blessing for me. My favorite memories are attending students' graduations, attending their weddings, and having students return to see me with their families. One of the stories that I would like to share is the time I sent out an invitation to a diplomatic representative and he came down to attend our Career Expo. You should have seen then-UTB President Juliet Garcia's facial expression when she saw him at the event.  She said, "How did you pull that off!" 
TELL US SOMETHING MOST PEOPLE DON'T KNOW ABOUT YOU:  
I enjoy working with plants such as landscaping, and I have my little nursery at home. I go out into the community helping people fix their homes. 
WHAT IS YOUR RELATIONSHIP WITH THE UTRGV COMMUNITY? 
I am a member of the Brownsville Economic Development Council (BEDC), member of the Lower Valley Chapter SHRM, member of the Global Career Development Facilitator, member of the National Association of Colleges and Employers (NACE), member of Harlingen Economic Development Corporation, and member of the Brownsville Chamber. 
WHAT ARE SOME ENCOURAGING WORDS YOU COULD SHARE WITH YOUR PEERS ABOUT COVID-19? 
Take this virus seriously, and follow all guidelines and direction from our community leaders. Do not lose hope, have faith, and let's all pray for one another.