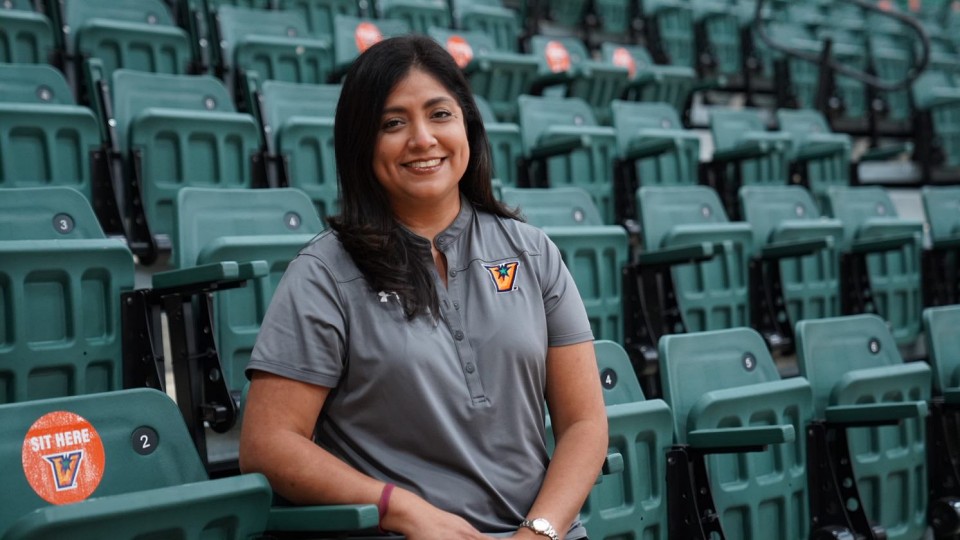 Meet Letty Hernandez, a UTRGV Unsung Hero
Text by Amanda A. Taylor

Letty Hernandez, assistant athletic director for Academic Services, knows that continuing to follow safety protocols to help mitigate the spread of COVID-19 are necessary precautions to take, but she still misses seeing her student-athletes regularly. Some of her fondest memories from her more than 12 years on campus include when men's basketball won second seed in the WAC tournament. "The basketball game was exciting, and they had a great crowd," she said, recalling the cheering of the crowd watching. She hopes to return to large, live games soon but is happy that her student-athletes are staying healthy to compete in front of smaller crowds.
WHAT IS YOUR ROLE AT UTRGV? 
My role is to assist student-athletes with initial and continued NCAA eligibility. I currently advise the men's basketball and baseball teams. I am also the tutor coordinator for our department.
    
HOW LONG HAVE YOU WORKED HERE?  
I have worked for UTPA/UTRGV for over 12 years, the last four and a half being full-time with Athletics.

WITH THE SOCIAL CHANGES DUE TO COVID-19, DESCRIBE YOUR AVERAGE DAY IN THESE TIMES?
We are only in our offices part of the week and alternate days to maintain COVID-19 protocols. I spend a great deal of time answering emails, cell phone calls, and texts. I maintain regular contact with our department, as well as our students regardless of where I am. Sometimes that means long days, but I enjoy it.

WHAT IS YOUR BIGGEST CHALLENGE MAINTAINING YOUR ROLE UNDER COVID-19? 
I'd say the greatest challenge is not seeing my students in person. I'm accustomed to meeting with my students on a regular basis. They all have distinct personalities and life stories. I miss seeing them, but we will do whatever it takes to ensure our students can compete.

IN WHAT WAYS ARE YOU HELPING YOUR DEPARTMENT MITIGATE THE SPREAD OF THE VIRUS? 
We limit our numbers in our office space, which is the Victory Center. Typically, we have students attend study hall, but with COVID-19, we now require study hall in a larger classroom. We also schedule academic meetings by phone or Zoom. Staff and students complete a daily health screening by using an app that helps us track symptoms. If someone is exhibiting COVID-19 symptoms, they know the proper procedures to follow. 

DO YOU HAVE A FAVORITE MEMORY, OR STORY, ABOUT YOUR TIME HERE? 
I have fond memories of student graduations, but my favorite memories are when the baseball team won a share of the WAC title in 2019 and when men's basketball beat Cal Baptist in overtime to take the second seed in the WAC tournament. At both games, students were so excited. The baseball team had done a complete turnaround and I was very happy for them. The basketball game was exciting, and they had a great crowd. Those are my favorite memories.

TELL US SOMETHING MOST PEOPLE DON'T KNOW ABOUT YOU? 
My favorite band is Disturbed. People are usually surprised by that since I'm a bit quiet.

WHAT IS YOUR RELATIONSHIP WITH THE UTRGV COMMUNITY?
I've worked hard to establish and maintain relationships with campus partners. I'd like to think that past and present co-workers know that I'm approachable and always willing to help.

WHAT ARE SOME ENCOURAGING WORDS YOU COULD SHARE WITH YOUR PEERS ABOUT COVID-19?
Stay the course. Continue taking precautions and we'll be back to some sense of normalcy.