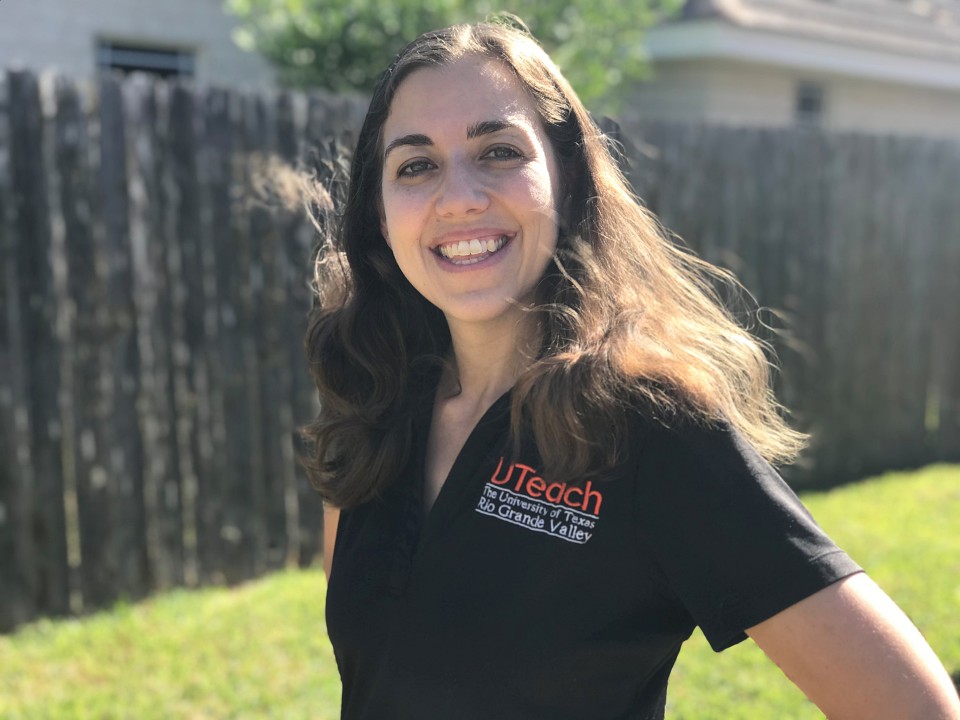 Meet Elizabeth Goldberg, a UTRGV Unsung Hero
By Amanda A. Taylor

Elizabeth Goldberg, a UTeach science master teacher, spends her days focusing on helping math and science majors become some of the most important individuals in their communities – teachers.
While the pandemic may have stalled many aspects of life, the demand for good teachers was not one of them. Without skipping a beat, Goldberg shifted from helping her students in person to another sort of face-to-face correspondence – online via Zoom.
Utilizing the remote environment means still being able to have rich and authentic teaching experiences, she said.
NAME: Elizabeth Goldberg
JOB TITLE: Assistant Professor of Practice and UTeach Science Master Teacher
CAMPUS: Edinburg
DEPARTMENT: UTeach
WHAT IS YOUR ROLE AT UTRGV?
As a UTeach Science Master Teacher, my role is to help train math and science majors to become middle and high school math and science teachers.
HOW LONG HAVE YOU WORKED HERE?
This is my sixth year working at UTRGV.
WITH THE SOCIAL CHANGES DUE TO COVID-19, DESCRIBE YOUR AVERAGE DAY NOW?
I am fortunate that I get to work from home. Normally, I would teach my classes and conduct my field experiences face-to-face, but due to COVID-19, I have moved everything online.
WHAT IS YOUR BIGGEST CHALLENGE IN MAINTAINING YOUR ROLE DURING COVID-19?
One of the main components of my job is to help students teach math and science lessons at local public schools. With COVID-19, we had to shift all teaching experiences online. It's been a challenge, but we managed to create opportunities for peer-to-peer teaching via Zoom. Utilizing the remote environment, our students were still able to have a rich and authentic teaching experience.
IN WHAT WAYS ARE YOU HELPING YOUR DEPARTMENT MITIGATE THE SPREAD OF THE VIRUS?
One thing I did to help mitigate the spread of the virus was help get customized UTRGV UTeach facemasks for our alumni – that way, they could continue to be safe out in the community and when they are teaching.
DO YOU HAVE A FAVORITE MEMORY, OR STORY, ABOUT YOUR TIME HERE?
A couple years ago we did a breakout room on campus for our alumni. They had to solve math and science puzzles to unlock a prize before time ran out. It was great to see all our former graduates, and the breakout room was so much fun.
TELL US SOMETHING MOST PEOPLE DON'T KNOW ABOUT YOU
I do a lot of Jewish education outreach. Prior to the pandemic, I hosted Jewish Tot Story Time at the McAllen Public Library. This year, I teach virtual Sunday School at Temple Emanuel. I love how the Valley embraces different religions, cultures and backgrounds.
WHAT IS YOUR RELATIONSHIP WITH THE UTRGV COMMUNITY?
The UTeach program couldn't exist without the community. Every semester, I get the privilege of working with our wonderful campuses and public school teachers, to help train our students to become exceptional educators. I couldn't ask for better community partners. Even during COVID-19, we have continued to foster our strong and valuable relationship.
WHAT ARE SOME ENCOURAGING WORDS YOU COULD SHARE WITH YOUR PEERS ABOUT COVID-19?
It is easy to focus on all the things we have lost because of COVID-19. But we also have been able to gain a tremendous amount. This pandemic has made us more innovative, more resourceful and more compassionate – all great skills we can use during this pandemic, and beyond.