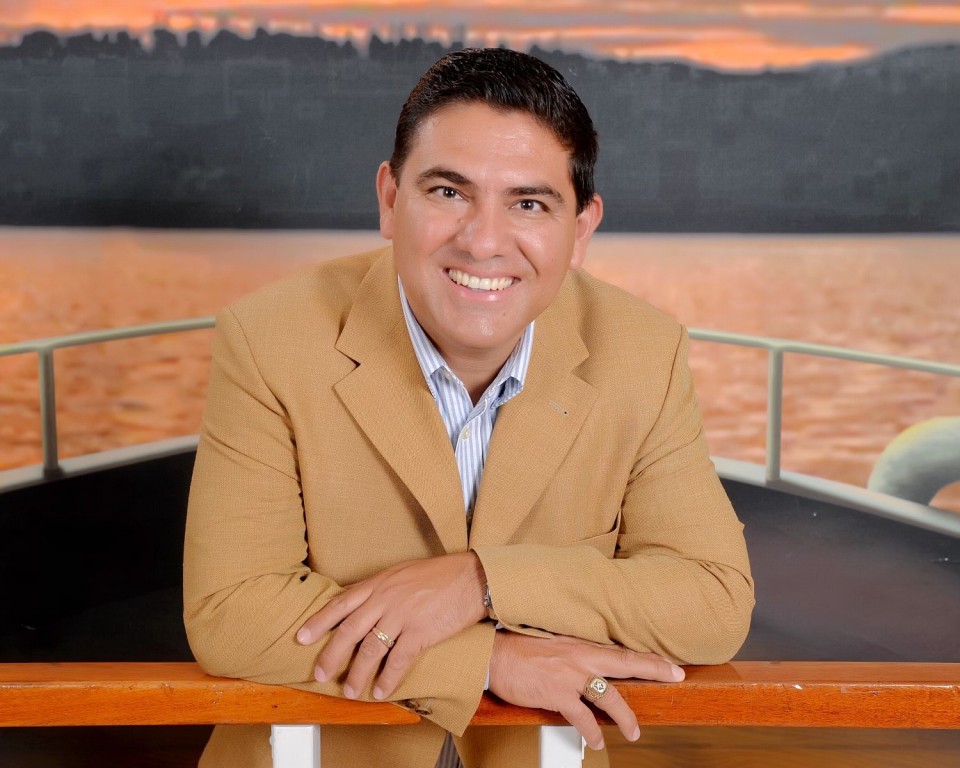 Meet Carlos Chavez, a UTRGV Unsung Hero
Text by Amanda A. Taylor
Carlos Chavez, assistant director for Programs & Services within UTRGV Campus Facilities Operations, had a huge job to do at the start of the COVID-19 pandemic. Because he oversees the university's custodial and grounds departments for the UTRGV Edinburg Campus, he had to stay vigilant to ensure that all buildings were cleaned and sanitized regularly to help mitigate the spread of the virus.  
His teams were a critical factor in the process. "They understood the importance of their role in disinfecting all touchable surfaces, and they all took a proactive approach because they understood the importance," Chavez said. "They realized everyone was counting on them to keep things as clean as possible to keep everyone safe. I am very proud of them, as they are still trying to keep everyone safe." 
NAME: Carlos Chavez
JOB TITLE: Assistant Director for Programs & Services
CAMPUS: Edinburg
DEPARTMENT:  Campus Facilities Operations
WHAT IS YOUR ROLE AT UTRGV?
My role is to oversee and delegate work for the overall appearance of campus, as I manage the custodial and grounds teams. Our Custodial and Grounds Department operations include regular cleaning routines and support, as we need it at every event at UTRGV. We support every athletics event, performances at the Performance Arts Complex (PAC) and other locations, including any health clinic events. We ensure that our spaces are clean and welcoming to all our students, staff, faculty, and guests. Also, we clean all building spaces, like classrooms, clinics, offices, conference rooms, labs, break rooms and open spaces. I manage a group more than 120 employees, aside from the outsourcing of some of our custodial services at several UTRGV health clinics.
HOW LONG HAVE YOU WORKED HERE?
About five years.
WITH THE SOCIAL CHANGES DUE TO COVID-19, DESCRIBE YOUR AVERAGE DAY NOW
My average day has changed only by not meeting in person as much as we used to do. We are still very busy with regular day-to-day operations, like hiring, meeting with our staff as much as needed, and meeting with other departments on ongoing projects. But we primarily discuss what we can via Microsoft Teams. We had to adjust a lot of our trainings to meet the new demands by updating some of our computers and even adding cameras to some of the direct supervisor's computers, so we can still get things done without having to meet face-to-face.  Our employees also had to adjust to having smaller group meetings or trainings via Teams and not face-to-face. But overall, we are still doing what we need to do to get it done.
WHAT IS YOUR BIGGEST CHALLENGE IN MAINTAINING YOUR ROLE UNDER COVID-19?
To still be able to effectively communicate any updates to my groups on any important information they need to know. We can have meetings outside, in open spaces, with distance to communicate to them what they need to know. We also change our approach to communicate to smaller groups, instead of with everyone as a large group.
IN WHAT WAYS ARE YOU HELPING YOUR DEPARTMENT MITIGATE THE SPREAD OF THE VIRUS?
I believe our custodial group was greatly affected in terms of mitigating the spread of the virus. We communicated to our entire custodial group what their part was, not just for cleaning, but also in disinfecting all high-touch surfaces throughout the buildings they serve. They understood the importance of their role on disinfecting all touchable surfaces and they all took a proactive approach. They knew the importance of their role and they realized everyone was counting on them to keep things as clean as possible to keep everyone safe. I am very proud of them – and they still are helping to keep everyone safe.
DO YOU HAVE A FAVORITE MEMORY, OR STORY, ABOUT YOUR TIME HERE?
It has to do with meeting my now wife, Kristina, and how it all happened – but it's too long a story to tell here! Let's just say this: I graduated in 1998 from UTPA with a bachelor's degree in International Business Management. In my last semester, I ended up signing up for an exchange program in Germany, and that decision changed the course of my life. I am happily married and blessed with two amazing kids, Christian Alexander Chavez Koch, and Alexa Marie Chavez Koch.
TELL US SOMETHING MOST PEOPLE DON'T KNOW ABOUT YOU
I love riding motorcycles, and love to travel and go on cruises.
WHAT IS YOUR RELATIONSHIP WITH THE UTRGV COMMUNITY?
I keep myself involved and help with what I can.