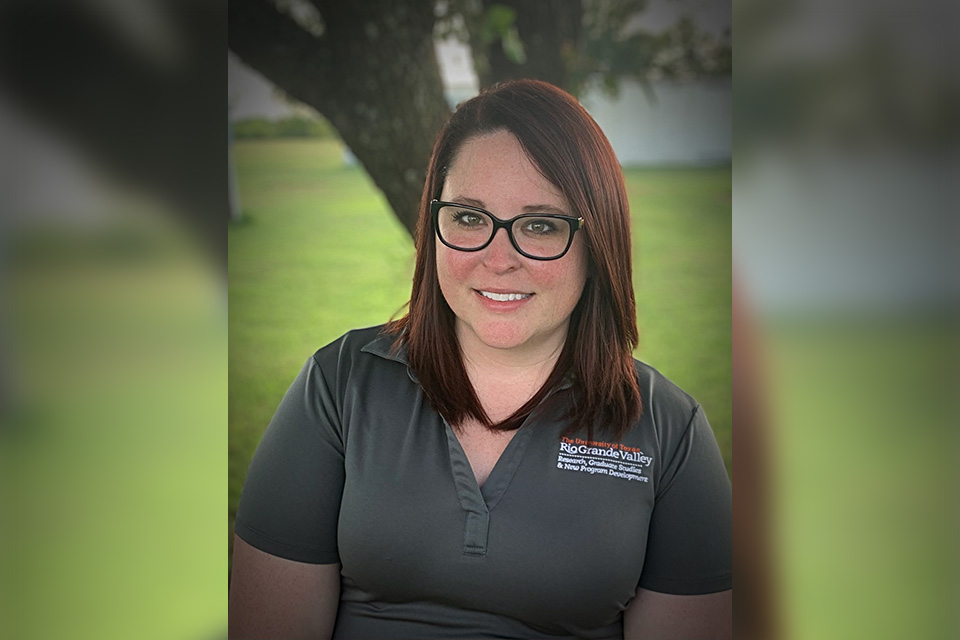 Meet Amy Mutore, a UTRGV Unsung Hero
By Amanda A. Taylor

Acting as a liaison between UTRGV researchers, staff and students, Amy Mutore, senior research compliance specialist, assists all researchers across all campuses.
From submitting research proposals, to advancing applications, to regulatory committees for final review, Mutore is a crucial figure in making sure the research performed at UTRGV runs smoothly. 
She misses departmental gatherings due to the pandemic, she said, but she is grateful to have strong relationships with her coworkers so they can fulfill the goals of their department.
NAME: Amy Mutore
JOB TITLE: Senior Research Compliance Specialist
CAMPUS: Edinburg, but serves researchers at all locations
DEPARTMENT: Office of Research Compliance
WHAT IS YOUR ROLE AT UTRGV?
As a member of the Office of Research Compliance I assist in ensuring compliance with federal regulations and institutional policies for multiple research related regulatory committees. I serve as a liaison between UTRGV's researchers, staff and students, and my department. 
HOW LONG HAVE YOU WORKED HERE?
A little more than three years.
WITH THE SOCIAL CHANGES DUE TO COVID-19, DESCRIBE YOUR AVERAGE
A typical day for me is focused on assisting researchers (including their staff and students) with submitting research protocol applications, completing a preliminary review of these protocols, and then advancing the applications to the individual regulatory committees for final review and approval. I frequently train individuals on specific software and requirements of federal regulations pertaining to the research being performed at UTRGV.
WHAT IS YOUR BIGGEST CHALLENGE TO MAINTAINING YOUR ROLE UNDER COVID-19?
Thankfully, my position was not significantly altered by the precautions put in place because of COVID-19. I am able to meet with our researchers and team members over the phone, Zoom, or Microsoft Teams if they are in need of assistance. However, I do miss the face-to-face interactions and conversations we were able to have in pre-COVID times. 
IN WHAT WAYS ARE YOU HELPING YOUR DEPARTMENT MITIGATE THE SPREAD OF THE VIRUS?
I can work remotely for a large majority of my job duties. However, twice a year we are required to perform in-person inspections of certain UTRGV facilities. For these inspections, I was able to live-steam a virtual walk-through, so our committee members could complete the inspections safely and social distance as needed.
DO YOU HAVE A FAVORITE MEMORY, OR STORY, ABOUT YOUR TIME HERE?
I would have to say that I really miss the division/departmental gatherings. A few times a year, we would have potluck style events where everyone would bring different dishes from home, and we would all spend a few hours conversing. It was always nice to be able to break away from the long hours at the computer to get to know our team members better! 
TELL US SOMETHING MOST PEOPLE DON'T KNOW ABOUT YOU
I know way more pop culture topics than I would like to admit … but it comes in handy when playing trivia!
WHAT IS YOUR RELATIONSHIP WITH THE UTRGV COMMUNITY?
When I first started working for UTRGV, I had very recently moved away from all my family and friends. My new coworkers quickly became my family away from home, so I strive every day to build great relationships with all my fellow UTRGV team members.
WHAT ARE SOME ENCOURAGING WORDS YOU COULD SHARE WITH YOUR PEERS ABOUT COVID-19?
This pandemic has been something that I could never have imagined ever experiencing in our lifetime. The sickness, the sadness, the loss, have been beyond painful and difficult to cope with. If we continue to stay safe, diligent and knowledgeable, we will soon be able to get back to our normal and hopefully will have the tools to be better prepared for the future. Wishing everyone the best!