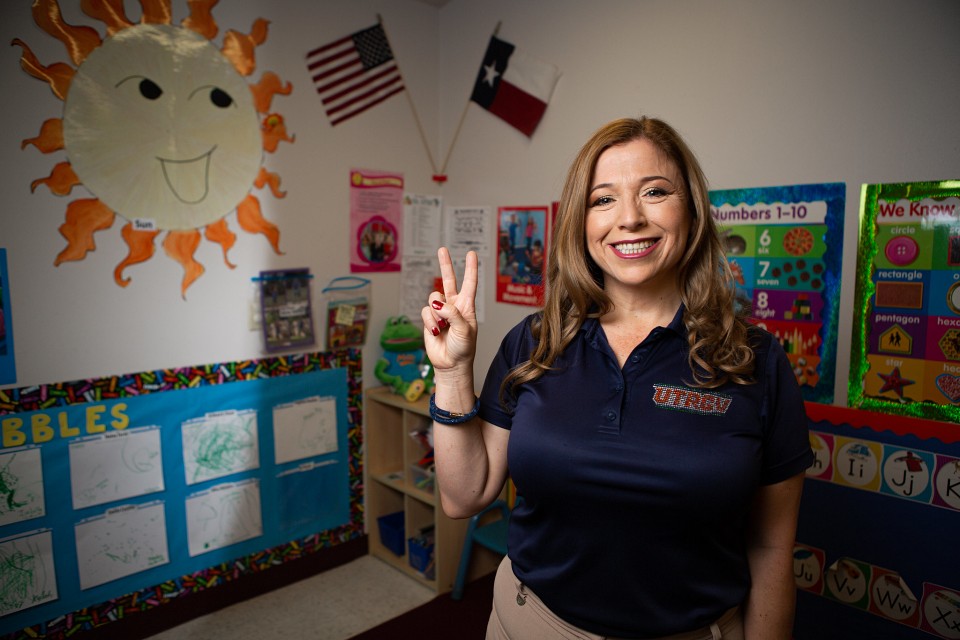 Meet Maria Elena Garcia, a UTRGV Unsung Hero
Text by Priscilla Ramirez, student staff writer
Photos by Silver Salas, student staff photographer: 
https://www.flickr.com/gp/utrgvnews/ChhJkQ
At the Child Development Center, Maria Elena Garcia's eyes light with warmth as she recounts stories of her career as an Early Childhood Specialist, recalling stories about the children she has taken care of in her 23 years in childcare.   
The fondness in her voice reflects the love and passion she holds for what she does.
"I love each of these kids as if they were my own," she said. "I love seeing them blossom with creativity and watching them grow."
As Lead Teacher for the toddlers at the center, Garcia carefully designs her room to give each child a space that can foster the imagination. A designated art station displays the children's art pieces and a reading station holds books on their favorite topics.
She also develops activities that help create a warm, welcoming environment – like "birthday celebration day," where every child with a birthday that month spends the last hour of the day eating healthy snacks and having "Happy Birthday" sung to them.
"I try to make this a space where they can grow and feel cared for, because at their age, that's all they need to worry about. I want them to feel loved and it just takes a few minutes – a few little acts of thoughtfulness here and there – for them to feel like they're safe," she said.
NAME: Maria Elena Garcia      
JOB TITLE: Early Childhood Specialist 
CAMPUS: Edinburg 
DEPARTMENT: Child Development Center
WHAT IS YOUR ROLE AT UTRGV? 
I am the Lead Teacher of the 2- and 3-year-old classroom. My responsibility is to keep the children safe and to teach them in a rich learning environment where they will grow and develop to their full potential.  
HOW LONG HAVE YOU WORKED HERE? 
I have been part of UTPA/UTRGV's Child Development Center since November 2011.
DESCRIBE YOUR AVERAGE DAY 
I begin the day by welcoming UTRGV student parents, employees and their children. The main part of my day is working with young children, developing their cognitive development using manipulatives and learning to solve problems. I target their social and emotional development through learning centers in which the children develop social interaction and friendships. In addition, the children enhance their speech and language development using books, hand puppets, singing songs and nursery rhymes. Also, I help promote gross motor skills through water play, outdoor painting projects, organized sports, ball games, coloring with sidewalk chalk and exploring nature.
WHAT IS YOUR FAVORITE PART OF THE JOB? 
The satisfaction of watching my young children blossom into independent and creative school-aged children. 
DO YOU HAVE A FAVORITE MEMORY, OR STORY, ABOUT YOUR TIME HERE? 
My all-time favorite memory was the morning in December 2017, when it snowed. I was able to take the children outside to experience what snow looked like and felt like while making snowballs.
TELL US SOMETHING MOST PEOPLE DON'T KNOW ABOUT YOU: 
I am a marathon runner and I'm currently training for three marathons.
WHAT IS YOUR RELATIONSHIP WITH THE UTRGV COMMUNITY? 
I love connecting with many of the parents, their children and other UTRGV students who are completing course requirements, along with UTRGV faculty and staff.
MESSAGES FROM PEERS:
"It is always hard when your child changes classrooms, especially when they have built a great relationship with their previous teacher. We were so worried about how our daughter would adjust to her new teacher. We should not have been. Ms. Garcia runs a very orderly classroom and is very strategic about her daily routine and schedule. Our daughter blossomed in her class like a fast-growing flower! Ms. Garcia does this amazing thing with her students, and all of them leave with a strong sense of self. My daughter's self-esteem soared. She frequently came home telling me she was "adorable," that she "looked perfect" and that she was so funny. That was all Ms. Garcia. She taught my daughter how to be fair, express her emotions and how to write. Ms. Garcia teaches toddlers so many lessons during the day. They play, they sing, they dance, they color, they write and they experiment. I know that she left such a mark on my daughter because my girl still runs over to attack her with hugs whenever she catches a glimpse of her. I am forever indebted to her for the growth my daughter experienced in her classroom."
-- Mabel Cortinamatos, Event Manager, UTRGV Student Union