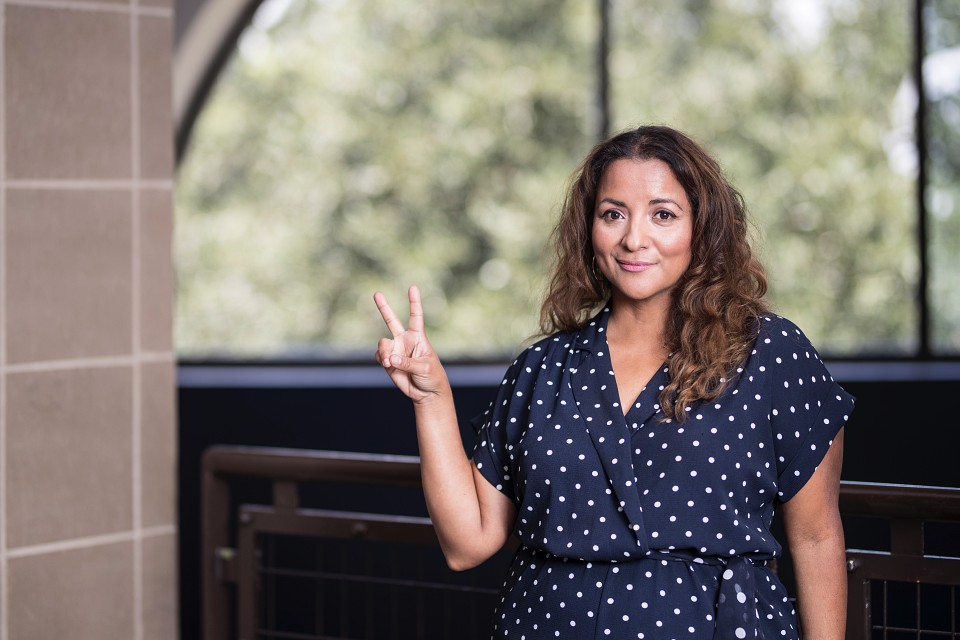 Meet Mabel Cortina-Matos, a UTRGV Unsung Hero
Text by Amanda A. Taylor
Mabel Cortina-Matos, event manager in the UTRGV Student Union, knows how to juggle.
Between adjusting to working from home, continuing to make sure students have the support they need from her department, and watching over her two little girls who are home due to the pandemic, she relies on her organizational skills to keep it all together.
Her inspiration was and is her mother, Dr. Guadalupe Cortina, an associate professor in the UTRGV Department of Literatures and Cultural Studies, whom she describes as the most nurturing person she has ever known. Cortina-Matos says she strives to create that same inspiration and legacy for her daughters and hopes to carry it through everything she does at UTRGV.   
NAME: Mabel Cortina-Matos
JOB TITLE: Event Manager
CAMPUS: Edinburg and Brownsville
DEPARTMENT: Student Union 
WHAT IS YOUR ROLE AT UTRGV?

At the very root of what I do, my role is to engage our students in a way that best supports their success at UTRGV and in their professional lives after they graduate. I support students by providing events that are engaging, entertaining and enriching to them. I have been doing this since I first came to UTPA in 2005 and in every single day that I've worked since.
My mother, Dr. Guadalupe Cortina, a faculty member in the Department of Literatures and Cultural Studies, is exemplary in her approach as a teacher and as an academic. I have witnessed her legacy of hard work and academic contribution my whole life. She has taught me about the fulfilling selflessness of helping someone, many times first-generation students, throughout their educational endeavors. In this way, we make contributions to the RGV community that is for generations to come.
HOW LONG HAVE YOU WORKED HERE?

I came to UTPA in 2005 as an event coordinator/assistant for the Office of International Programs. I have since worked as a research assistant for the Department of Sociology under the Center of Aging and Health as I earned my first master's degree. I also worked as an archivist assistant in the University Library, specifically on Kika De La Garza's Congressional Papers. I have been at the Student Union as an event manager since 2012. 
DESCRIBE YOUR AVERAGE DAY:

I work with an amazing team. During COVID-19, we have been given the opportunity to work from home. Since daycares also closed, I am now taking care of my two little girls while I work. Calling it challenging would be an understatement. I have relied on strong organizational skills, lots of multi-tasking, tips and hacks from other parents – and definitely, my amazing mother and father (who are also working from home). 
First thing in the morning is check-in, and the rest of the day is filled with daily tasks for our events and marketing team, event creation, planning, projection, and the 100 logistical pieces that come with each event. That includes social media curation, Zoom meetings, collaborations, webinars and lots and lots of communication about all things Student Union and otherwise. 
WHAT IS YOUR FAVORITE PART OF YOUR JOB?

My mom has paved the road for my professional success in so many ways, in so many of my memories. I enjoy being able to share a legacy of academia with her. I am grateful to be able to pass that same gift to my two precious girls. Most of all, I am blessed with the promise of "all of the possibilities" each event we create offers a student. First and foremost, the engagement as well as the entertainment and enrichment that all help support a student's success, in and out of the classroom.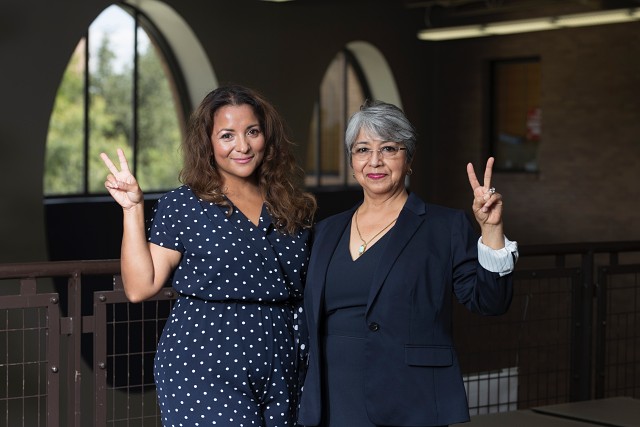 DO YOU HAVE A FAVORITE MEMORY, OR STORY, ABOUT YOUR TIME HERE?

I grew up running around the Bronc Trail, hanging out in the education buildings, and eating lots of snacks at what used to be the snack bar on the first floor of the library. I have many happy memories watching my mom study, work on campus and, waiting with my dad, Victor Cortina, for her to get out of class. Whenever I see my husband bringing my daughters to an event I am hosting, I know they are creating those same memories in their minds. Those moments are priceless. 
TELL US SOMETHING MOST PEOPLE DON'T KNOW ABOUT YOU:

I can tell you three! I have been on archaeological digs, I hold two master's degrees – and I LOVE Bill Murray! 
WHAT IS YOUR RELATIONSHIP WITH THE UTRGV COMMUNITY?

I am UTRGV! Both of my parents are legacy institution graduates, and my mother is a professor here. I grew up in these hallways. My daughters both attend the Child Development Center on campus. We are a UTRGV family. Like many people, I left the Valley and then I returned to the Valley. This job on campus was my first job back. And 15 years later, I am still here.    
MESSAGE FROM THE NOMINATOR

Mabel coordinates over 200 student activities per year for all UTRGV students. She loves working with students and putting on fun events for them to enjoy when they need a little break from studying. 
I am extremely proud of the hard work and dedication that she gives the Student Union department, but in particular of the efforts she is making in adapting all of the student activities to an online platform. The Student Union was the first department to hold a "virtual" student activity when UTRGV had to move classes online during the Spring semester. Her "show and tell your pet" event was a success and showed us the possibilities for keeping students engaged, even when not physically on campus. 
Mabel is a great employee and colleague, but the reason I am nominating her is for her dedication in helping our students to succeed and graduate. We employ up to 40 student employees in the Student Union department and Mabel always makes herself available to review our students resumes, internship applications or intent letters, and scholarship applications. She often gets the late-night email asking for help to meet an application deadline, and she does not hesitate to stop what she is doing to help the student review their documents. … It can make all the difference in a student's life if we can give them a few minutes of our time to help them. Mabel lends a hand each day and helps make UTRGV a great place for our students. 
— Edna Zambrano-Martinez, director of the Student Union and Conference Services