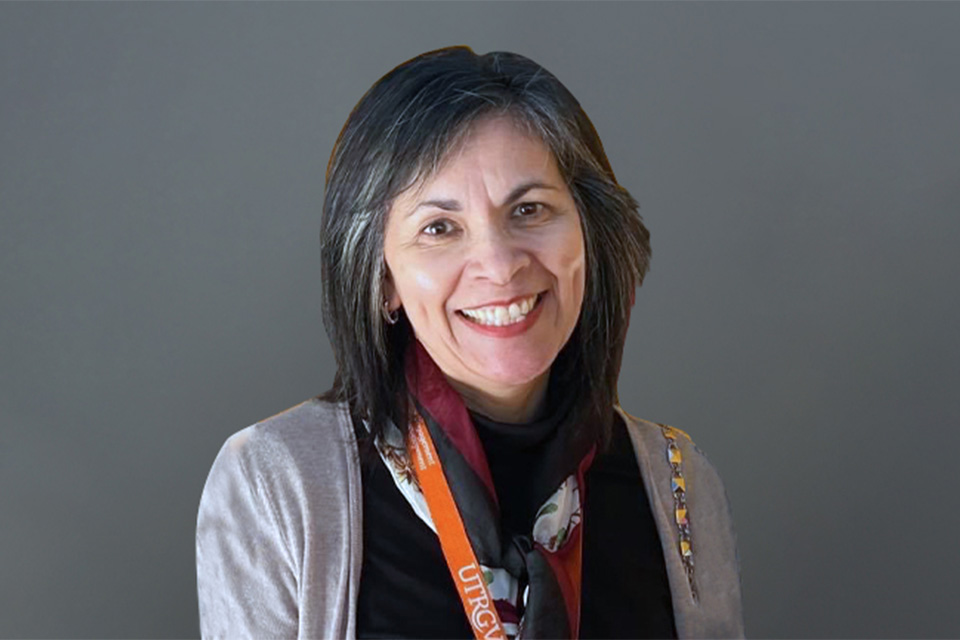 Meet Dora Sallie Maldonado, a UTRGV Unsung Hero
Text by Amanda Taylor, Multimedia Journalist
Dora Sallie Maldonado has worked with UTRGV for five years. She wants to be able to ensure the successful education of the many students she sees as they move through her department – echoing the experiences of her own children at UTRGV. 
She is proud of her relationship with the UTRGV community, and volunteers where she is needed within various student organizations and programs. 
NAME: Dora Sallie Maldonado
JOB TITLE: Administrative Assistant II
CAMPUS: Edinburg
DEPARTMENT: Political Science
WHAT IS YOUR ROLE AT UTRGV?
As an Administrative Assistant II, I assist the Political Science department chair and our faculty on the Brownsville and Edinburg campuses. I make sure they are kept informed, supplied and assured that I am here to help them make their job easier and worry free.
HOW LONG HAVE YOU WORKED HERE?
I have been with UTRGV since 2015 (five years).
GIVEN SOCIAL CHANGES DUE TO COVID-19, DESCRIBE YOUR AVERAGE DAY NOW
Working from home has been a challenge, especially at the beginning. But currently, my day is exactly the way it was while working on campus. I have a deep appreciation for the very patient and understanding IT Department personnel. Our department has always communicated with our students, faculty and co-workers via email. Today, Zoom, Skype and cell phone (FaceTime, Google Duo, etc.) meetings are a regular part of our workweek for communicating.
WHAT IS YOUR BIGGEST CHALLENGE IN MAINTAINING YOUR ROLE UNDER COVID-19?
My biggest challenges are the Zoom UTRGV Trainings, not having two screens (CPU) and not being able to print and obtain hard copies for PowerPoint trainings, spreadsheets and reports.
IN WHAT WAYS ARE YOU HELPING YOUR DEPARTMENT ALLEVIATE THE SPREAD OF THE VIRUS?
By nature, I am a planner and very well organized, so as early as February I was already planning and creating emergency kits for our faculty to keep in their offices. It included hand sanitizer, mask and gloves. When UTRGV supplied us with our courtesy needs a few months later, we continued with our kits each semester. We continuously update our department's bulletin boards with the most current information.
DO YOU HAVE A FAVORITE MEMORY, OR STORY, ABOUT YOUR TIME HERE?
It is the little things – every day is a new favorite memory because my boss, our students, co-workers and faculty are always so grateful and appreciative when we assist them. Also, the College of Liberal Arts deans, administrators and chairs make our jobs so enjoyable, since they are always in communication with staff, and in assisting, providing and caring for our everyday needs and wants.
TELL US SOMETHING MOST PEOPLE DON'T KNOW ABOUT YOU
Only a couple of people know the reason that I wanted to work with UTRGV. It's because my children had such carefree, wonderful and successful college experiences that I wanted to "pay it forward" and do the same for someone else's children.
WHAT IS YOUR RELATIONSHIP WITH THE UTRGV COMMUNITY?
My relationship with my UTRGV Community is very important to me in the sense that I volunteer for everything. I make myself available to student organization groups, such as Political Science Association of Students, and have supported athletic programs such as baseball. Being an engaged participant in the Employee Wellness Programs, such as Naturally Slim, and the Migrant University Summer Experience (MUSE) programs are beneficial to me, while at the same time supporting the students and the departments. Especially during this pandemic, I felt a need to support all the departments that provided us with informational and instructional webinars. I have kept in close supportive contact with my work-study student over the years, even after they leave UTRGV; they are an extension of the UTRGV community. I am hopeful that, one day soon, our UTRGV Community will return to "normal."
WHAT ARE SOME ENCOURAGING WORDS YOU COULD SHARE WITH YOUR PEERS ON OVERCOMING THE PANDEMIC?
Always prepare for the worst and pray for the best!