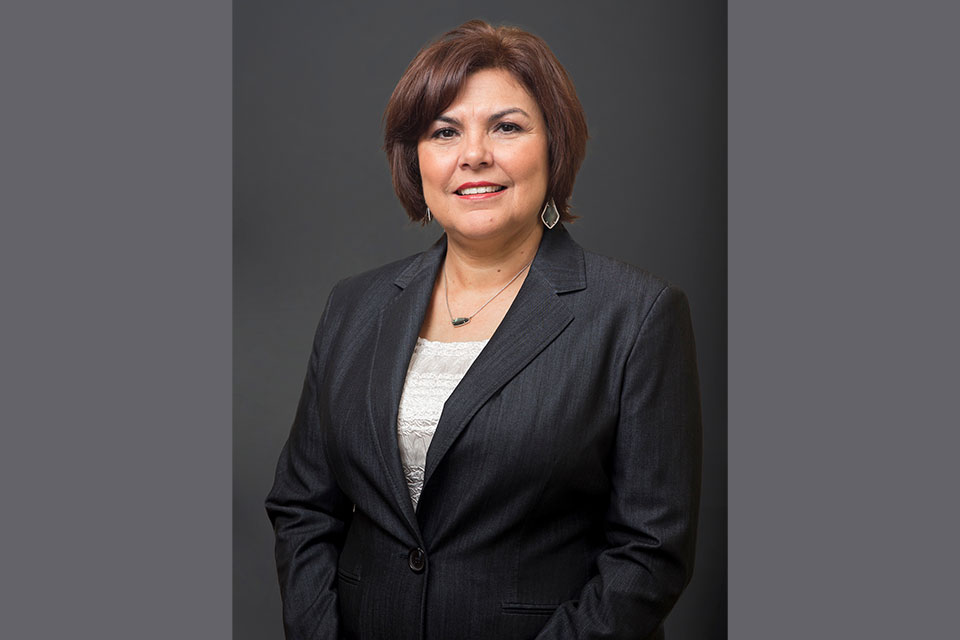 Meet Dalinda Sandoval, a UTRGV Unsung Hero
Text by Amanda A. Taylor

Dalinda Sandoval is definitely a people person.
As soon as you speak with her, you know right away that she's going to help you the best she can.
"I am a big people person," she admits, and customer service is her top priority within the range of her Human Resources responsibilities.
The biggest challenge for her now is not having the usual face-to-face conversations she normally would have because of COVID-19 and social distancing. But she says she stays diligent by making sure her colleagues, employees and students have what they need to be successful.
WHAT IS YOUR ROLE AT UTRGV?
I am an HR administration supervisor. I oversee two customer support staff members in the Office of Human Resources at the Edinburg and Brownsville campuses. I also assist the chief human resources officer.
HOW LONG HAVE YOU WORKED HERE?
I have been employed with the university for 19 years and have worked in the Office of Human Resources throughout my career.
WITH THE SOCIAL CHANGES DUE TO COVID-19, DESCRIBE YOUR AVERAGE DAY NOW
During these challenging times, no day is average. I continue to focus on providing the best possible customer service and address any requests that need immediate attention. I try to keep the Human Resources department staff informed and stay connected with my peers. Our interactions used to be in person, but now they are happening virtually.
WHAT IS YOUR BIGGEST CHALLENGE MAINTAINING YOUR ROLE DURING COVID-19?
It is a challenge not having face-to-face conversations with my peers; the social interaction is just not the same. I miss that part. Working from home can be a challenge, too. I strive to assist and make sure I do not miss a customer service inquiry from a current or future university employee, students, or my colleagues.
IN WHAT WAYS ARE YOU HELPING YOUR DEPARTMENT MITIGATE THE SPREAD OF THE VIRUS?
I encourage and remind everyone to adhere to the health and safety guidelines, such as wearing a face covering, and the recommended social distancing and washing or sanitizing of hands. I also practice what I preach by personally following the same safety guidelines.
DO YOU HAVE A FAVORITE MEMORY, OR STORY, ABOUT YOUR TIME HERE?
I have so many favorite memories and stories, but honestly, I have realized how blessed I am to have this opportunity to meet a countless number of people, including my peers over the past 19 years. Many of those individuals have made a difference in my life and have inspired me to always strive to learn more. I have also witnessed how their contributions have helped make this university the great institution that it is.
TELL US SOMETHING MOST PEOPLE DON'T KNOW ABOUT YOU:
 I have been volunteering every Sunday morning at a local nursing home facility in Edinburg for the past six years, and I absolutely love it. The residents bring such joy to my heart and we share scripture readings and sing Christian songs. Due to current COVID-19 situation, I have not been able to visit, but look forward to visiting again.
WHAT IS YOUR RELATIONSHIP WITH THE UTRGV COMMUNITY?
I really enjoy helping people, and our department strives to be as helpful as we can in a professional and courteous manner. Our HR Customer Service department gives the first impression that a newly hired employee will encounter on their first day of employment, so our goal is to try to be welcoming, patient and knowledgeable, and to empathize with our UTRGV community in their needs and expectations.
WHAT ARE SOME ENCOURAGING WORDS YOU COULD SHARE WITH YOUR PEERS ABOUT COVID-19?
Stay positive, stay safe! Everything will be OK, and we will get through this together. #UTRGVStrong!