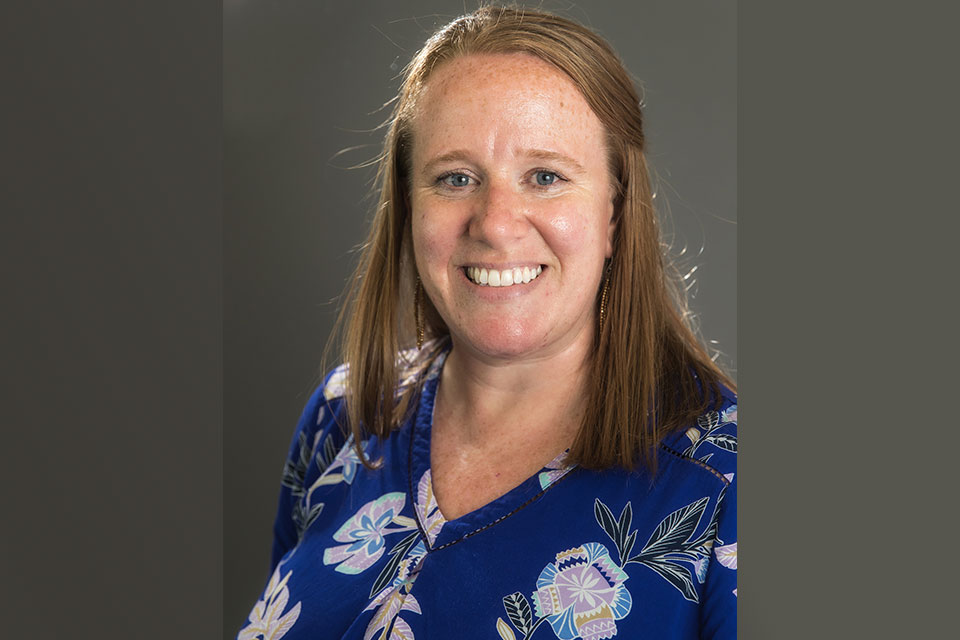 Meet Amy Stout, a UTRGV Unsung Hero
Text by Amanda A. Taylor
Courtesy Photos
Amy Stout, a Graduated Medical Education (GME) program manager, oversees 13 residency and fellowship training programs to provide the best educational quality possible to maintain compliance with the Accreditation Council for Graduate Medical Education (ACGME).
The pandemic forced changes, from face-to-face collaboration to meeting via Zoom and Microsoft Teams. It has been challenging for her team, Stout said. But she remains determined to continue her efforts to help bring new generations of physicians to medically underserved communities.
NAME: Amy Stout
JOB TITLE: GME Program Manager
CAMPUS: Harlingen
DEPARTMENT: Graduated Medical Education
WHAT IS YOUR ROLE AT UTRGV?
As the Graduated Medical Education (GME) program manager, I manage daily operations and administration of the Graduate Medical Education Office and provide supervision and oversight to 13 residency/fellowship training programs and program coordinators. I help maintain the educational quality of the training program and ensure compliance with the Accreditation Council for Graduate Medical Education (ACGME) accreditation standards and other regulatory requirements.
HOW LONG HAVE YOU WORKED HERE? 
I have been employed with the university for five years.  
WITH THE SOCIAL CHANGES DUE TO COVID-19, DESCRIBE YOUR AVERAGE DAY
Each day brings new challenges, tasks and accomplishments. During a typical workday, I provide mentorship, direction and guidance to our program coordinators so that they can provide the best training possible to help the physicians in training achieve the competencies necessary to pursue their medical careers. In addition to working with our programs, I act as a training program liaison for participating hospital sites within the Rio Grande Valley and for the Educational Commission for Foreign Medical Graduates (ECFMG).  On any given day I will provide the necessary reporting that each require to help ensure we maintain compliance.
WHAT IS THE BIGGEST CHALLENGE TO MAINTAINING YOUR ROLE UNDER COVID-19?
It has been challenging to not be face-to-face. But by scheduling one-on-one time with each of my direct reports, we have created a virtual culture of change. Moving to a remote work setting, our team has made better use of online meeting platforms, such as Microsoft Teams and Zoom. That has allowed for more collaboration between all sites and programs.  We are now virtually united when we are physically divided.
IN WHAT WAYS ARE YOU HELPING YOUR DEPARTMENT MITIGATE THE SPREAD OF THE VIRUS?
Our office has worked diligently to ensure that we provide our GME community with the most up-to-date information and guidelines provided by UTRGV Employee Health and the CDC by hosting town hall meetings and sending daily / weekly emails.
DO YOU HAVE A FAVORITE MEMORY, OR STORY, ABOUT YOUR TIME HERE?
One of my favorite times here at UTRGV is during the summer. That's when we graduate and onboard physicians who will begin to further their medical careers by beginning training or practicing medicine independently within a specialty each has chosen. It is during this time that I reflect on the number of physicians UTRGV has helped bring to the medically underserved community.
WHAT ARE SOME ENCOURAGING WORDS YOU COULD SHARE WITH YOUR PEERS ABOUT COVID-19? 
Stay positive, innovative – and do all you can to adapt to the "new normal."