Unsung Heroes:
Get to know some of the people who help make UTRGV run
EDITOR'S NOTE: President Abraham Lincoln said, "Don't worry when you are not recognized, but strive to be worthy of recognition." That certainly describes so many of the people at The University of Texas Rio Grande Valley. They work each day behind the scenes, away from spotlights and accolades, but still knowing they have a job to do that supports the university community. For an institution as large as UTRGV to work efficiently, many people must contribute – but some of them go unnoticed. Our Unsung Heroes series highlights just a few of the people who often go overlooked, despite their importance and contributions.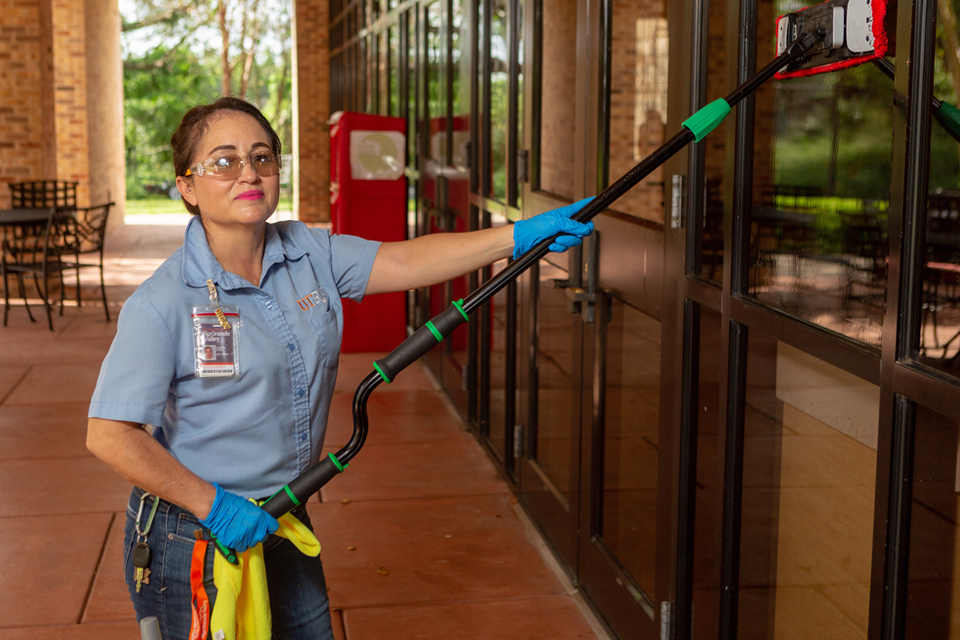 Meet Veronica Aviles, a UTRGV Unsung Hero
Text by Priscilla Ramirez, student staff writer
Photos by Magaly Martinez, student staff photographer: 
https://utrgv.news/VeronicaAviles
It's a typically humid South Texas morning, but a little perspiration doesn't faze Veronica Aviles.  She greets everyone she meets with genuine, maternal interest as she makes her rounds of the buildings on the UTRGV Brownsville Campus. 
It's not easy work, but she welcomes it because it means she gets to converse with and get to know other university staff and students along the way.
It might be part of her job to check on the buildings and make sure that the environment is clean and safe, but it extends far beyond that for Aviles. Guiding lost people through buildings is easy when you have the room numbers memorized. But it's just being there for students who need someone to talk to that brings out her best instincts.
"Somos como una familia," she says. Like a family, one she wants to help in any way she can.
WHAT IS YOUR ROLE AT UTRGV?
Building Attendant I - My role at UTRGV is making sure everything is in order and in tip-top shape for the students and staff.
HOW LONG HAVE YOU WORKED HERE?
I have worked at UTRGV for three years, but I have known the campus and worked at the campus for five years prior to this.
DESCRIBE YOUR AVERAGE DAY
I take my children to school early so I can be punctual to work. During my work hours, I give it my all to make sure my job is done thoroughly. When I leave work, I head to the gym for a class, then head home to help my children with their homework. I end my night getting my uniform ready for the next day of work.
WHAT IS YOUR FAVORITE PART OF THE JOB?
My favorite thing is knowing the students and staff can be in a clean and safe space.
TELL US SOMETHING MOST PEOPLE DON'T KNOW ABOUT YOU
There's not much people don't know about me. I pride myself in being completely honest. I am an open book.
DO YOU HAVE A FAVORITE MEMORY OR STORY FROM YOUR TIME HERE?
I recall getting some days off because of my hard work, and a director at the north building said great things about me. It made me feel fantastic to be recognized.
DO YOU FEEL A SPECIAL BOND WITH THE UTRGV COMMUNITY?
Yes, I get along great with my co-workers and with the students. It's a great feeling, being part of the UTRGV community.