Unsung Heroes:
Get to know some of the people who help make UTRGV run
EDITOR'S NOTE: President Abraham Lincoln said, "Don't worry when you are not recognized, but strive to be worthy of recognition." That certainly describes so many of the people who work at The University of Texas Rio Grande Valley. They work each day behind the scenes, away from spotlights and accolades, but still knowing they have a job to do that supports the university community and makes it run smoothly. In order for an institution as large as UTRGV to work efficiently, many people must contribute – but some of them go unnoticed. Our Unsung Heroes series highlights just a few of the people who often go overlooked, despite their importance and contributions.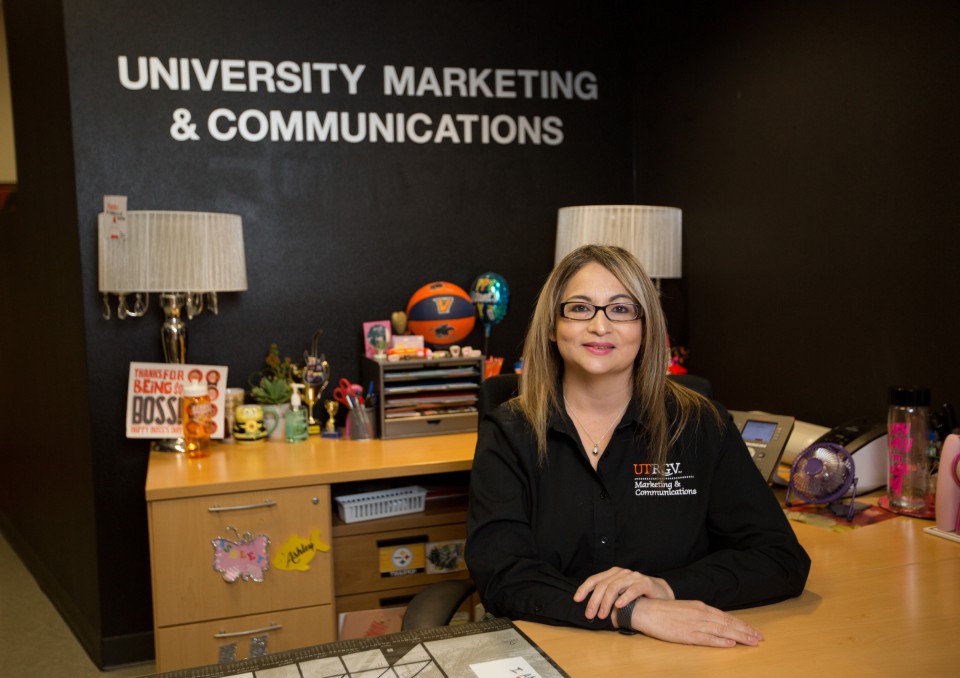 Meet Ofelia Jimenez, a UTRGV Unsung Hero
Text by Ester Navarro, student staff writer
Photos by Silver Salas, student staff photographer: https://utrgv.news/OfieJimenez
Password: utrgvofelia (case sensitive)
As soon as you step into her office, you'll notice shining wall plaques and plenty of Wonder Woman memorabilia. There are photos of the University Marketing and Communications (UMC) team in colorful costumes from Halloweens past, too; it's her favorite holiday and she goes all out.
She describes herself as 'kind of the mother hen around here,' which is obvious as people stop by her office in a steady stream, greeting her, asking questions, needing information. She checks her email first thing each morning to see who is trying to contact her boss, the assistant vice president for UMC, and checks to see if any staff will be out or late that day.
Whether it's sorting thousands of T-shirts for promotions, dealing with budgets or planning office celebrations, Jimenez is ready for any task.
"I've always been taught to never say 'no,' but to always find a solution," she says. "Knowledge is power. I learn new things every day and teach others whatever it is I'm learning. You learn as you go."
WHAT IS YOUR ROLE AT UTRGV? 
Administrative associate in the Office of University Marketing and Communications.
HOW LONG HAVE YOU WORKED HERE?
I have been with the university for 13 years. I started in the College of Education and worked in the alternative program. Then I had an opportunity to work in the Admissions Office, where I remember doing manual entry of student applications when we started Banner. Finally, I found myself in University Marketing and Communications, where I have learned many things that have helped me grow in my knowledge of advertising. This is where I can use my creativity. I'm loving every minute of it.
DESCRIBE YOUR AVERAGE DAY
I wake up at 5:30 a.m. to walk my puppy, Sicario. Then I make my way to the office. Once I'm in the office, my day varies, depending on what's happening around the office. First thing I do is send out a staff email informing everyone who is in or out of the office. I assist the Assistant Vice President (AVP) for UMC with his meetings calendar, I work on budgets, assist with memos, do some filing, answer calls from clients, work with vendors, and assist our department staff with anything from making purchases to any questions they may have. I make sure I keep them updated with any policy changes, etc.
WHAT IS YOUR FAVORITE PART OF YOUR JOB?
When I am invited to join and assist with team-building activities for our staff retreats. I love being part of that. I believe team building in an office is important and keeps the office vibe fun. 
DO YOU HAVE A FAVORITE MEMORY, OR STORY, ABOUT YOUR TIME HERE?
I have a few favorite memories. One is when I was awarded for meritorious service twice – once when I was in the admissions office in 2010, and the second at UMC in 2013. Another favorite memory is participating in the Night of Lights parade for the past few years. It gives me joy seeing the UMC team go out there with their families and give out UTRGV items. Seeing the community put their V's up when we pass them is awesome. And when the kids get their UTRGV swag, they get all excited and it makes me smile knowing they are our future Vaqueros.
TELL US SOMETHING MOST PEOPLE DON'T KNOW ABOUT YOU:
There are so many things, where do I start? I love Halloween, I'm afraid of heights, and I love cowgirl boots – I have about 15 pairs. I also got certified as a medical assistant and worked for some time with a pediatric cardiologist. I guess my creative side pulled me away from the medical field to where I am now.
DO YOU FEEL A SPECIAL BOND WITH THE UTRGV COMMUNITY?
Yes, 13 years helps one grow a good working relationship across campus and I've made good friends. I like being able to help others on campus whenever they have any marketing questions.