Unsung Heroes:
Get to know some of the people who help make UTRGV run
EDITOR'S NOTE: President Abraham Lincoln said, "Don't worry when you are not recognized, but strive to be worthy of recognition." That certainly describes so many of the people who work at The University of Texas Rio Grande Valley. They work each day behind the scenes, away from spotlights and accolades, but still knowing they have a job to do that supports the university community and makes it run smoothly. In order for an institution as large as UTRGV to work efficiently, many people must contribute – but some of them go unnoticed. Our Unsung Heroes series highlights just a few of the people who often go overlooked, despite their importance and contributions.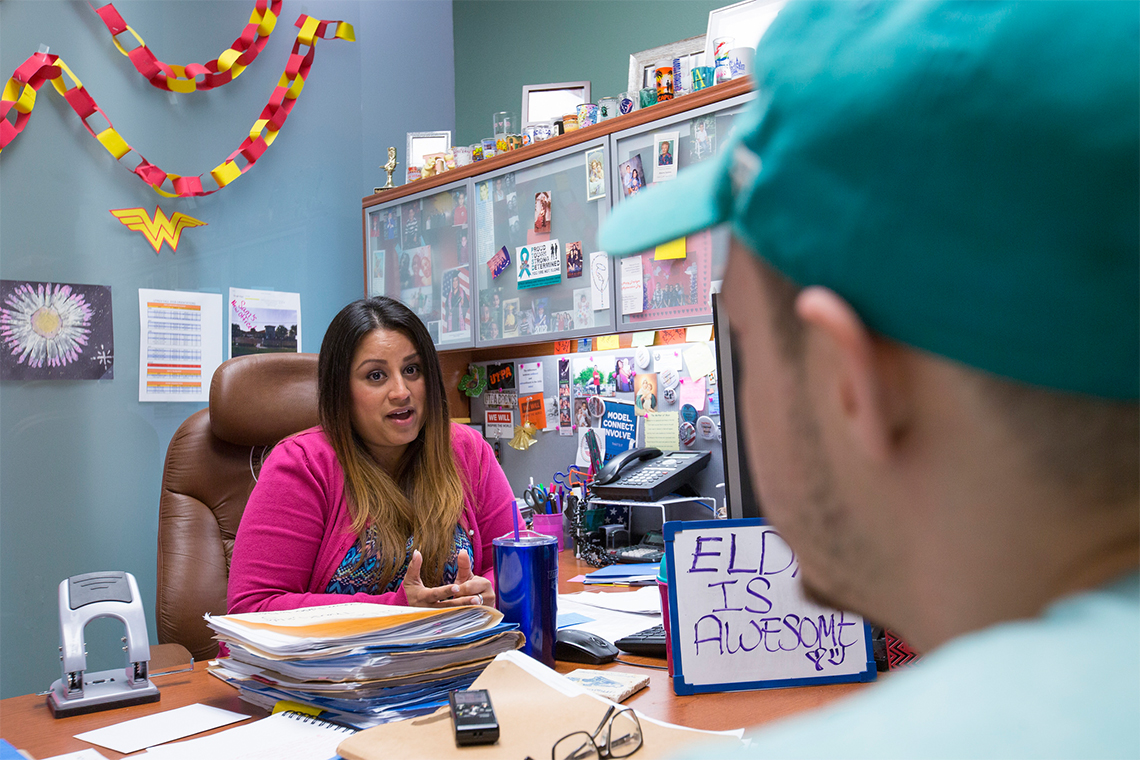 MEET ELDA ARRIAGA, A UTRGV UNSUNG HERO

Text by Steven Masso, student staff writer
Photos by Veronica Gaona, student staff photographer:
https://www.flickr.com/gp/utrgvnews/ecWYCB
Portraits of family members in uniform, stickers of Wonder Woman, and dozens of American flags can be seen in every corner of Elda Arriaga's office inside the UTRGV Military and Veterans Success Center. Arriaga is from a military family. Her father, grandfather and several uncles all served in different branches.
"The military lifestyle was instilled in me, which helped make my job easier," Arriaga said. She had tears in her eyes.
The center is responsible for providing quality assistance to veterans by offering advising and other useful guidance throughout their academic career. The camaraderie between Arriaga and her coworkers is obvious. They joke like close friends, but still recognize the immense responsibility of their work with the hundreds of brave individuals the center was designed to help. They cherish the opportunity to become involved, and find themselves immersed in the experience, even dropping to the floor daily to do push-ups in the office – 22, to be exact. The number pays respect to the estimated 22 veterans who commit suicide each day in the United States.
For many UTRGV students, the Veterans Service Center becomes a haven. For Arriaga, the students become family.
"There's a saying in the military: 'I got your six,' which means you have someone's back. I hope the individuals that come in know, no matter what the situation is, we've got your six."
WHAT IS YOUR ROLE AT UTRGV?
Manager of the Military and Veterans Success Center
HOW LONG HAVE YOU WORKED HERE?
15 years. I started as a student employee. I graduated high school on a Friday and started summer session on a Monday. I've worked here ever since. After I graduated college from UTPA, a job opened up in financial aid. I was there for a few years, then I saw this opportunity open up with the Veterans Center and I went for it.
DESCRIBE YOUR AVERAGE DAY.
My day begins at 5:30 a.m. I'm a mother of four and I live in Weslaco. I have to have the kids at school by 7:20 a.m., then travel 20-plus miles to get to work. When I get here, I make sure our checklist is updated and the lab is unlocked and clean. I review 50 or more files a day. We are the liaison between the VA and student veterans, so our role is to get them certified so they can get paid and utilize their benefits. Some of the students depend on those benefits as a living allowance – that's how they survive. It's our goal to make sure everything is done in a timely manner in order for them to sustain themselves throughout their education. I usually leave at 5 p.m., but my job does not end. The thing with many of our students is, they become part of our family. We see the students sometimes more than we see our individual families. Facebook, texts, calls. All of that.
WHAT IS YOUR FAVORITE PART OF YOUR JOB?
The interaction, and building relationships … Being able to see my students complete their education and transition into the workforce. Then being able to network with them at other levels, now that they are professionals. I love being able to bring them back as alumni to show current students that there were individuals in their shoes, and look what they have become now, look what's available. The program has grown so much. We have a lab now. We have a book loan program. We have saved students about $25,000 just in book loans. It's very rewarding to see that.
TELL US SOMETHING MOST PEOPLE DON'T KNOW ABOUT YOU. 
I'm part of Team RWB (Red, White & Blue.) It's a Veteran and civilian organization focused on physical activity. I just started last year. I used to hesitate with physical activity, but I just did a half-marathon. And I didn't run it, I rucked it. Rucking is a fast-pace walk with a pack. I did it with a 20-pound pack. Sometimes, we carry flags, too. It was on my bucket list and I just finished it. I wouldn't be where I'm at in my health goal if it wasn't for this job. In the military, they work out, do push-ups. Something happens when you hear 'Drop down and give me 20!' Well, we will do push-ups here, too, at any time. We can do it from one to six times a day. We do 22 push-ups, for suicide awareness. At first, I couldn't do it. Now, I'm the one who starts it.
DO YOU HAVE A FAVORITE MEMORY, OR STORY, ABOUT YOUR TIME HERE?
I have a lot. I think my favorite thing to remember is the two individuals who were in my hiring committee: Mr. Javier Badillo and Mr. Samuel Perez Jr. One was our academic advisor and one was a student employee. Now, they're in the workforce and part of the community. The student employee is now the Assistant Veterans Services Officer for Hidalgo County. Being able to say they used to work for me and now they're working in another aspect is so gratifying. Having that relationship and those memories is something you can never replace. They were just students trying to reintegrate back into civilian life. And to see them do it – it's amazing.
DO YOU FEEL A SPECIAL BOND WITH THE UTRGV COMMUNITY?
Definitely. I've always prided myself on building relationships. I think it's so important to keep the communication going, from having a rapport with former coworkers to making sure everything with military families is being handled with the utmost of customer service. There are so many issues they deal with – from suicidal ideations to homelessness. And they can come to our center, leave with support, and know they're not by themselves. I hope the individuals who come into the center know that, no matter what, we've got your six.