Unsung Heroes:
Get to know some of the people who help make UTRGV run
EDITOR'S NOTE: President Abraham Lincoln said, "Don't worry when you are not recognized, but strive to be worthy of recognition." That certainly describes so many of the people who work at The University of Texas Rio Grande Valley. They work each day behind the scenes, away from spotlights and accolades, but still knowing they have a job to do that supports the university community and makes it run smoothly. In order for an institution as large as UTRGV to work efficiently, many people must contribute – but some of them go unnoticed. Our Unsung Heroes series highlights just a few of the people who often go overlooked, despite their importance and contributions.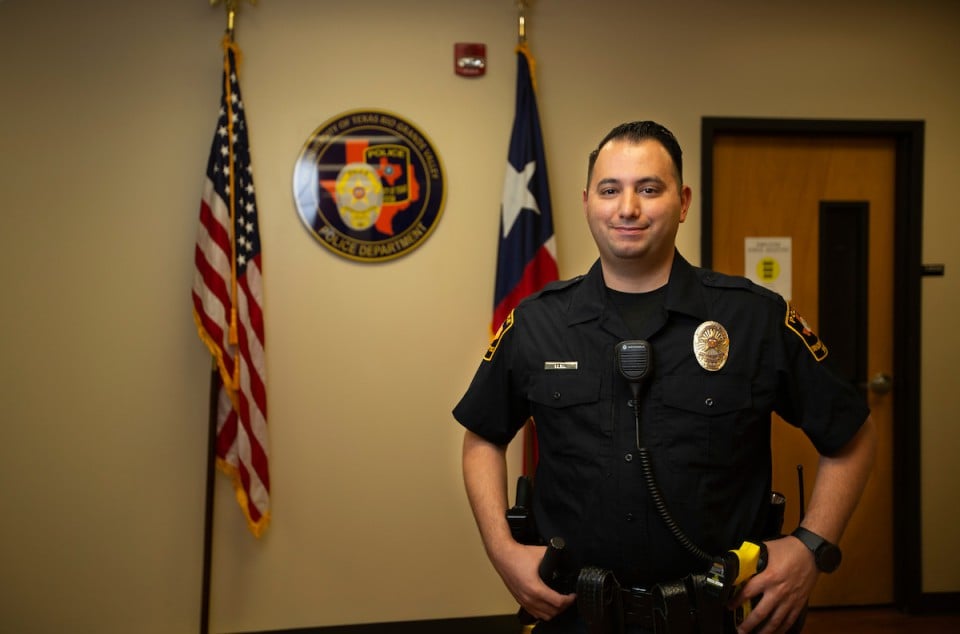 Meet Officer David Peña, a UTRGV Unsung Hero
Text by Steven Masso, student staff writer
Photos by Silver Salas, student staff photographer: https://tinyurl.com/ya6df8h6
Password: officerpena (case sensitive)
He was just a child at the time. As the police officer approached, David Peña clung to his mother, but she told David not to be frightened … that police officers are our friends … that they are here to help us. Fascinated by someone who could be a friend, someone who could help people, Peña made up his mind then and there: "That's when I told my parents I wanted to be a cop when I grew up," he says.
Twenty years later, Officer Peña now patrols the Edinburg Campus of The University of Texas Rio Grande Valley. The job has been his lifelong dream, quite literally.
WHAT IS YOUR ROLE AT UTRGV?
I am a UTRGV police officer, and my fulltime assignment is as Community Engagement Officer for the department.
HOW LONG HAVE YOU WORKED HERE?
Going on three years of service with the UTRGV Police Department. I have prior law enforcement experience at the Hidalgo County Sheriff's Office as a deputy sheriff.
DESCRIBE YOUR AVERAGE DAY
I begin my tour of duty in police uniform, conduct a presentation to the campus community (Civilian Response to Active Shooter Events, Campus Safety, or Personal Safety). I participate in various tabling events around campus that pertain to safety and awareness. These events include Sexual Assault Awareness, Stalking Awareness, Alcohol and Drug Awareness, and many other topics. I also spend my shift patrolling the UTRGV campuses on bicycle or by vehicle. While on patrol I make it a point to engage the community by conducting proactive community policing.
WHAT IS YOUR FAVORITE PART OF THE JOB?
I love to be in the classrooms, educating the UTRGV community on safety procedures and promoting the services offered by the UTRGV Police Department.
I also enjoy bicycle patrol. Not only is it a great resource to keep the community safe, but it also gives me the opportunity to get on the same page with the community through community policing. Bicycle patrol has given me the opportunity to be more approachable.
TELL US SOMETHING MOST PEOPLE DON'T KNOW ABOUT YOU
Since I was a child, law enforcement has always attracted my attention. I told myself and my parents, 'One day, I will be a law enforcement officer.' At the age of 22, I graduated from the Hidalgo County Sheriff's Academy and lived my childhood dream by becoming a Texas Peace Officer.
DO YOU HAVE A FAVORITE MEMORY OR STORY FROM YOUR TIME HERE?
Yes. I was interacting with the community, and a community member made me aware of a suspicious male on campus. I continued to follow up on the information provided to me, but I was not able to locate him. Soon after, I had been on foot patrol in the area this person was last spotted – and I ended up locating the suspicious person inside a building. He was not affiliated with university and was placed under arrest. We discovered he also had a lengthy criminal history. The individual was removed from university property and was banned from returning.
I continued to follow up with the community after the incident and I found out this individual had been causing problems with staff members for some time. This incident was a great example of the community and the police working together, to not only resolve crime, but also to prevent it.
DO YOU FEEL A SPECIAL BOND WITH THE UTRGV COMMUNITY?
Yes, I really care about my community. I try to do everything I can to give back to the community through my job, through professional police services and education.