Unsung Heroes:
Meet some of the people who help make UTRGV run
EDITOR'S NOTE: President Abraham Lincoln said, "Don't worry when you are not recognized, but strive to be worthy of recognition."
That certainly describes so many of the people who work at The University of Texas Rio Grande Valley. They work each day behind the scenes, away from spotlights and accolades, but still knowing they have a job to do that supports the university community and makes it run smoothly.
In 2016, UTRGV had 27,560 students and 1,372 faculty members. The campus covers 633 acres of land, with 10 colleges and a School of Medicine, all located in four different counties.
In order for such a vast institution to work efficiently, a large number of people must contribute, and some of them go unnoticed.
Our Unsung Heroes series highlights just a few of the people who often go overlooked, despite their importance and contributions.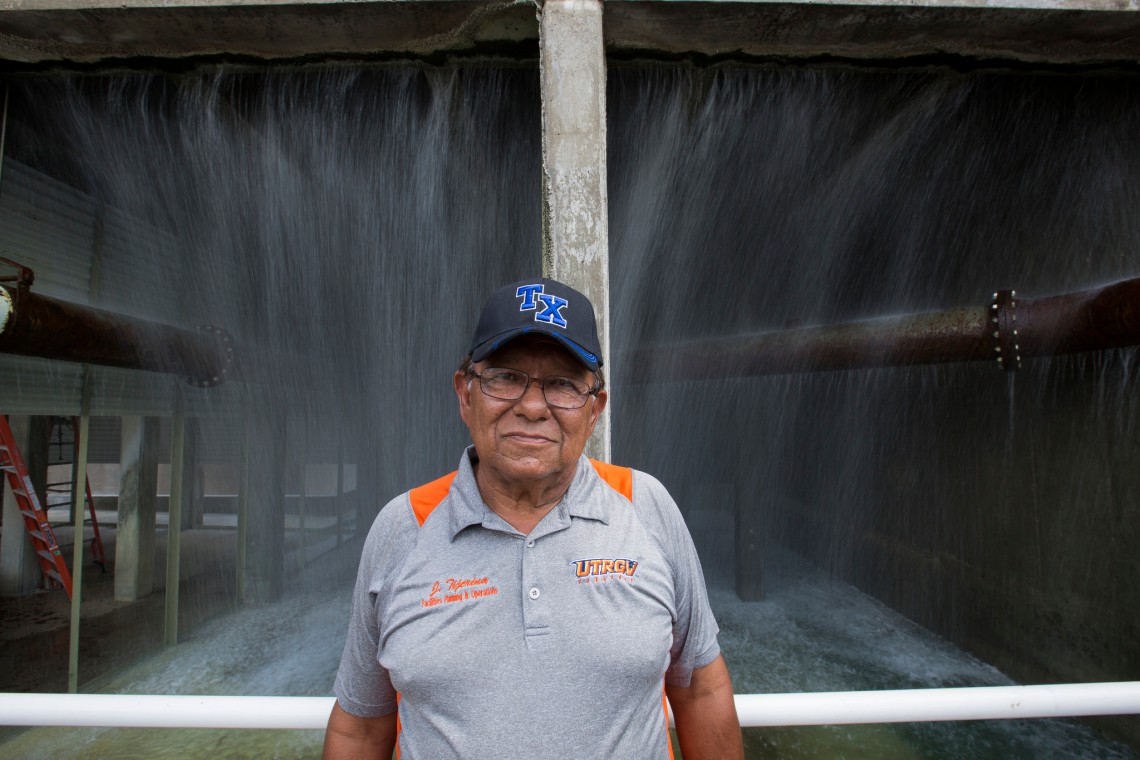 MEET JOSÉ TIJERINA, A UTRGV UNSUNG HERO
Text by Steven Masso, student staff writer
Photos by Veronica Gaona, student staff photographer: https://www.flickr.com/gp/utrgvnews/38xeY7
The coolant plant on the UTRGV Edinburg Campus is a system of massive pipes through which 50,000 gallons of water flow constantly. The man responsible for the team that controls the waterworks stood observing his domain for a moment, then he nodded. A hint of a smile appeared, revealing his sense of accomplishment. For a man who loves to work, this is the perfect challenge for José Tijerina.
"I never say no. That's not in my dictionary."
WHAT IS YOUR ROLE AT UTRGV? 
I'm a plumber foreman for the Edinburg Campus. 
HOW LONG HAVE YOU WORKED HERE?  
Ten years.
DESCRIBE YOUR AVERAGE DAY
Every day, I get here at 7 in the morning. The first thing that I do is check the pool. We check pH levels and bromine levels, and we will add acid, or bromine, accordingly. I assign the other plumbers to their daily work. If we have projects we have to do – for instance, if they want a price quote for a sink – we will give them an estimate. If they approve it, I'll take a plumber out there and assign him that project. Sometimes, we have major water leaks or gas leaks. We are the first ones to be there. We do the repairs and try to limit the damage. Then we usually leave around 4:45 p.m.
WHAT IS YOUR FAVORITE PART OF YOUR JOB
My favorite thing would be tackling a big problem. Some people don't like big problems, but I enjoy the challenge. If they come to me with an issue … they will tell me, "The contractor is charging so much money and it's too much. Can you do it?" I'll always tell them, "Yeah, sure." I will never say no. That's not in my dictionary. I can handle everything, and I like the challenge.
TELL US SOMETHING MOST PEOPLE DON'T KNOW ABOUT YOU
That's hard to say. When I talk to somebody, I let them know (he laughs) … my hobby is working. I have some rental property that I maintain. I do all the repairs myself on Saturdays and Sundays. I do everything – the electrical work, the painting, the Sheetrock. I try to keep busy. There's always something for me to do at home. I've been remodeling my house lately, and did a lot of that work myself.
DO YOU HAVE A FAVORITE MEMORY, OR STORY, ABOUT YOUR TIME HERE?
We're doing a project right now that has to be one of my favorites. It's replacing the cooling power water lines. It involves 16-inch steel pipe. We have to move in and put in Schedule 80 (a thick PVC pipe for pressure applications). It's a challenge, because I've never done it before, but I don't say no. I do it. Those are the kinds of things that I love to do.
DO YOU FEEL A SPECIAL BOND WITH THE UTRGV COMMUNITY?
I don't get an opportunity to talk much to the students. I talk to the faculty and staff, mainly. I've been here for a while, and they have always been friendly.