Program Overview
The Master's degree in Creative Writing offers advanced study and practice of literary craft. This studio/research program provides aspiring writers with the ongoing support and challenge of a workshop environment, along with individualized guidance by faculty members who are published authors themselves.
The degree program prepares students for careers as writers, teachers at the college or university level, editors, literary translators, and other related professional careers. The program provides further training in the art of contemporary literary writing and publishing, the artistic inspiration of other writers as peers and mentors, and a deepened understanding and appreciation of literary traditions, including those of the Rio Grande Valley and elsewhere.
Possible Career Options
A Master of Fine Arts in Creative Writing is a degree program for
the
aspiring professor, published author, or management-level specialist.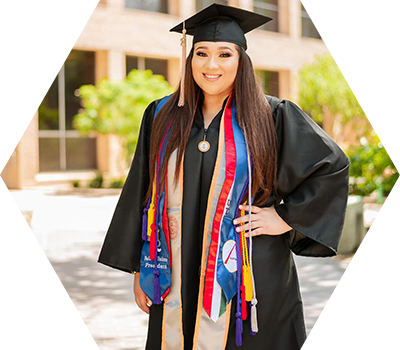 UTRGV has many student organizations, which have allowed me to network and obtain job opportunities. Lastly, UTRGV has outstanding and caring professors who guide you and support you not only as your instructors but also as your mentors.