Program Overview
Students pursuing a Master's degree in Interdisciplinary Studies with a Concentration in English may choose a program of study within the English department of literature, linguistics, rhetoric, composition, and literacy. This flexible program offers students an opportunity to discover more about the world they live in, learn to appreciate the artistic works of fellow human beings, and develop literary and language aptitudes of their own. The program prepares students for any profession requiring a high degree of skill and comprehension in oral and written communication.
The program prepares students to pursue doctoral studies and careers in teaching, professional writing, and editing.
Possible Career Options
The Master of Arts in Interdisciplinary Studies with a Concentration in English program prepares students with a variety of skills in demand, including the ability to write and communicate effectively. There are opportunities in education, business, government, and non-profit organizations. Students may choose to go down the educational route with careers in teaching, or they can go down the business route, where they will find a wealth of opportunities in content creation, copywriting, editing, and communications.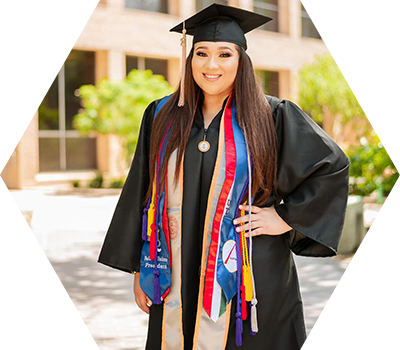 UTRGV has many student organizations, which have allowed me to network and obtain job opportunities. Lastly, UTRGV has outstanding and caring professors who guide you and support you not only as your instructors but also as your mentors.