Planetarium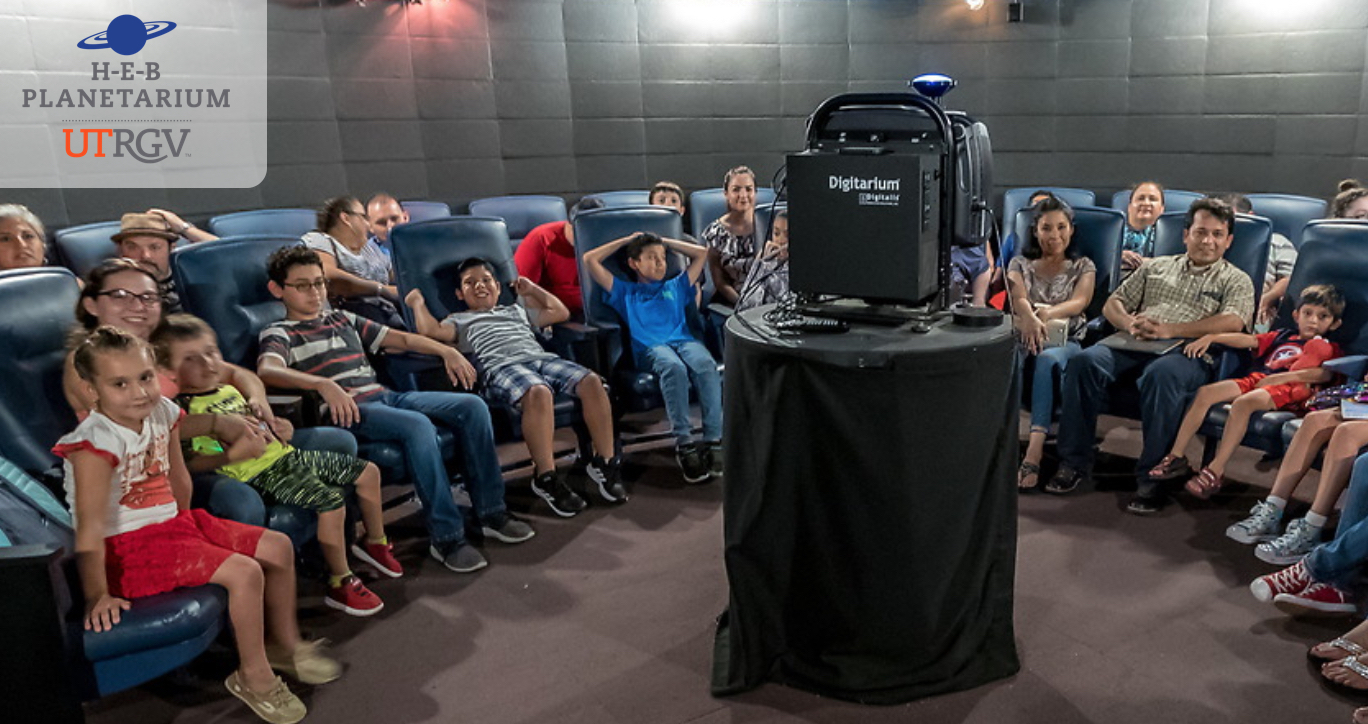 Come visit us at the planetarium during our scheduled times below and watch one of the many films available. We welcome walk-in visitors and also appointments for large groups. To schedule an appointment, please click on the button below entitled "Reserve the Planetarium". Note that you will be asked to select films for viewing, therefore please browse through our film selection below.
Important Policies
UTRGV HEB Planetarium reserves the right to cancel in-person events at any time due to an increase in COVID-19 cases.
Please arrive 10 minutes prior to your scheduled show time.
Please report cancellations in a timely manner. Cancellations made at least one week prior to a scheduled show date are accepted without penalty. Cancellations made less than one week prior to a scheduled show date may incur penalty. Weather or valid emergency cancellations are exempt from this policy.
For safety reasons, NO late entry or re-entry into the dome is allowed. There are no exceptions to this rule.
Due to scheduling limitations, the planetarium may not be able to accept reservations less than two weeks in advance.
Teachers must be the individual scheduling the field trip. Parents are not able to call to schedule a field trip.
Pricing
Student group rate: $4/student (15-30 minutes)
Teachers and any additional adults are admitted for free.
To Book a Show
Select a program from our Field Trip Program list.
Plan your time. Planetarium shows last approximately 15-30 minutes.
You may use the online reservation form, if you wish. Note: online reservation forms will not be accepted if a show is not selected.
Teachers, please assemble the following items before calling to schedule your field trip:

Contact Information: school name, address, phone number, lead contact, alternate contact, phone numbers, and email addresses.
Attendees: grade level, number of students, teachers
Dates/Times: dates and show time, plus an alternate date and show time in case we are already booked.
Special Needs: The planetarium can accommodate a limited number of persons in wheelchairs. Please advise the scheduling coordinator when making reservations.
Before entering the H-E-B Planetarium
We will get a final head count for your entire group, including teachers.
Combine all the money into one payment and designate one person to make that payment.
The H-E-B Planetarium accepts school or personal checks.
Parents and Additional Chaperones
Please take this into consideration when planning your arrival time. There are no late entries into the planetarium.
Field trips are designed for school students, and while we do our best to accommodate parents, there may be a point during the field trip where we do not have seating for parents. In this case, some parents may be asked to wait in the planetarium lobby.
We welcome walk-in visitors, school field trips and appointments for large groups. To schedule an appointment, please click on the button below entitled "Reserve the Planetarium".
Hours of Operation
Hours of Operation

| | |
| --- | --- |
| Monday: | 8:00am - 5:00pm |
| Tuesday: | 8:00am - 7:00pm |
| Wednesday: | 8:00am - 5:00pm |
| Thursday: | 8:00am - 5:00pm |
| Friday: | 8:00am - 5:00pm |
NOTE: Last showing is 30 minutes before closing.
---
Reservations
For On Campus Visits or groups of 10 or more, please fill out our reservation form.
Pricing K-12 Schools only
For K-12 schools please refer to our pricing form for a detailed listing of our costs.
---
Shows
The planetarium offers a variety of engaging short films. Please select an option on the drop down menu above and we will display information about that show.