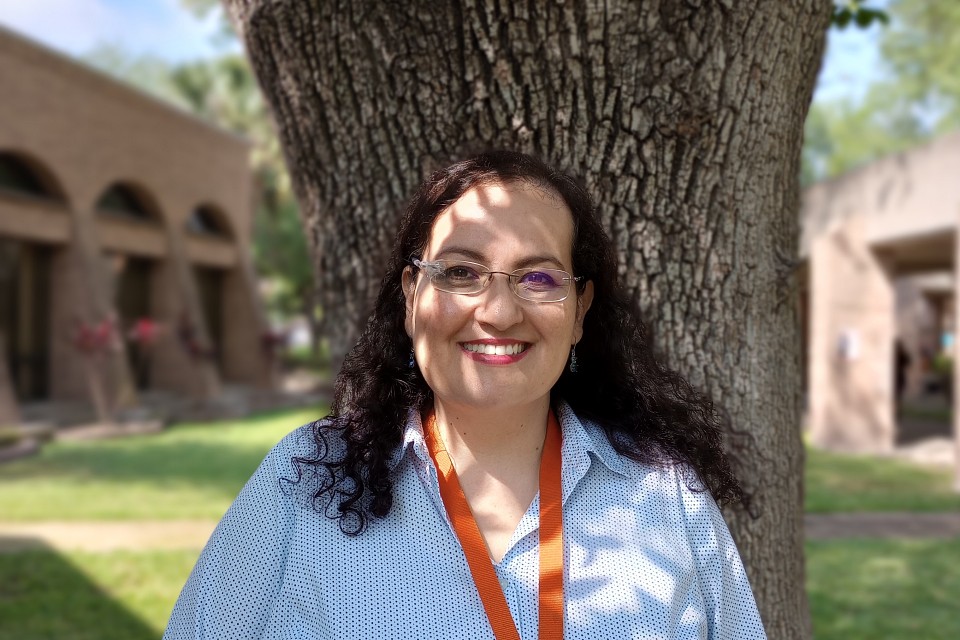 Meet Miriam Garcia, a UTRGV Unsung Hero
Text by Amanda A. Taylor-Uchoa

Miriam Garcia, scheduling coordinator in the UTRGV Office of the Registrar on the Edinburg Campus, serves as a primary point of contact for a wide range of scheduling. From operational to academic course offerings and events, Garcia's job is to stay on top of all scheduling needs. The task is nonstop, and necessary for all departments to run efficiently.
Garcia has worked for the university for 15 years and has received several service awards for her diligence. She is grateful for the recognition, she said, but she simply enjoys helping others in any way she can.
WHAT IS YOUR ROLE AT UTRGV?
My role at the university is to serve as a primary point of contact and liaison with academic units on a range of routine and complex scheduling, operational and administrative issues related to academic course offerings and event scheduling.
I coordinate and carry out scheduling of academic space for course sections and events year-round to achieve efficient usage of campus space. I work diligently to ensure course schedule requirements are met in a timely manner every semester. And I collaborate with departments and academic units to provide outreach/training and resources available every semester. Also, I provide the necessary support to departments, faculty and students at the university with a positive attitude across all organization levels.
HOW LONG HAVE YOU WORKED HERE? 15 years.
DESCRIBE YOUR AVERAGE DAY
Our office is always busy, especially during our peak times, and the average day goes by quickly. I always try to maintain a positive and effective working relationship with all colleges and departments across campus.
I communicate and collaborate with our departments and colleges on different inquiries related to academic and event s scheduling, including inquiries related to academic course scheduling for all the semester terms – spring, summer and fall.
I run a variety of reports daily, to be sure the necessary changes are completed before the beginning of each semester, and I process course schedule changes as requested for all the academic departments in the university. I help academic departments with the construction of academic class schedules through training and hands-on support with available technological tools. And I inform academic departments on important timelines, deadlines, and access to the banner for academic course scheduling. I try to prioritize work to be performed based on registration deadlines and peak times.
WHAT IS YOUR FAVORITE PART OF YOUR JOB?
Being able to assist all UTRGV stakeholders on campus and provide great customer service to our UTRGV team.
DO YOU HAVE A FAVORITE MEMORY, OR STORY, ABOUT YOUR TIME HERE? 
Throughout my time here, I have received several awards that have been a great honor and privilege for me. There have been two Meritorious Service Awards in recognition of performance and /or dedication beyond that normally expected. I received a certificate and recognition for outstanding generosity and dedication to the students of Economics and Finance - the students with the collaboration of the departmental faculty surprised me with this memorable certificate. I also received the Financial Literacy Challenge Award, in recognition of my dedication and outstanding contributions to the Financial Literacy Challenge. In addition, I received a Certificate of Recognition for being nominated for Supervisor of the Year and several Bravo Vaqueros recognitions. Now, I can say it's an honor to be nominated to the UTRGV Unsung Heroes series.
TELL US SOMETHING MOST PEOPLE DON'T KNOW ABOUT YOU 
I enjoy helping others and those in need. I also love soccer, and spending quality time with my family.
WHAT IS YOUR RELATIONSHIP WITH THE UTRGV COMMUNITY?
Throughout my work history, I have fostered excellent working relationships throughout the university, which has brought me great satisfaction and memorable experiences. I greatly enjoy being part of the success of our students, whether during my time at the UTRGV College of Business Administration or now at the UTRGV Office of the Registrar. Being part of a key and fundamental team (scheduling team) of individuals who support the outlook of the current and future state of the university brings me great gratification because, at the end of the day, it is the student who is able to register, attend class and eventually graduate from UTRGV.