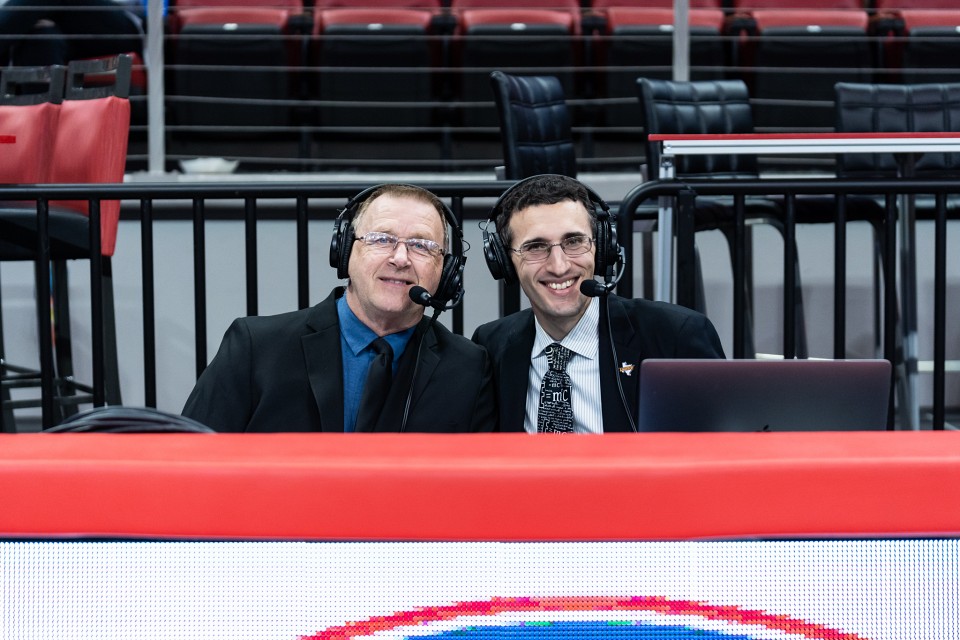 Meet Jonah Goldberg, a UTRGV Unsung Hero
Text by Amanda A. Taylor-Uchoa

Jonah Goldberg, senior associate athletic director for Communications and Championships with UTRGV Athletics, is the primary media contact for athletics. He worked part time at legacy institution UT Pan American as a radio broadcaster and communications assistant in 2007, only to return in 2011 as a full-time employee in the athletics department.
"Every day is different, which is one of the things I love about working here," he said.
He believes there is no such thing as an average day in athletics, and attributes his love for his job not only to his passion for athletics, but also to the "amazing team" he collaborates with every day.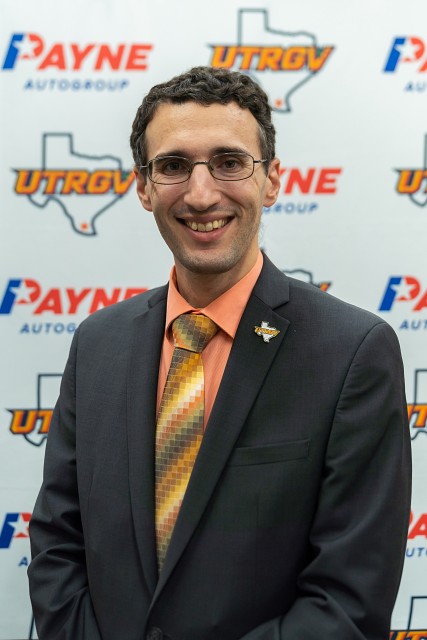 WHAT IS YOUR ROLE AT UTRGV?
I serve as the primary media contact for athletics with specific sports responsibilities, currently including baseball, men's basketball, football, women's swimming and diving, and volleyball. I handle play-by-play duties for our ESPN+ broadcasts of baseball, volleyball and men's and women's basketball and soccer. I also oversee the process of bidding on and hosting championship-level events, such as the 2022 Western Athletic Conference (WAC) Volleyball Tournament at the UTRGV Fieldhouse, and the 2023 WAC Swimming & Diving Championships at the City of Pharr Natatorium.
HOW LONG HAVE YOU WORKED HERE?
I initially worked as the baseball and basketball radio broadcaster and part-time communications assistant for UTPA in 2007-08. I then returned as a full-time employee in November 2011. So, this time around, I've been here for about 11 and a half years. We can call it 12 years if we include my first stint.
DESCRIBE YOUR AVERAGE DAY:
There's no such thing as an average day working in athletics. Every day is different, which is one of the things I love about working here. There's a lot of writing involved. We pitch a lot of stories to the media and facilitate interviews. We plan.
But I think the most consistent thing I do is collaborate with an amazing team of co-workers. My communications staff includes three other full-timers – Claire Cruz, Danny Elizondo and Mikey Rodriguez; a part-timer, Julissa Martinez; student-experience intern Nathan Garza; and two student workers, Matthew Gonzalez and Brandon Garcia. And all of them are tremendous. I couldn't have asked for a better team, and this Unsung Heroes recognition is simply a reflection of their hard work.
WHAT IS YOUR FAVORITE PART OF THE JOB?
Seeing what our athletics department means to other people. One of my favorite parts of the job is working with the Hall of Fame Committee. I have had the honor of being the first point of contact with numerous inductees over the years, and hearing their excitement and their stories of their time just makes my day.
DO YOU HAVE A FAVORITE MEMORY, OR STORY, ABOUT YOUR TIME HERE?
May 11, 2014 – it was the final home game of baseball season, also known as Senior Day. This often means that seniors get to play, and that year, we had a few seniors who didn't play much get an opportunity. We had five senior pitchers toss five hitless innings of relief against the top team in the league – Sacramento State. We get to the ninth inning and the game is scoreless. A fifth-year senior getting an opportunity, Jonathan Garza, singled.
That brought up Andy Fortuna. Something to know about Andy is that he was raised by his grandma. This was Mother's Day. His grandma was watching him play collegiately in person for the first time. Something else to know about Andy – he had not hit a home run since his senior year of high school. In fact, in four years here, he only had one extra-base hit – a double as freshman. In fairness, he was also a backup outfielder who didn't get a lot of at-bats. The best closer in the conference was on the mound. Fortuna hit a walk-off home run. It was the most incredible thing I've ever seen. Tears were flowing in the dugout, not just because we won, but because of who had done it. Fortuna is an incredible human being. It was great to see him go out that way.
TELL US SOMETHING MOST PEOPLE DON'T KNOW ABOUT YOU:
I am the descendant of Holocaust survivors. My mom's parents and two of her uncles survived and made it to the United States. My great Uncle Joe, who lived until the age of 95 and only recently passed away, was forced to attend school about how to make bricks when he got to Auschwitz. He acted out in class, so, in the dead of winter, the Nazis threw freezing water on him and left him outside to freeze to death. They failed. They made him endure the Death March. He lived. He jumped from a train. They stopped to look for him. They couldn't find him.
My grandma was forced to act as a nurse in the camps. She snuck medicine from the Nazi side and saved the lives of prisoners. Had she been caught, she would've been shot. She was a hero. My grandfather was a tailor and was forced to fix the boots and uniforms of the Nazis. When he was being transferred to another camp, he too jumped from a train and escaped. My grandparents met in a displaced persons camp. My Uncle Joe acquired the diamond for the engagement ring by trading a gallon of peanut butter for it.
We named our daughter after my grandma. We taught her the origin of her name at a young age, and by the time she was in kindergarten, she could go into her classroom and tell everyone the story about my grandma - how she risked her life for others, and how 6 million Jews were systematically murdered in the Holocaust.
Despite the horrors my family had to endure, I am always struck by how happy they were and the kindness they always showed toward others. I try to take what I learned from them and use it in my life. As my Uncle Joe always said, "Be kind to one another. And always remember."
WHAT IS YOUR RELATIONSHIP WITH THE UTRGV COMMUNITY?
We have a great community at UTRGV. I am fortunate to count a number of people from other departments as my friends. I always enjoy collaborating with people across campus, as well,  because everyone brings such distinct perspectives to everything. I attend a lot of meetings, but one of my favorites is with the UTRGV Newsroom. This is my opportunity to hear about some of the amazing stories there are around campus and also talk with fellow communicators.