Thirty-six new professionals-in-training take Hippocratic Oath, don symbol of the profession

  Saturday, October 28, 2023
  Student Life, Health
By Karen Villarreal
RIO GRANDE VALLEY, TEXAS – OCT. 28, 2023 – Nidhin John, a first-year student in the UTRGV School of Podiatric Medicine, achieved a first for his family.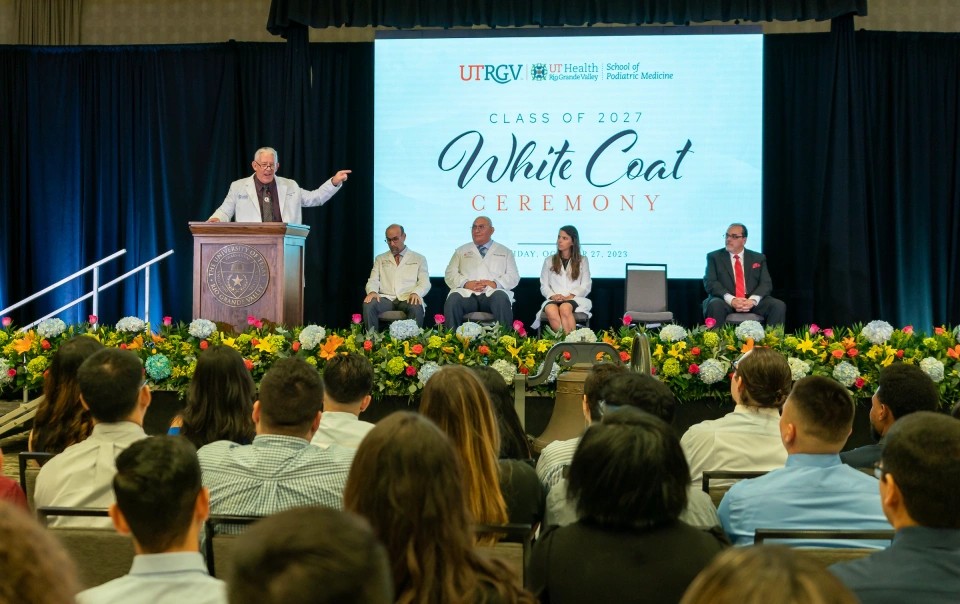 John was among the second cohort of future podiatrists officially welcomed to the medical community during a symbolic White Coat ceremony, held Oct. 27 at the Harlingen Convention Center.
This is the second cohort for the UTRGV School of Podiatric Medicine – which is the only one in Texas and one of only 10 in the United States.
It has 36 students – 18 female and 18 male ­– and is 100 percent Texan. Nine are from the Rio Grande Valley. And half of the new SOPM Class of 2027 are the first in their families to attend graduate school. 
John, 22, from Houston, said he is three months into the podiatry program and already has developed a much deeper appreciation for his future profession.
"Even if it's small things, like shaving a callus, or a big surgery, like repairing an Achilles tendon – podiatrists can do so much," he said. "Especially in the Valley, with the high number of diabetic patients here – we are going to change lives."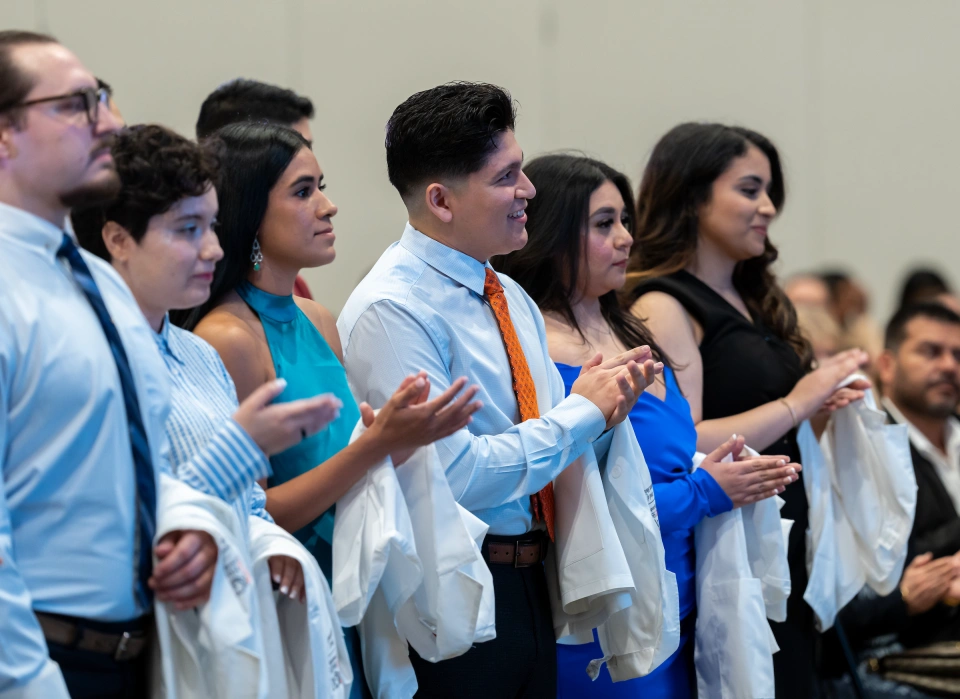 AN OATH AND A COAT   
The 36 new podiatrists-in-training stepped into the profession by taking the "Hippocratic Oath," a historic promise to uphold a strict ethical code, and for the first time donned the white coat, all before an audience of  loved ones and SOPM faculty.
Dr. Javier La Fontaine, inaugural dean of the UTRGV SOPM, said similar rites of passage take place in almost all medical podiatric medical schools in the United States and Canada.
"This occasion is far more than a formality. It's a declaration of your dedication to upholding the core values of our profession every time you don the white coat," he told the assembled second cohort. "It also signifies your role as a leader as you carry the torch forward, becoming educators, researchers and scientists."
La Fontaine and Dr. Javier Cavazos, associate dean of Academic Affairs, helped the new student-doctors into their coats, which were donated by Sagis Diagnostics.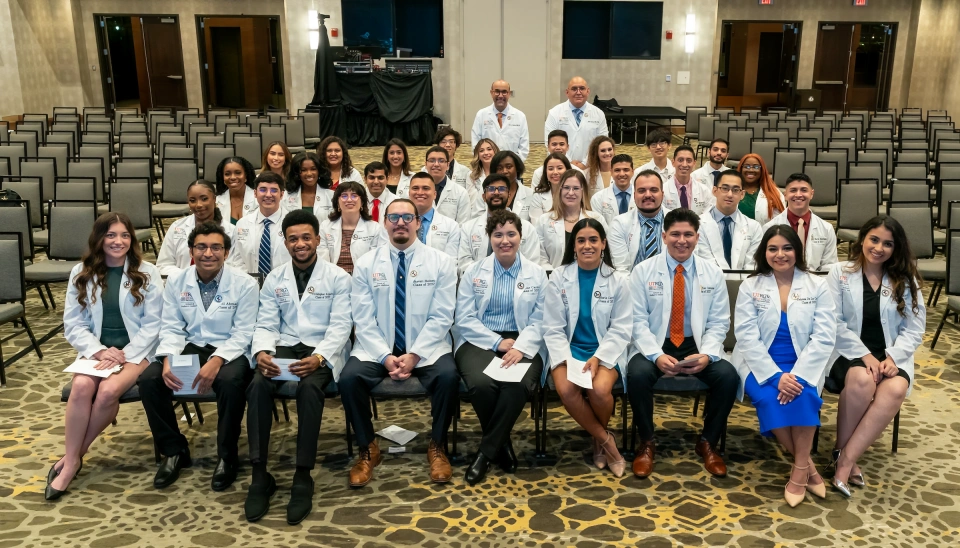 Dr. Neil Campbell, president of the Texas Podiatric Medical Association, placed a TPMA pin on each student's lapel.
"I want to talk to you as a colleague because, in four short years, that's exactly what you're going to be," Campbell said. "I look forward to calling you 'doctor.'"
He advised them to study until everything they're learning has become second nature.
After four years at the UTRGV SOPM, they must complete three years of hospital-based, post-graduate residency training. 
The advice to study hard was emphasized by keynote speaker Dr. Joseph M. Caporusso, who founded Complete Family Foot Care in McAllen in 1993.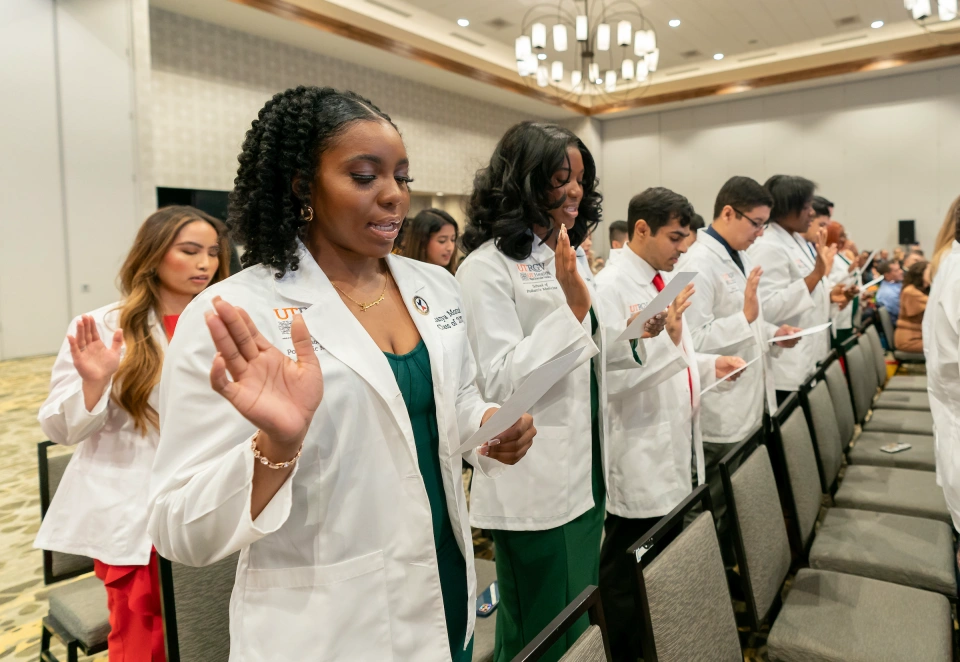 "We are responsible for educating ourselves so that we can function within the medical community at the highest levels," Caporusso told the students and their guests.
CLASS OF 2027
Natali Gutierrez, 23, from Edinburg, said podiatry is a deep, far-reaching career that ranges from infection and disease to biomechanics, and she is determined to make it through the next seven years.
"My grandfather died of diabetes, and it was a terrible way to go," Gutierrez said. "I'm immensely proud to be here, to help those who are currently dealing with the health challenges this disease brings."
Yasim Zafar, the second cohort's class representative, said overseeing another person's care is a challenging – but gratifying – commitment. 
"The best among us are needed for this task, and I believe we are those individuals," he said.
ABOUT UTRGV
The University of Texas Rio Grande Valley (UTRGV) was created by the Texas Legislature in 2013 as the first major public university of the 21st century in Texas. This transformative initiative provided the opportunity to expand educational opportunities in the Rio Grande Valley, including a new School of Medicine, and made it possible for residents of the region to benefit from the Permanent University Fund – a public endowment contributing support to the University of Texas System and other institutions.
UTRGV has campuses and off-campus research and teaching sites throughout the Rio Grande Valley including in Boca Chica Beach, Brownsville (formerly The University of Texas at Brownsville campus), Edinburg (formerly The University of Texas-Pan American campus), Harlingen, McAllen, Port Isabel, Rio Grande City, and South Padre Island. UTRGV, a comprehensive academic institution, enrolled its first class in the fall of 2015, and the School of Medicine welcomed its first class in the summer of 2016.