36 future podiatrists … 100 percent Texan!

  Monday, August 7, 2023
  Around Campus, Student Life
By Karen Villarreal
UTRGV Photo Gallery by David Pike: https://utrgv-umc.photoshelter.com/galleries/C0000xUeJQ78_4Ms/G00003XphTSquFgg/20230804-SoPM-Class-Welcome-DP
RIO GRANDE VALLEY, TEXAS – AUG. 7, 2023 – A second cohort of future podiatrists has begun its journey at the UTRGV School of Podiatric Medicine ­– the first school of podiatric medicine in Texas and one of only 10 in the United States.
Dr. Javier La Fontaine, inaugural dean of the UTRGV School of Podiatric Medicine, welcomed the second cohort – the Class of 2028 – along with SOPM faculty at a dean's reception at the Harlingen Convention Center on Friday, Aug. 4, 2023.
Some of the inaugural Class of 2027 were present to welcome the new students, and La Fontaine recognized them for exceeding UT System standards set when the UTRGV School of Podiatric Medicine was founded in 2022.
"Our first 27 students have been an exemplary class, and I couldn't think of a better group of students to represent us," he said. "And, I see the second-year class excited to participate in research, and in our community."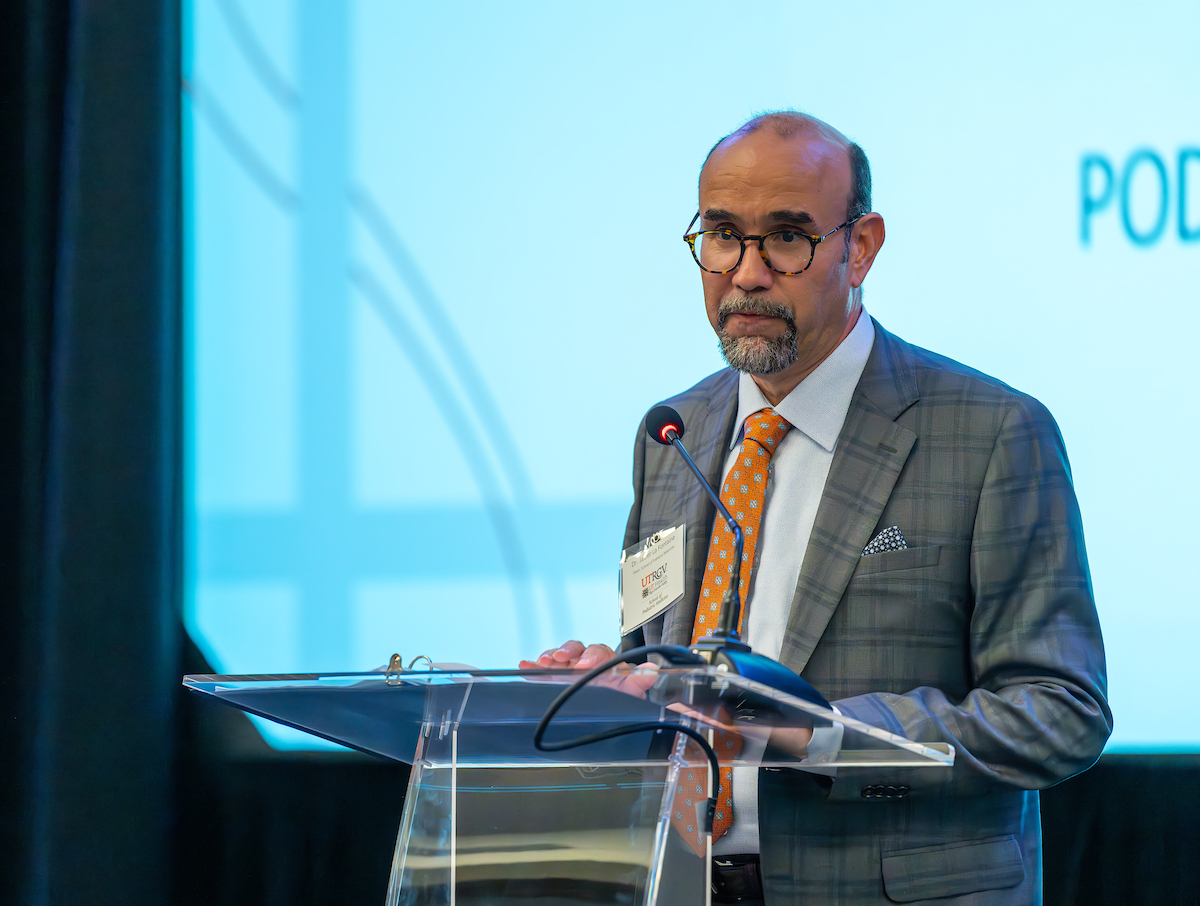 La Fontaine said every new cohort of future podiatrists aims to address the needs of patients in the Rio Grande Valley.   
"There is a high incidence of diabetes and related diseases of the lower extremities in the region, and foot care is very important in diabetic care," he said. "We are training a diverse group of physicians to specialize in the medical and surgical care of the foot and ankle, right here in the Valley, where they are most critically needed."
WELCOME, CLASS OF 2028
The second cohort of 36 students – 18 female and 18 male ­– is 100 percent Texan, with nine of them from the Rio Grande Valley. 
Five of the new students graduated from UTRGV, and four from its legacy institutions. One in the cohort – Denae Cantu, from Weslaco – has been a UTRGV student since high school, graduating from the UTRGV Mathematics and Science Academy.
Half of the new students are the first in their families to attend graduate school. Vivian Etugbo, who grew up in Houston, is one of nine in the cohort who were first-generation students in their undergraduate careers. She said her family is from Nigeria, where diabetic issues of the leg and foot are prevalent.
"I learned that the Rio Grande Valley has a similar diabetes endemic, so I'm in the perfect place to practice," Etugbo said.  
Orlando Garcia, from La Joya, Texas, said he grew up witnessing the need for medical education in rural communities. His grandmother, a curandera, would dispense folk medicine cures – along with over-the-counter medicine and recommendations to seek professional care when needed.
"She's very proud that I'm going to be a doctor," he said.
Nidhin John, another member of the second cohort, said he also knew he wanted to be a doctor since he was a child. He vividly remembers the 45 miles their family had to travel for help when his mother broke her leg in the locality of Maruthimoodu, in Kerala, India.
"It made me realize how badly people in rural communities need healthcare professionals," he said.
FROM PATIENT TO DOCTOR
Some of the Class of 2028 were set on their specialization after exposure to the field as patients. 
Amayrani Sanchez, who grew up in Chicago with family ties to the Rio Grande Valley, said the surgical podiatrists who treated her high-school basketball injury were so life-changing that she also wants to help people walk and run again.
"I tore two-and-a-half ligaments and spent four months recovering – but today, you could never even tell it happened," she said.
Similarly, Ellie Eskandari, from Plano, had been treated by podiatrists since childhood for her flat feet.
"I didn't complete my therapeutic process, so I still have pain," she said. "I wish I had – so I want to be that voice to encourage those going through it. And with research, hopefully contribute to non-surgical solutions."
After four years at the UTRGV SOPM, Eskandari and her cohort of future podiatrists must complete three years of hospital-based, post-graduate residency training. 
Classes began July 31 at the UTRGV School of Podiatric Medicine, where faculty have been creating spaces and tools to help students learn and contribute to research since the school opened in 2022. 
The school already is recruiting for its third cohort.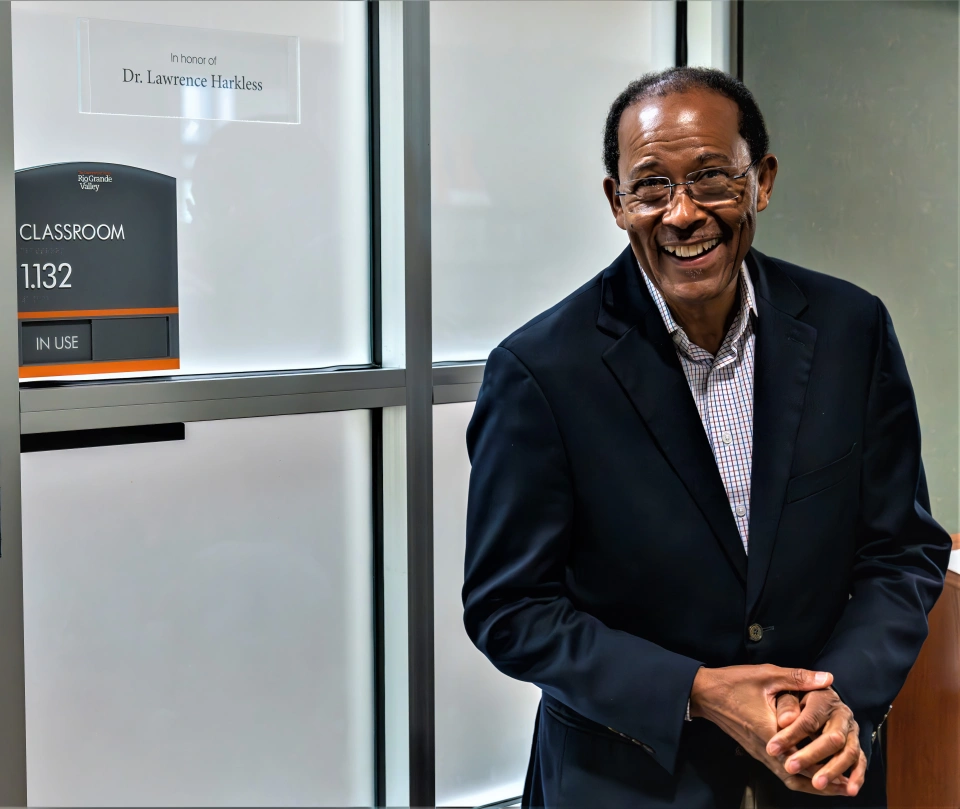 MAJOR STEPS AT SOPM
After students shared their difficulties in studying from existing diagrams, Dr. Hooman Mir, DPM, MSci, FAPWCA, 

developed a catalog of more than 700 medical illustrations 

to better educate students about the anatomical structures of the leg, ankle and foot.

UTRGV researcher Dr. Claudia Biguetti, assistant professor of Medicine, establisheda 

new research lab in the UTRGV School of Podiatric Medicine

 in November 2022 – focused on improving bone healing and regeneration. The "

translational research

" lab is currently applying promising theoretical research to animal models or on cell cultures with the goal of advancing to clinical trials.

UTRGV SOPM commemorated an anonymously donated gift of $250,000 with a plaque in the library of the Harlingen Clinical Education Building honoring 

Lawrence Harkless

, interim dean of the SOPM before La Fontaine.
ABOUT UTRGV
The University of Texas Rio Grande Valley (UTRGV) was created by the Texas Legislature in 2013 as the first major public university of the 21st century in Texas. This transformative initiative provided the opportunity to expand educational opportunities in the Rio Grande Valley, including a new School of Medicine, and made it possible for residents of the region to benefit from the Permanent University Fund – a public endowment contributing support to the University of Texas System and other institutions.
UTRGV has campuses and off-campus research and teaching sites throughout the Rio Grande Valley including in Boca Chica Beach, Brownsville (formerly The University of Texas at Brownsville campus), Edinburg (formerly The University of Texas-Pan American campus), Harlingen, McAllen, Port Isabel, Rio Grande City, and South Padre Island. UTRGV, a comprehensive academic institution, enrolled its first class in the fall of 2015, and the School of Medicine welcomed its first class in the summer of 2016.