Wednesday, June 14, 2023
  Community, Around Campus
By Dimitra Trejo
RIO GRANDE VALLEY, TEXAS – JUNE 14, 2023 – UTRGV's Area Health Education Center (AHEC) Scholars Program is training about 90 students to help increase access to healthcare in underserved communities in Cameron, Starr and Hidalgo counties.
Established in 2016, the Scholars Program prepares UTRGV students in health-related majors to work effectively in interdisciplinary collaborative teams in primary healthcare. AHEC Scholars serve at each of the UT Health RGV AHEC sites located in rural and medically underserved areas in the Rio Grande Valley.
The goal of the program is to educate medical students from the UTRGV School of Medicine and other health-related disciplines about the social causes of health-related inequalities.
"Nationally, there's a shortage of primary healthcare providers. In South Texas, the shortage is greater, not just for physicians but physician assistants, nurses, social workers, addiction counselors and other health professions. That is why our AHEC Scholars Program is crucial," said Dr. John Ronnau, senior associate dean for Community Health Partnerships and AHEC program director and principal investigator.
Since 2016, the program has produced more than 230 AHEC Scholars.
Seven different disciplines make up the AHEC Scholars Program and all work together to serve AHEC communities:
Physicians.
Physician assistants.
Nurses.
Dieticians.
Addiction counselors.
Social workers.
Exercise science.
"We emphasize getting students to think about how other disciplines would approach challenges and opportunities and work together to meet the needs of patients and the community," Ronnau said. "It has an impact on how they are going to practice, both now and in the future."
TRAINING FUTURE HEALTHCARE PROFESSIONALS
Sabrina Orta, a 2023 UTRGV School of Medicine alumna and AHEC Scholar, who matched to the Vanderbilt University Medical Center pediatrics residency program, said the program empowers both the students and patients.
"I wanted to interact with the RGV colonia community to improve patient health literacy, provide public awareness and encourage patient empowerment in medical decision-making," she said. "I knew I would mutually benefit by practicing my Spanish and building my experience of working with community partners to undertake public health initiatives."
Caleb Mata, an AHEC Scholar pursuing a degree in exercise science, said the program has been an eye-opening experience that has allowed him to collaborate with others.
"I served the community through my time at the AHEC at La Victoria in Starr County," Mata said. "Together, my team and I learned about the unique access challenges faced by rural and underserved communities."
Orta and Mata both earned AHEC Scholar Program certificates and gained experience by completing a total of 160 hours each serving at the AHEC sites.
COLLABORATIVE EFFORTS
Ronnau said there are more than 100 AHEC programs throughout the country, but UTRGV is one of only a few that includes primary healthcare.
The UT Health RGV AHEC staff are funded by the federal Health Resources and Services Administration, or HRSA, and the UTRGV School of Medicine, to provide primary care, acute and chronic illness care, health screenings, physical exams, immunizations and preventive care.
"There is a need for primary care in our rural South Texas neighborhoods and we serve them at reduced costs," Ronnau said. "We have integrated our AHEC training program into those clinics, so while we serve community members, we also provide educational opportunities for students and training for residents."
The UT Health RGV AHEC Primary Care at San Carlos in May expanded its services with a primary care annex designed to better serve the needs of that community. The expansion was part of a collaboration with Hidalgo County Precinct 4.
The AHEC Primary Care Clinic at San Carlos is just one of three AHEC's where UTRGV Scholars and residents serve the rural Rio Grande Valley community.
"With this expansion, we will serve more potential patients, not just in San Carlos but in the surrounding areas," said Dr. Michael Hocker, dean of the UTRGV School of Medicine and senior vice president for UT Health RGV. "We are demonstrating what a benefit it is to have an academic medical institution in the region providing educational, clinical and research opportunities our communities can directly benefit from."
The three AHEC clinics across the Valley have provided more than 25,000 patient visits to more than 8,000 people since opening their doors. The new San Carlos clinic annex will help serve about 500 additional patients each year, with staffing, residents and other support from UT Health RGV.
To learn more about the AHEC sites and AHEC Scholars Program visit https://www.utrgv.edu/school-of-medicine/about/community/area-health-education-centers/index.htm.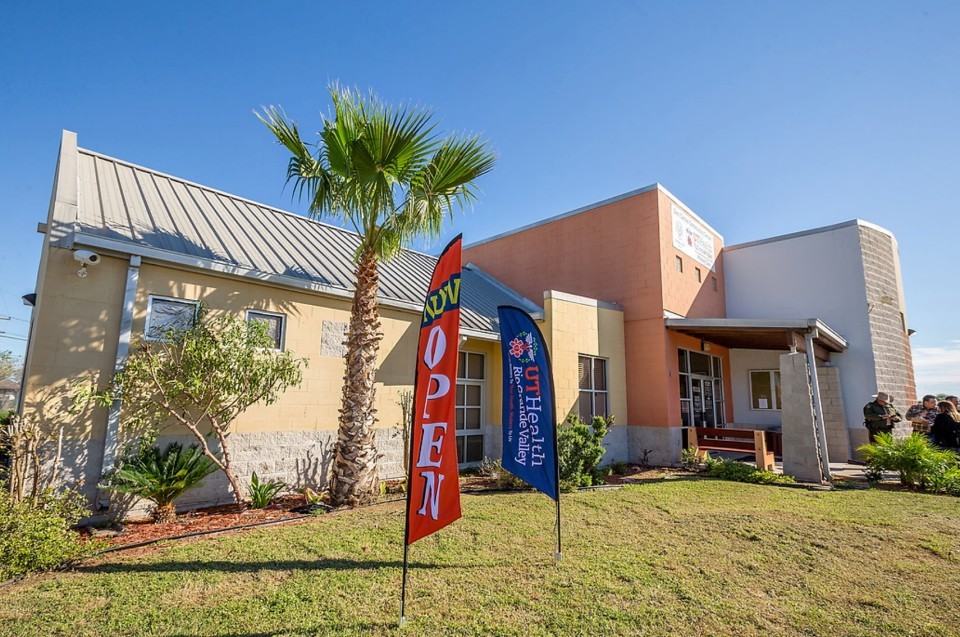 ABOUT UTRGV
The University of Texas Rio Grande Valley (UTRGV) was created by the Texas Legislature in 2013 as the first major public university of the 21st century in Texas. This transformative initiative provided the opportunity to expand educational opportunities in the Rio Grande Valley, including a new School of Medicine, and made it possible for residents of the region to benefit from the Permanent University Fund – a public endowment contributing support to the University of Texas System and other institutions.
UTRGV has campuses and off-campus research and teaching sites throughout the Rio Grande Valley including in Boca Chica Beach, Brownsville (formerly The University of Texas at Brownsville campus), Edinburg (formerly The University of Texas-Pan American campus), Harlingen, McAllen, Port Isabel, Rio Grande City, and South Padre Island. UTRGV, a comprehensive academic institution, enrolled its first class in the fall of 2015, and the School of Medicine welcomed its first class in the summer of 2016.