Wednesday, May 24, 2023
  Community
By Saira Cabrera
RIO GRANDE VALLEY, TEXAS – MAY 24, 2023 – The community partnership between the UTRGV School of Medicine, UT Health RGV and Hidalgo County Precinct 4 hosted a ribbon-cutting Tuesday morning for the new UT Health RGV AHEC Primary Care Annex Building.
The new facility will increase availability for primary healthcare for the underserved San Carlos community. 
'EXTREMELY SUCCESSFUL' 
Six years ago, in 2018, the Hidalgo County Precinct 4 and the UTRGV School of Medicine partnered to provide a unique medical clinic in the rural San Carlos area, to offer much-needed and affordable primary care services through the UT Health RGV Area Health Education Center, or AHEC. 
"Since then, the clinic has been extremely successful," Hidalgo County Precinct 4 Commissioner Ellie Torres said.
Given the growth and success of the UT Health RGV San Carlos AHEC, conversations arose about the need for more patient rooms to serve more people.  
"When we learned about the availability of a portable building previously used as a medical lab for the county," Torres said, "we quickly moved to call dibs on it because we knew it was the cost-effective answer to providing the additional space needed to serve more people in this community."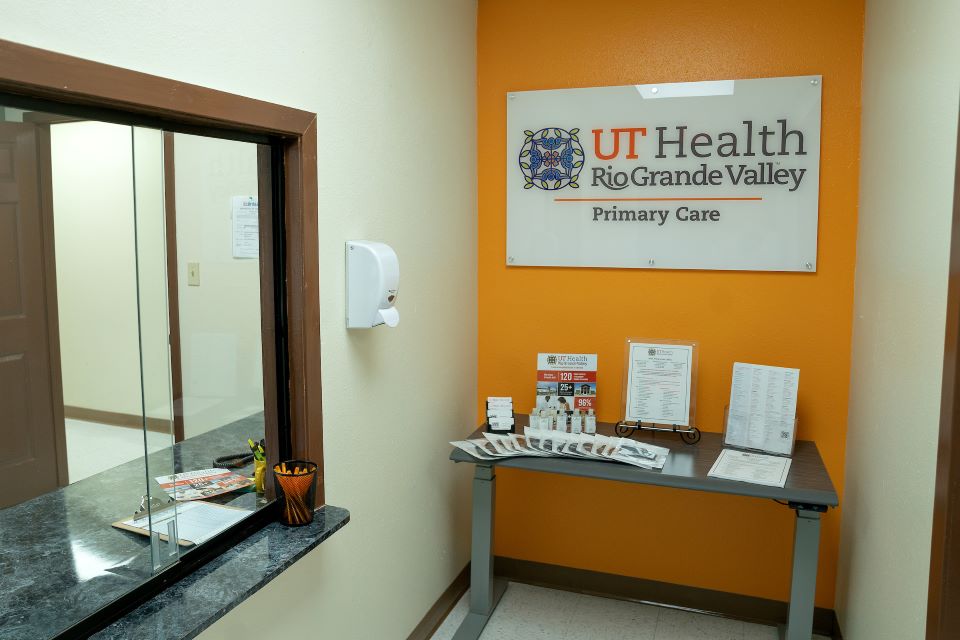 UT HEALTH RGV AHEC PRIMARY CARE AT SAN CARLOS 
That "cost-effective answer" – the portable medical building – was inaugurated Tuesday, May 23.  
As an annex clinic, it will serve as an expansion building with five additional exam rooms to serve more than 500 additional patients each year, depending on the availability of UT Health RGV clinicians and School of Medicine medical students to staff it.  
"This event brings tears to my eyes because it's remarkable," said Dr. John Ronnau, senior associate dean for community health partnerships, and director and principal investigator for the AHEC Program.  
"The county has been so generous, and we are thankful for our partnership," he said. "And even more impressive are the multiple partnerships that have brought us to this point today." 
The partnership helps provide the 1,400-square-foot building, which will deliver the needed space for primary care, women's health, and the behavioral and social services in high demand in San Carlos.  
In addition to primary health care at an affordable cost, the AHEC also will continue to provide education and training opportunities on multi-disciplinary care and health disparities for UTRGV School of Medicine students, residents, students in other health professions, and local high school students entering the School's pipeline and joint admission medical programs.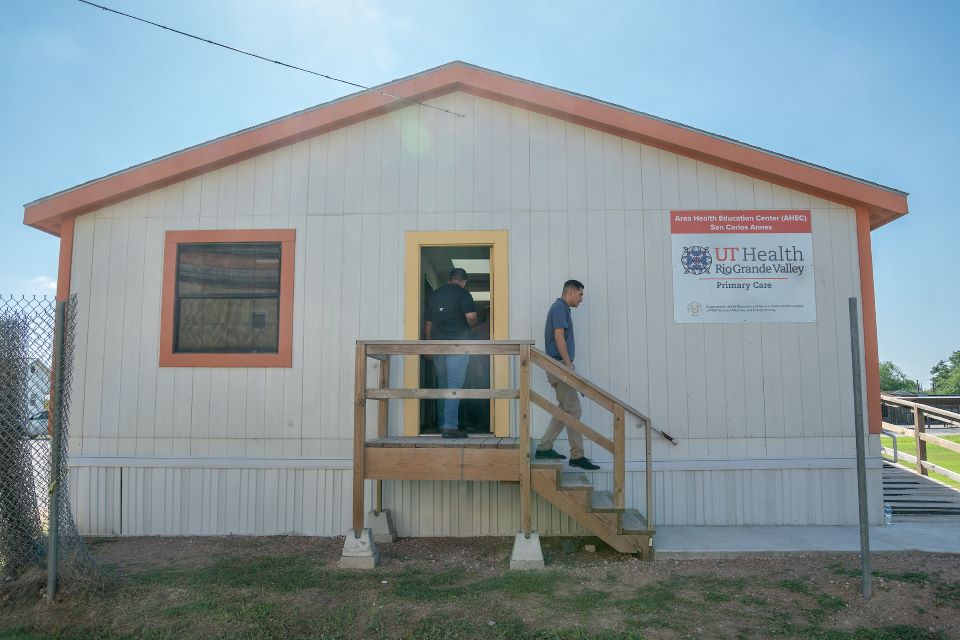 NOT THE BUILDING, BUT THE PEOPLE 
"Because of partnerships like these, we have this fantastic clinic," Ronnau said. "But it's not about the building. It's about the people who make it work and the people we will serve."  
The UT Health RGV AHECs are staffed with personnel funded by the Federal Health Resources Services Administration, or HRSA – a government organization that provides unbiased healthcare to the nation's highest-need communities – and the UTRGV School of Medicine, to provide family medicine, acute and chronic illness care, health screenings, physical exams, immunizations and preventive care. 
"The AHEC program is designed to prepare students in health-related professions to work effectively in inter-disciplinary collaborative teams on behalf of the community," Ronnau said. "Healthcare is important, but ultimately it's about changing things for the future. We're doing that through what is starting today – through academic medicine, through community partnerships.
"We are improving care for all, and building physicians and healthcare providers along the way," he said.
Currently, three clinics across the Valley are part of the AHEC program – in Rio Grande City, Brownsville and San Carlos. They have had more than 25,000 patient visits, with more than 8,000 individuals who have received primary healthcare.  
The AHECs also provide access to healthcare for community members who do not have prior access to medical care.   
"What we are witnessing today is a step closer to decreasing the gap between much-need healthcare needs and healthcare access," said Hector Trejo, a third-year medical student and an AHEC scholar who trains at the UT Health RGV AHEC Primary Care at San Carlos. "That's what today is about – making healthcare accessible to all." 
Upcoming improvements to the San Carlos area include additional parking and lighting to accommodate visitors, and sewage, water and electricity to make the AHEC more readily available. 
The new annex clinic will open its door to patients on Tuesday, May 30.  
ABOUT UTRGV
The University of Texas Rio Grande Valley (UTRGV) was created by the Texas Legislature in 2013 as the first major public university of the 21st century in Texas. This transformative initiative provided the opportunity to expand educational opportunities in the Rio Grande Valley, including a new School of Medicine, and made it possible for residents of the region to benefit from the Permanent University Fund – a public endowment contributing support to the University of Texas System and other institutions.
UTRGV has campuses and off-campus research and teaching sites throughout the Rio Grande Valley including in Boca Chica Beach, Brownsville (formerly The University of Texas at Brownsville campus), Edinburg (formerly The University of Texas-Pan American campus), Harlingen, McAllen, Port Isabel, Rio Grande City, and South Padre Island. UTRGV, a comprehensive academic institution, enrolled its first class in the fall of 2015, and the School of Medicine welcomed its first class in the summer of 2016.