Monday, May 22, 2023
  Student Life, Around Campus
By News and Internal Communications
By Regina Perez
RIO GRANDE VALLEY, TEXAS – MAY 22, 2023 – UTRGV students and faculty were part of an afternoon of exchange at the Sustainability Ambassador reception, held May 5 at the Ballroom on the Edinburg Campus.
The reception, hosted by the university's Office for Sustainability, brought together six sustainability ambassador programs to showcase and recognize their work. The programs represent a range of sustainability initiatives at UTRGV advised by faculty, driven by students and supported by the OFS.
Honorees were:
Mathematics and Science Academy (MSA) Sustainability Ambassador Program.
Green Captains.
ENACTUS SOAR (Sustainable Opportunities for Advancement & Recruiting) Project.
Adopt A Start Up (New Venture Creation & Entrepreneurship Senior Project I).
CEO (Collegiate Entrepreneurs' Organization).
InnoVaqueros Makerspace.
All of the programs were given time to present who they were and some of their initiatives focused on sustainability at UTRGV and in the community.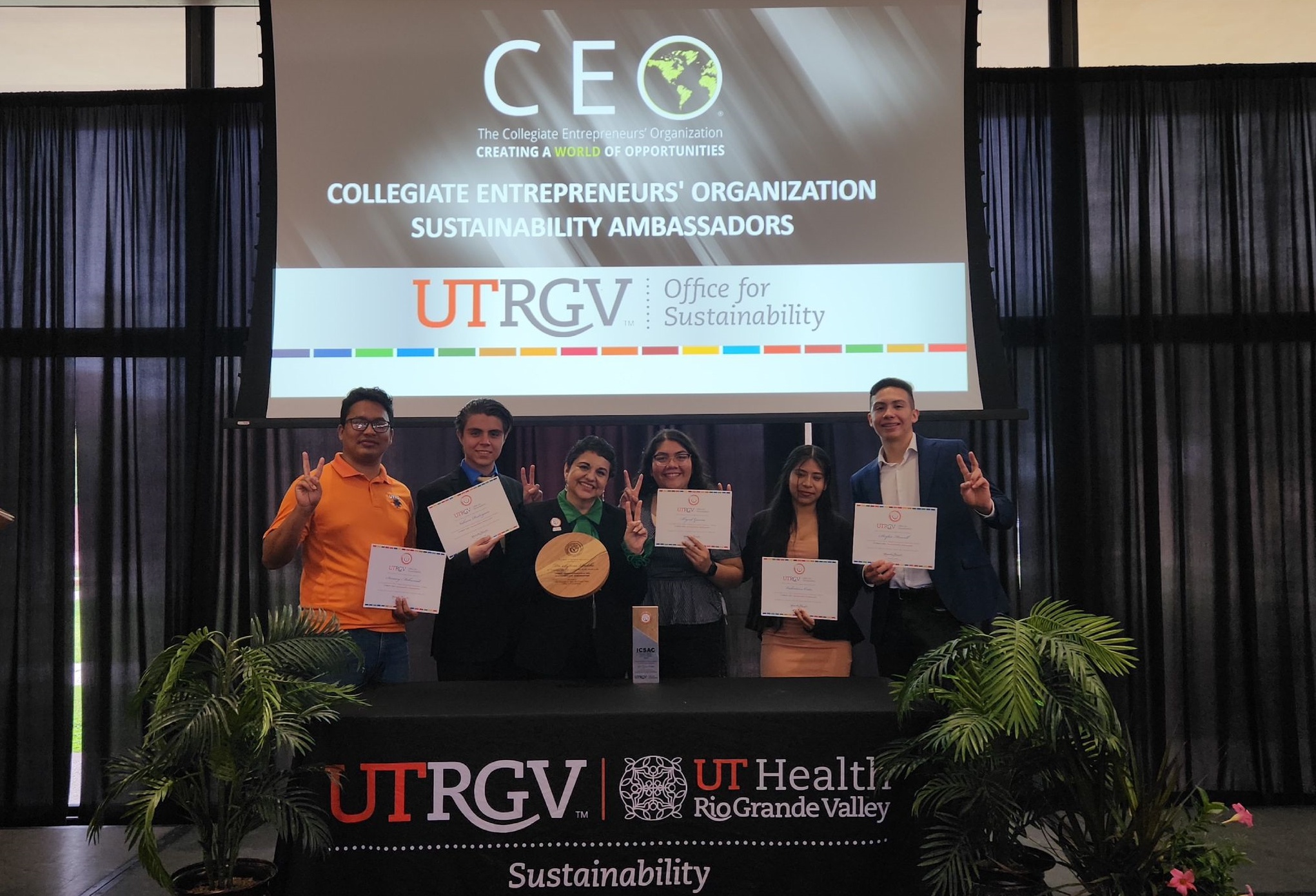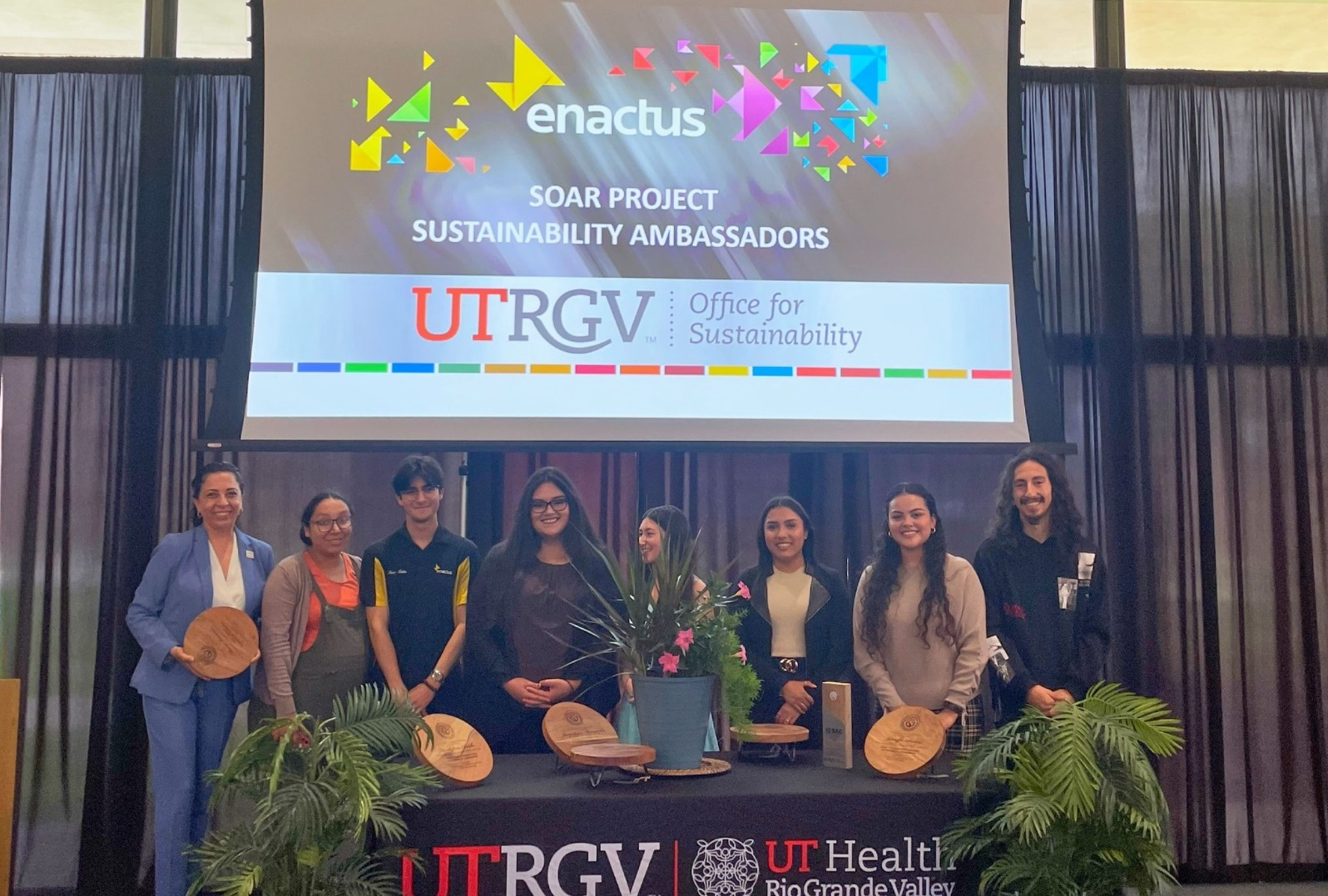 Melissa Peña Montes, Mathematics and Science Academy (MSA) sustainability program manager, watched as her students presented their work on mapping sustainable features around the UTRGV campus.
"This program is exposing them not only to the university as a whole and what it has to offer them, but it also is educating them within the sustainability aspect," she said.
Adhira Tippur, an MSA student and sustainability ambassador, accepting an award.
"I would like the community to know that, no matter your age, you can play an active role in helping your community," she said.
BEHIND THE SCENES
The UTRGV Theater Department's Green Captains is an advocacy program launched by the Broadway Green Alliance, and supports redefining the theater industry by encouraging environmentally friendlier practices.
Students shared the changes they promoted as Green Captains, like providing QR codes to access playbills instead of printing them out.
"If you go just the extra step, you can do so much for the environment while still doing the things you love. For me, that is theater," said Max Cano, a Theatre/TV/Film major with emphasis on design.
Jennifer Saxton, theater professor and Green Captains advisor, said most of the people in the group are stage managers.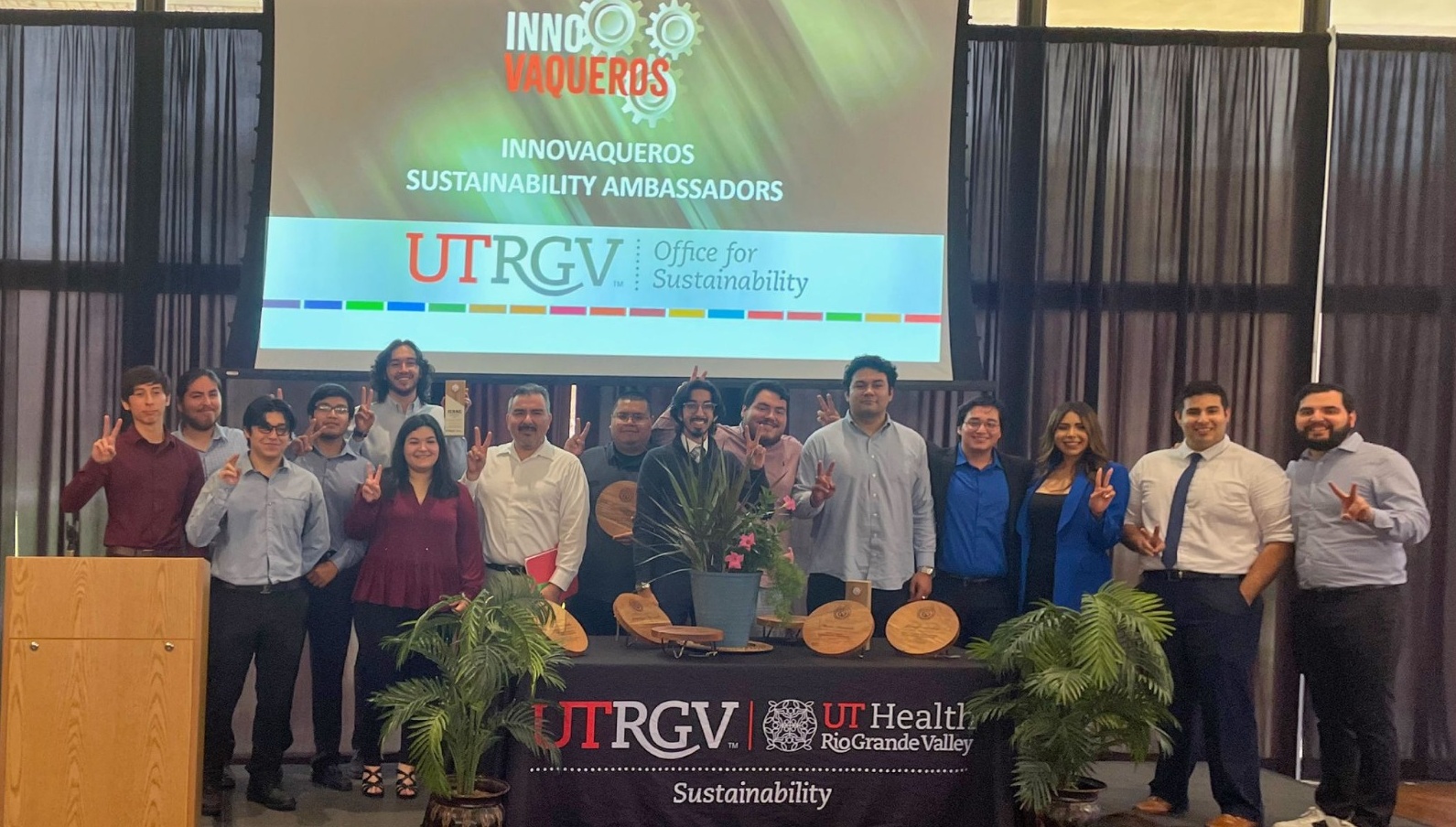 "Stage managers are great at organizing people," she said. "They are leaders already, and they took the lead in making a lot of sustainable changes."
FROM A BUSINESS PERSPECTIVE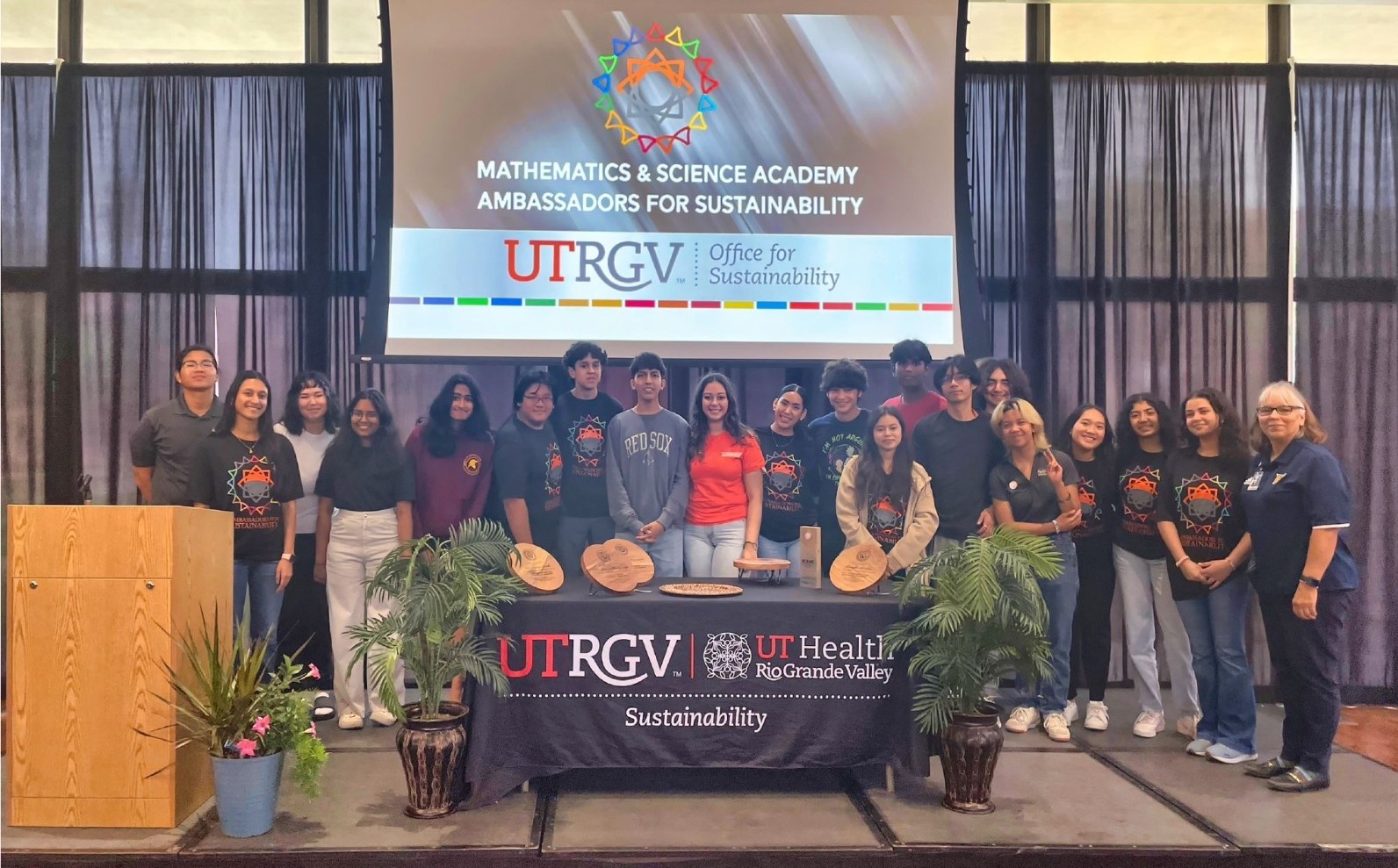 Maria Leonard, UTRGV RVCOBE professor of practice and faculty advisor for the ENACTUS SOAR project, celebrated the impact her students have had as ambassadors, and their decision to undertake local projects, a usual practice for ENACTUS chapters.
Committed to the ENACTUS mission of bringing economic prosperity to communities through entrepreneurial action or education, the SOAR project provides a professional training curriculum for students on the autism spectrum to aid their incorporation into the workforce.
Finance major Bryan Ham Avila said that, after working with the SOAR project, sustainability meant something different than only asking about renewability.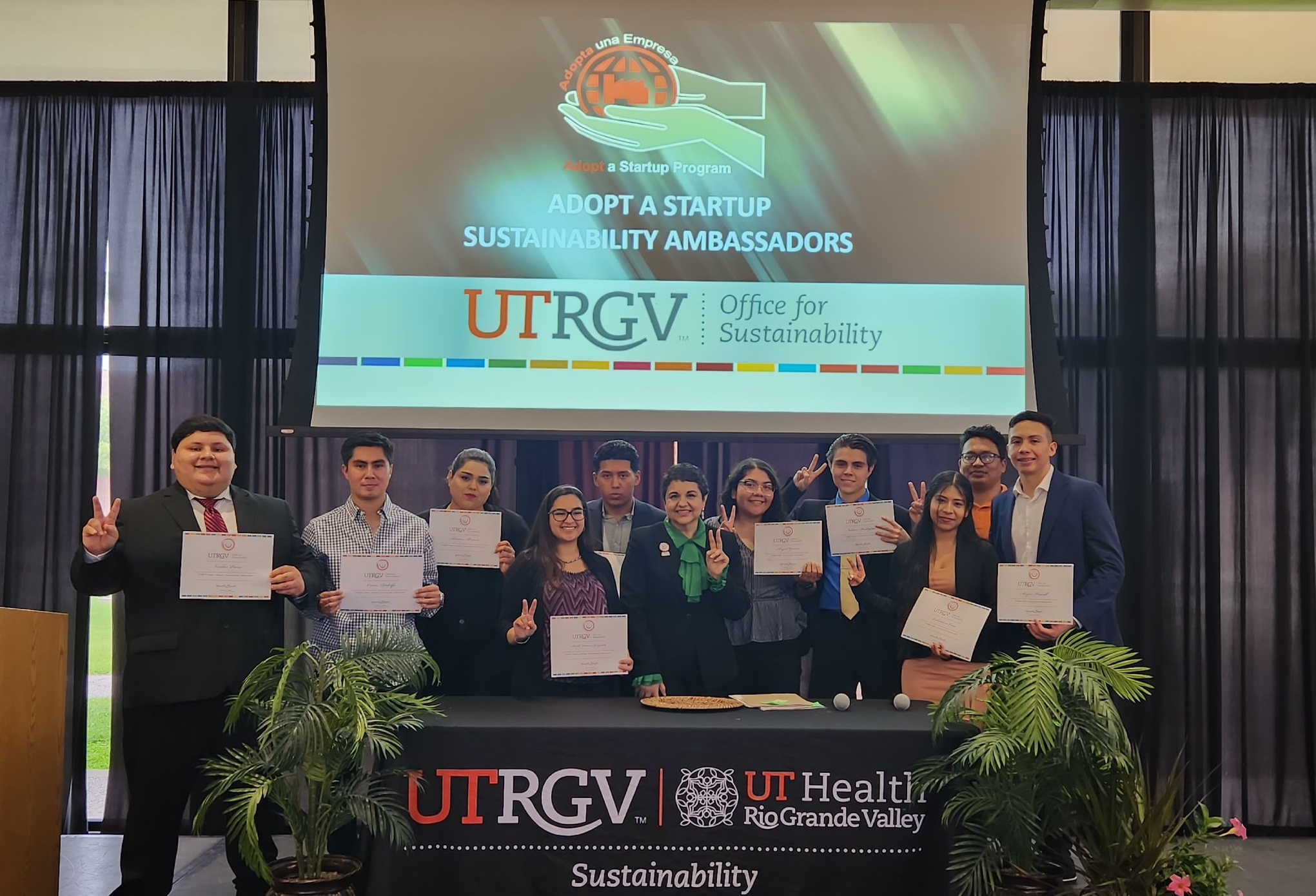 "Marginalized communities, like the neurodivergent, are not thought about. My new understanding of sustainability means asking how we, as a community, can make sure they have the same opportunities that we do. It is about being more inclusive, more considerate," he said.
For Entrepreneurship and Innovation major Nicolas Perez, the experience as a sustainability ambassador with the Adopt A Startup program has had a significant effect.
"It opened my eyes to really helping the community," he said. "As students, we tend to live in a bubble, worrying about grades or scholarships. But there are families dealing with issues that depend on us since they are using our ideas."
In addition to developing entrepreneurial skills, the Adopt A Startup and Collegiate Entrepreneurs' Organization (CEO) programs aim to build sustainable business models by developing the social, environmental and economic aspects of ventures.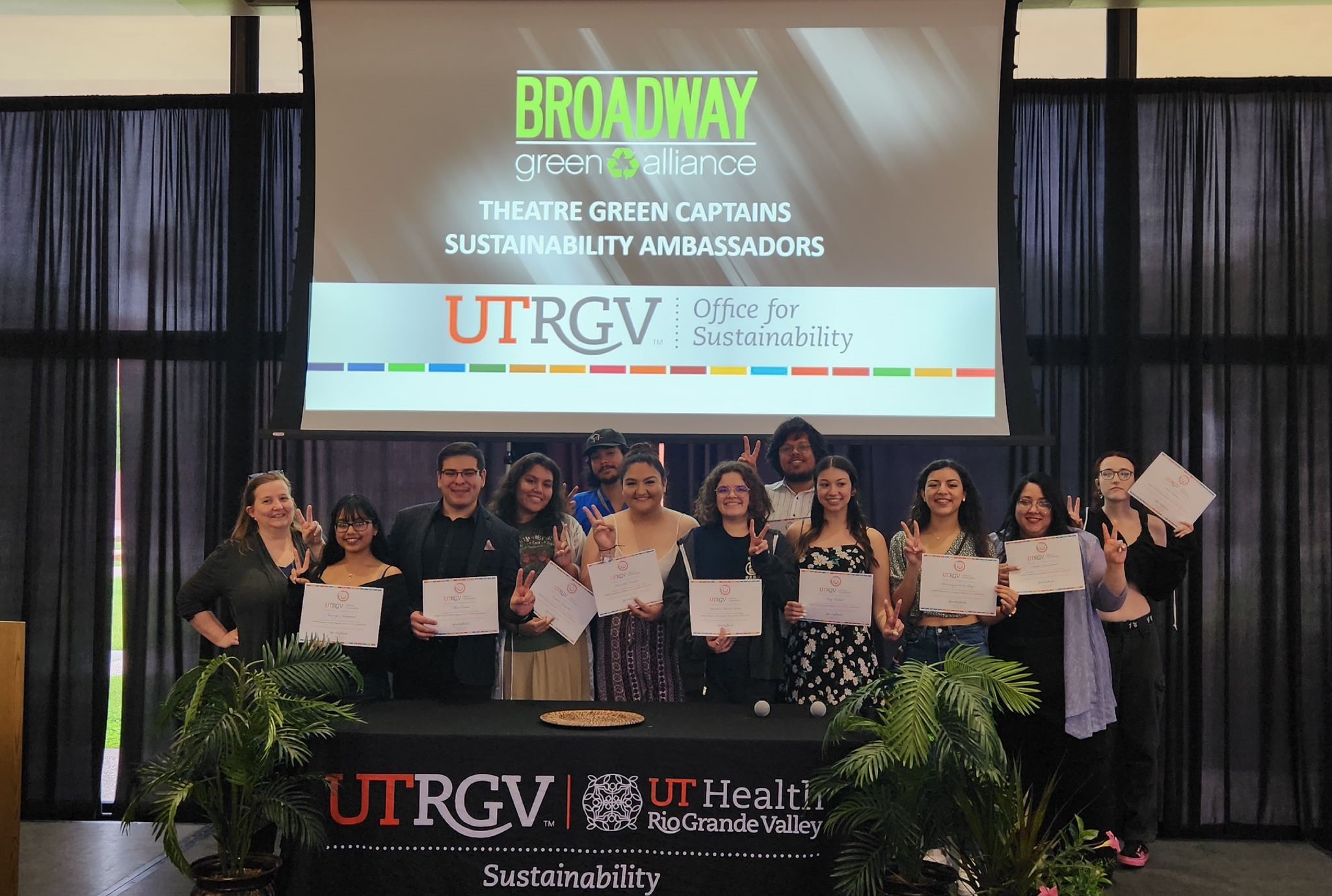 Faculty advisor for the programs is Dr. Sylvia Robles, assistant professor of Practice in the Department of International Business and Entrepreneurship.
"My students pair up with entrepreneurs," she said, "and they foster local networks through their work."
Other partnerships her students maintain include collaborations with the engineering students of Dr. Noe Vargas, professor of Mechanical Engineering and faculty advisor for the InnoVaqueros Makerspace, a flexible space that can adapt to a variety of needs, and co-curricular activities, including senior design prototyping work cells, hands-on fabrication workshops and innovation challenges.
"The objective is to engage, learn, share and give back," Vargas said. "You can help your neighbor, so there is interaction, which promotes knowledge, a sense of community and learning. Who is an InnoVaquero? Anyone participating in any of the activities related to the Makerspace –  which means that you got involved in making something."
To learn how to advocate for sustainability at UTRGV, visit the OFS or check out their website and their social media channels.
ABOUT UTRGV
The University of Texas Rio Grande Valley (UTRGV) was created by the Texas Legislature in 2013 as the first major public university of the 21st century in Texas. This transformative initiative provided the opportunity to expand educational opportunities in the Rio Grande Valley, including a new School of Medicine, and made it possible for residents of the region to benefit from the Permanent University Fund – a public endowment contributing support to the University of Texas System and other institutions.
UTRGV has campuses and off-campus research and teaching sites throughout the Rio Grande Valley including in Boca Chica Beach, Brownsville (formerly The University of Texas at Brownsville campus), Edinburg (formerly The University of Texas-Pan American campus), Harlingen, McAllen, Port Isabel, Rio Grande City, and South Padre Island. UTRGV, a comprehensive academic institution, enrolled its first class in the fall of 2015, and the School of Medicine welcomed its first class in the summer of 2016.