Wednesday, April 26, 2023
  Awards and Recognitions, Around Campus
By Saira Cabrera
RIO GRANDE VALLEY, TEXAS – APRIL 26, 2023 – The recipient of this year's U.S. Public Health Service Excellence in Public Health Award is César Sevilla Jr., a third-year medical student at the UTRGV School of Medicine, who was recognized at the annual State of School by the School of Medicine's Dean, Michael B. Hocker.
The recognition rewards visionary medical students who are advancing initiatives to improve public health and addressing public health issues in their community.
Sevilla Jr. was nominated by the academic medical institution for his proactive commitment to meeting the Healthy People 2030 initiative established by the U.S. Public Health Service.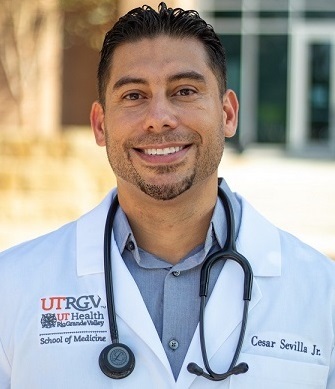 "I have a passion for trying to help people who can't help themselves," Sevilla said. "I like to advocate for people. If I can help just one person and create a knowledge ripple effect, I've done my job."
FROM WEIGHTS TO MEDICINE 
Sevilla was a personal trainer for more than a decade before applying to medical school.
During that time, he realized he wanted to play a pivotal role in academic medicine and in shaping the future of medicine altogether in the form of physical fitness.
He knew he wanted to do more to improve care for everyone and thought about how he could reach a wider audience, people outside of the gym complex, and instill cultural competency in what it entails to be healthy.
"The whole point of transitioning from a trainer to now a physician is to be able to offer a personalized service that some physicians might not be keyed into," he said.
"I know how health and fitness works, and now I'll also understand it from a medical perspective. By tying those two together, I can teach my patients the basics of starting and keeping healthy habits."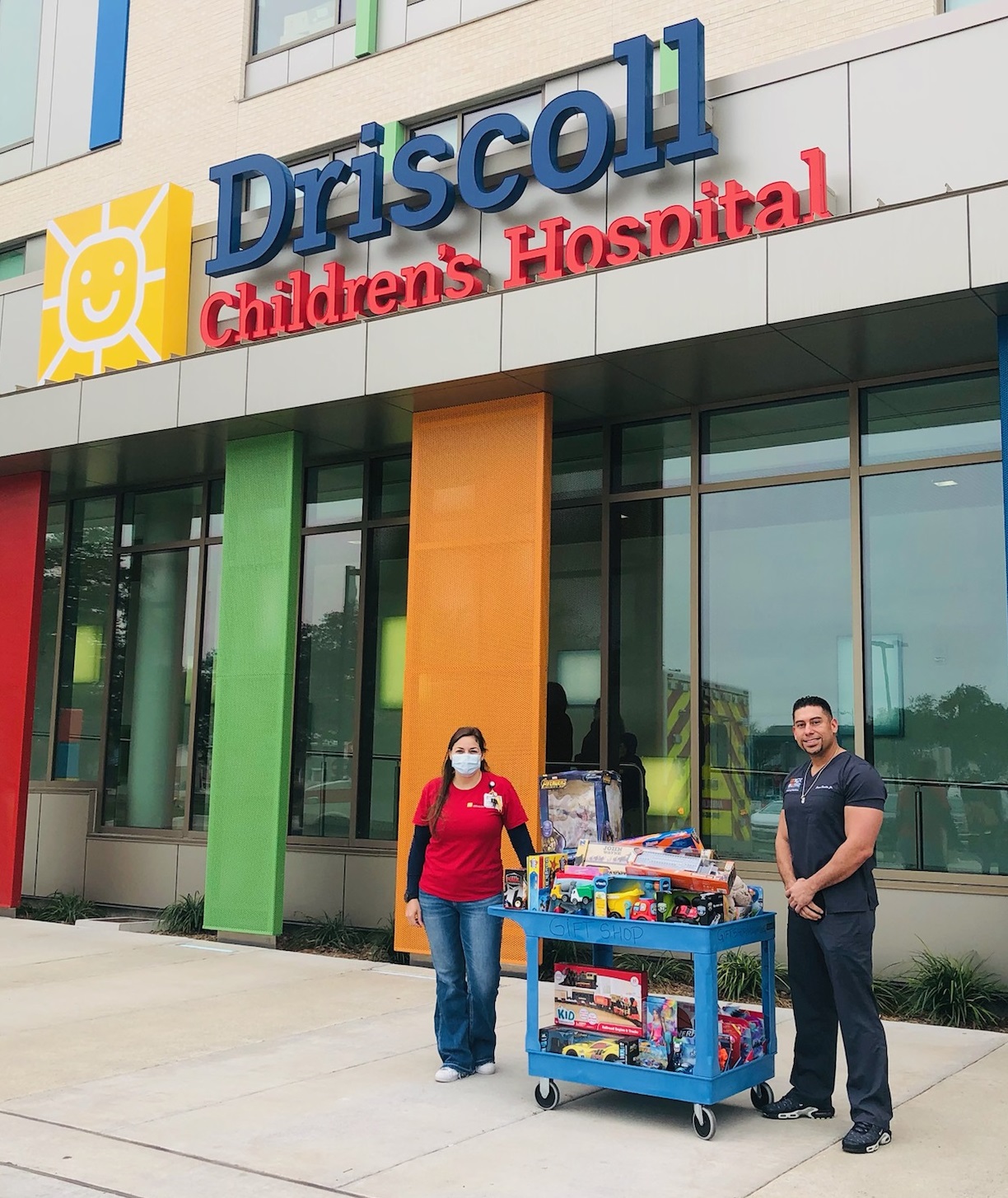 CONNECTING WITH THE COMMUNITY 
Today, as a third-year medical student, he continues to be a proactive partner within his community by hosting events at local schools focused on health education, combining messages about personal fitness with good nutrition and healthy habits.
"I was looking for ways to connect with my community through health and fitness," Sevilla said. "So, I started fundraisers to raise awareness. And I started attending Career Days at local schools. I hosted many 5k runs, strong man contests, Zumba-thons, you name it.
"I've done many of these activities to get the community involved, and I always hope it can inspire at least one person to change their habits and hopefully create a domino effect on those around them," he said.
Sevilla as a medical student continues to raise awareness of health education. As founder and chair of the Orthopedic Surgery Interest Group, he takes fellow members into the community and works with groups of high school students in various school districts.
He also is involved with UTRGV's Area Health Education Centers (AHECs), local clinics and community partners, to introduce health education at the grassroots level.
In addition, he provides exercise routines that do not require special equipment and that can be done anywhere, even in homes that might have spare furnishings and no electricity.
Sevilla also has shared his health education and activities at Ronald McDonald houses, the American Diabetes Association, the American Heart Association, the American Cancer Society, Suture Clinic, Casting and Splinting Clinic, and Driscoll Children's Hospital.
COMMITMENT TO PUBLIC HEALTH
Dr. Stanley Fisch, associate dean for Student Affairs for the UTRGV School of Medicine, said Sevilla has made a long-term commitment to promote public health.
"He exemplifies the attributes of students worthy of the Excellence in Public Health Award," Fisch said. "He goes beyond by taking a broad approach to healthy, active living and making them achievable within the means available to our community."
Sevilla hopes, in the future, to create assessment tools that can measure the values of these approaches. He plans to continue to tie his training skills to his medical expertise and instill cultural competency in healthy lifestyles.
"My philosophy is simple: Make a change today to prevent regrets in the future," Sevilla said.
ABOUT UTRGV
The University of Texas Rio Grande Valley (UTRGV) was created by the Texas Legislature in 2013 as the first major public university of the 21st century in Texas. This transformative initiative provided the opportunity to expand educational opportunities in the Rio Grande Valley, including a new School of Medicine, and made it possible for residents of the region to benefit from the Permanent University Fund – a public endowment contributing support to the University of Texas System and other institutions.
UTRGV has campuses and off-campus research and teaching sites throughout the Rio Grande Valley including in Boca Chica Beach, Brownsville (formerly The University of Texas at Brownsville campus), Edinburg (formerly The University of Texas-Pan American campus), Harlingen, McAllen, Port Isabel, Rio Grande City, and South Padre Island. UTRGV, a comprehensive academic institution, enrolled its first class in the fall of 2015, and the School of Medicine welcomed its first class in the summer of 2016.