UTRGV School of Medicine: State of the School

  Friday, March 31, 2023
  Around Campus
By Karen Villarreal
RIO GRANDE VALLEY, TEXAS – MARCH 31, 2023 – On March 30, National Doctor's Day, the dean of the UTRGV School of Medicine delivered his annual State of the School address. 
Prevailing themes throughout were growth and successes.
Dr. Michael B. Hocker, dean of the UTRGV School of Medicine and senior vice president of UTHealth RGV, welcomed faculty, staff, and external stakeholders that included city leaders and community partners, sharing the school's many successes with them.
"We have amazing faculty and staff who support our students, and I want to share what we're doing in our community," Hocker said. "We have a lot to celebrate."
The UTRGV School of Medicine is in a strong position as an evolving academic medicine center, as the school was intended to be when it was established 10 years ago, he said.
"That means taking discovery from bench to bedside, and providing high-quality care, and at the same time filling the gaps by training future physicians and specialists right here in South Texas," Hocker said.
Currently, the medical school has a staff of 58 research scientists, 86 physicians and 566 staff. And with an operating budget that has doubled since 2017, Hocker said, the School of Medicine plans to expand further to meet the needs of the region.
"Our research, clinical care and education work in tandem, as the best academic health centers do," he said.
SERVING THE RGV
It is a point of pride that the UTRGV School of Medicine, which will reach 200 graduates in 2023, is training a diverse physician workforce, Hocker said.
53 percent of the student body is made up of underrepresented minority students.
47 percent are from the Rio Grande Valley.
Male and female medical students are equally represented.
     "Our School of Medicine student body is starting to reflect the community," Hocker said. "And the best part is that our students and physician leaders are succeeding here."
On Match Day 2023, all SOM graduates matched into a residency program, with one deferring from the match to continue on a research path. About half stayed in Texas – where the need for physicians is among the top three in the country.  
The UTRGV School of Medicine continues to expand to provide opportunities for local students to pursue healthcare careers and have a positive impact on their community, such as through its Area Health Education Centers (AHECs) and the student-run clinic.
"With our new PhD in Human Genetics, we are training the next generation of PhD scientists who will drive breakthroughs in diseases that affect the residents of the region," Hocker said.
While the UTRGV School of Medicine Graduate Medical Education program is currently at full capacity with 256 residents, a recent agreement with HCA Healthcare Gulf Coast Division will begin seating additional residents by 2024 at Valley Regional Medical Center in Brownsville and Rio Grande Regional Hospital in McAllen. Expansion plans with HCA Healthcare are to seat 150 resident physician positions by 2029 at those hospitals.
And, Hocker said, core research facilities for molecular imaging, proteomics and more have been growing with support from state and national grant funding, including the recent $6 million CPRIT award for cancer research.
"This is the first major gift of its kind for South Texas," he said. "It will accelerate life-changing cancer research to transform the health of our community."
The new leadership UTRGV has recruited for these centers and programs will elevate the School of Medicine's innovative education, research and clinical programs to the next level, he said.
"Academic medicine – what we do on a daily basis – is shaping the future of healthcare – and the future of our communities," Hocker said. "I'm really excited about these opportunities that didn't exist before."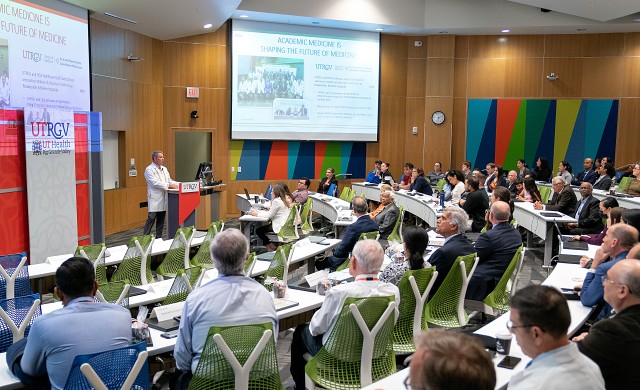 ABOUT UTRGV
The University of Texas Rio Grande Valley (UTRGV) was created by the Texas Legislature in 2013 as the first major public university of the 21st century in Texas. This transformative initiative provided the opportunity to expand educational opportunities in the Rio Grande Valley, including a new School of Medicine, and made it possible for residents of the region to benefit from the Permanent University Fund – a public endowment contributing support to the University of Texas System and other institutions.
UTRGV has campuses and off-campus research and teaching sites throughout the Rio Grande Valley including in Boca Chica Beach, Brownsville (formerly The University of Texas at Brownsville campus), Edinburg (formerly The University of Texas-Pan American campus), Harlingen, McAllen, Port Isabel, Rio Grande City, and South Padre Island. UTRGV, a comprehensive academic institution, enrolled its first class in the fall of 2015, and the School of Medicine welcomed its first class in the summer of 2016.