Tuesday, February 21, 2023
  Community
By Amanda Alaniz
EDINBURG, TEXAS – High school students from across the Rio Grande Valley and Corpus Christi faced off in the Super Bowl of science competitions, the 2023 Regional Science Bowl, hosted by UTRGV on Feb. 11.
And only one team was victorious – W.B. Ray High School (Team 1) from Corpus Christi. The team defeated the Science Academy of South Texas (Team 1) to advance to the National Science Bowl competition in Washington, D.C. in April.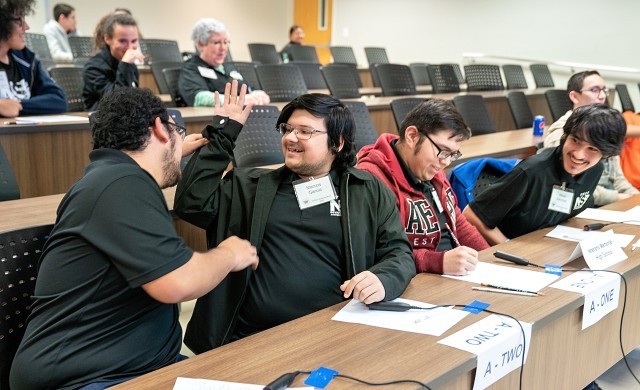 The Regional Science Bowl is part of the National Science Bowl competition coordinated by the U.S. Department of Energy's Office of Science.
Omar Elizondo, UTRGV Science Bowl regional coordinator, associate professor of practice and UTeach science master teacher, said this was the first time since the COVID-19 pandemic that the event was held in person.
"We want to promote science education and science learning at UTRGV, especially the UTeach program. We want the opportunity to provide these students with a competition where they can be acknowledged for having such a robust knowledge in science and mathematics," he said.
Taking part in the fast-paced, gameshow-style competition, answering questions related to math and science, were high school teams from: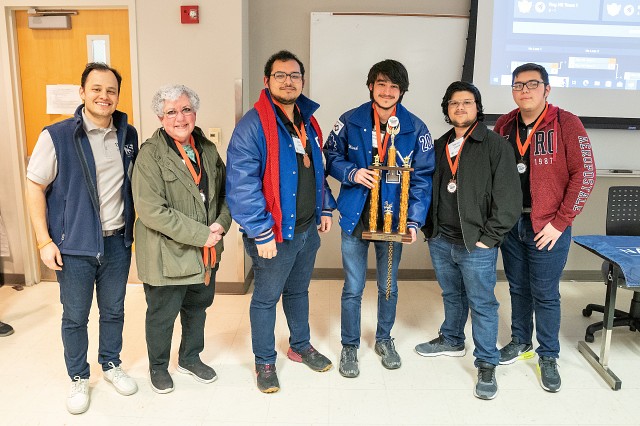 Edinburg North High School.
Mission Collegiate.
B. Ray High School from Corpus Christi (with two teams).
Science Academy of South Texas from Mercedes (with two teams).
Veterans Memorial from Mission.
Each of the competing teams were composed of four students, one alternative and a coach. The competition was held on the Edinburg Campus.
Two teams at a time would go head-to-head in two rounds, each lasting eight minutes, answering questions related to science and mathematics. The winning team of the round would advance to the next qualifying round and so on. Through six rounds of eliminations, the final two teams would once again go head-to-head with one team walking away the champions.
Edinburg North High School students Tristen Moreno, junior, and Lorissa Guerra, senior, both were excited for the competition, even though they were both nervous in the beginning.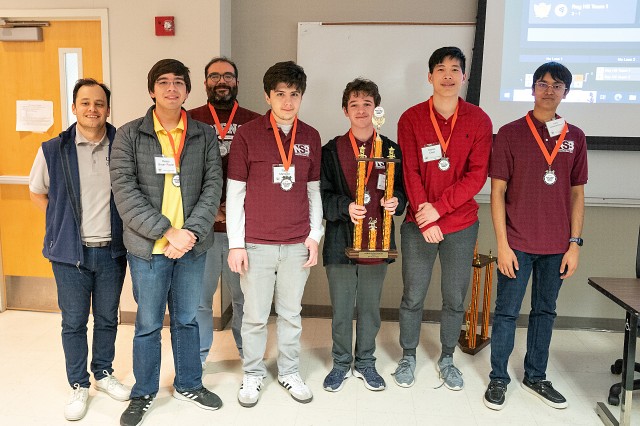 "It was nerve-wracking for our first two preliminary rounds. But for our third round, I got over the fear," Guerra said. "Your teammates can't get mad at you. You just have to take the risk. And if you're right, you're right, you're wrong, you're wrong."
"I've always liked science since I was a little kid. I can remember doing experiments in my room, blowing stuff up, my mom getting mad at me," Moreno said. "I met Mr. Medrano, he made me fall in love with science even more, so I decided to join the team."
Throughout the day, teams competed and practiced, all working toward the final showdown of the day.
Edinburg North High School, a local public school in the competition, didn't make it to the finals, but Julian Medrano, a chemistry teacher and Science Bowl coach, was grateful to UTRGV for hosting the in-person competition.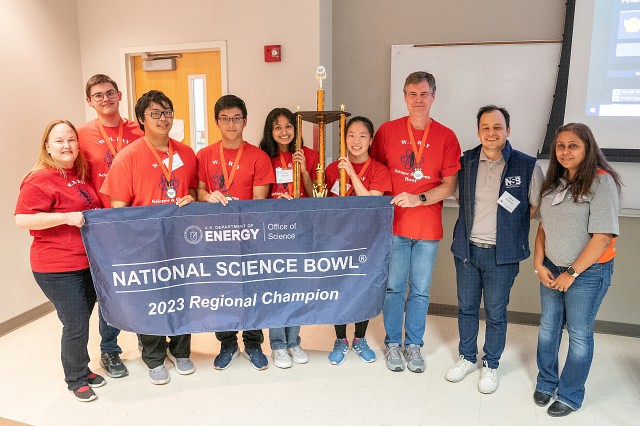 "We're big fans of the Science Bowl. We've had some good teams that have advanced to nationals from Edinburg North. It's because of the hard work and dedication of our kids," he said. "I am so happy to be back in person, it's so much fun. And I highly encourage other schools to take advantage of this event and bring a team."
Anyone interested in learning more about the Science Bowl can contact omar.elizondo@utrgv.edu.
ABOUT UTRGV
The University of Texas Rio Grande Valley (UTRGV) was created by the Texas Legislature in 2013 as the first major public university of the 21st century in Texas. This transformative initiative provided the opportunity to expand educational opportunities in the Rio Grande Valley, including a new School of Medicine, and made it possible for residents of the region to benefit from the Permanent University Fund – a public endowment contributing support to the University of Texas System and other institutions.
UTRGV has campuses and off-campus research and teaching sites throughout the Rio Grande Valley including in Boca Chica Beach, Brownsville (formerly The University of Texas at Brownsville campus), Edinburg (formerly The University of Texas-Pan American campus), Harlingen, McAllen, Port Isabel, Rio Grande City, and South Padre Island. UTRGV, a comprehensive academic institution, enrolled its first class in the fall of 2015, and the School of Medicine welcomed its first class in the summer of 2016.