Both credit opportunities at UTRGV for their success

  Tuesday, December 13, 2022
  Around Campus
By Victoria Brito Morales
RIO GRANDE VALLEY, TEXAS – UTRGV was the key to success for two biology students in Brownsville who are graduating this month.
Wendy Martinez Guerra, 21, of Matamoros, Mexico, and Jacqueline Garza, 28, of Brownsville, are products of the UTeach program at UTRGV. And both already have accepted teaching positions as future educators in Texas.
During their time at UTRGV, the two were closely connected not only in the UTeach program, but also as members of the V Squad, the orientation leaders of UTRGV. Each says being involved at UTRGV has been life changing.
INVOLVEMENT MATTERS
Martinez Guerra, a 2018 graduate of Valley Christian High School in Brownsville, wasn't always on the path to become a teacher. Inspired by her family, she originally thought she would become a lawyer.
"The year before I graduated high school, I met professor Dr. Saydur Rahman. He was my sister's mentor," Martinez Guerra said. "My sister was about to graduate, and Dr. Rahman told me, 'You are going to be great for science.'"
Her curiosity drew her to biology. Rahman recommended she get involved with the UTRGV High Scholars Program, so while she was still in high school, she began building toward a career.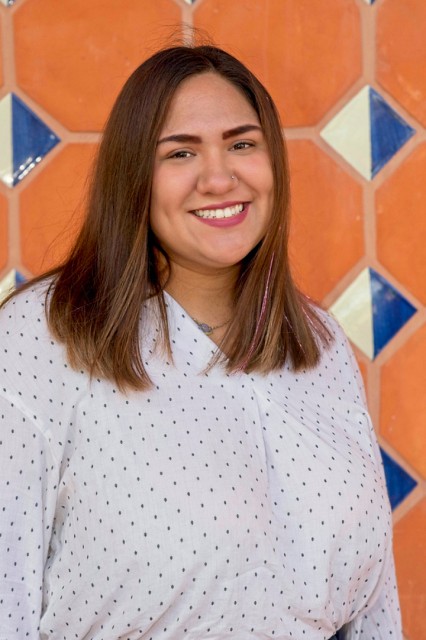 For Garza, inspiration grew from her time in the workforce. She graduated from Simon Rivera Early College High School in 2012 and worked for five years as a dental assistant. She loved her job and intended to continue on to dental school.
"When I came back to school, they actually told me about UTeach, and they told me how I could become a science teacher. I thought, 'Wow, that sounds so cool,'" Garza said. "I decided to try it and ended up really liking it. I'm passionate about teaching, and I'm really passionate about science. I think it just kind of worked out."
The girls met during summer 2021, while working at UTRGV as orientation leaders for the V Squad. Their friendship and collaboration was inevitable; they went on to work as teaching partners for UTeach, and as lab partners in their biology classes.
"We were doing everything together," Garza said. "The way that we've been able to support each other has been really beneficial. It makes you feel like you're not alone. It has really helped me through."
That determination has paid off for both of them. Garza starts this week as an eighth-grade math teacher at Jubilee Academy in Brownsville, and Martinez Guerra starts at the Austin Independent School District in January as a bilingual elementary teacher. 
Dr. Julie Mustard, UTRGV associate professor of Biology, said she is excited for her students' next steps as future STEM educators.
"They are enthusiastic, and they are excited about what they're doing. They're excited about moving forward with their teaching careers. I would be happy to have them teaching my kids," Mustard said. "I hope they see the enthusiasm in their own students and try to foster the excitement science can bring."
PERSISTING, GETTING INVOLVED
One important key to keeping both of them enthusiastic was working with UTRGV's V Squad, the university's student-led orientation leaders.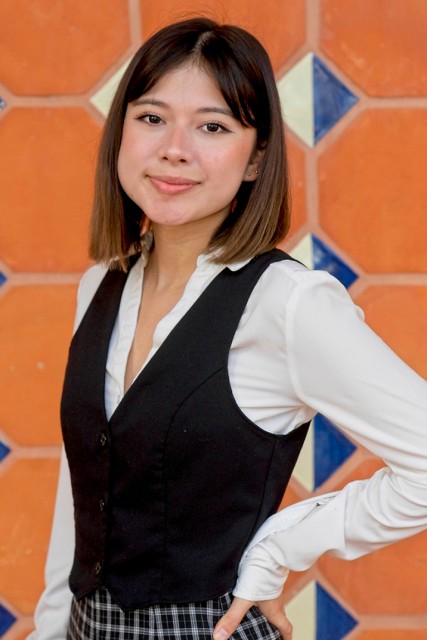 For Martinez Guerra, it was her first ever experience in the workforce.
"It's such a fun job," she said. "I felt like I was getting paid to have a good time. Being part of the V Squad gives you the leadership and communication skills I feel everyone needs. If you're looking for your first job, or you're looking to work on campus, you should apply to V Squad."
Their participation helped them be more connected to the campus and meet more people. Most important, they said, it helped them meet people.
"I've been working with V Squad for about a year and a half, and I've enjoyed every minute of it," Martinez Guerra said. "It does make you feel really close to the campus. We know all the events that are going on and we've gotten a chance to help so many students."
Noel Rangel, UTRGV outreach representative for Undergraduate Recruitment, was V Squad supervisor to both Martinez Guerra and Garza.
"Jackie is one of the most hard-working V Squad members that undergraduate recruitment has had," Rangel said. "She goes above and beyond when you ask her to help with any project, and that's what makes her stand out.
"And Wendy has a personality like no one I have ever met," he said. "She is charismatic, enthusiastic, positive, highly motivated – and always willing to go the extra mile to get the work done. UTRGV is losing some of the brightest and best students to walk these halls. I can't wait to see how they change the world."
They wanted to share some advice with future Vaqueros: Do. Not. Stop.
 "College is not a race," Martinez Guerra said. "You don't need to focus on what someone else is doing. You need to focus on what you're doing. I always tell this to my students. 'Whatever you're going to study is what you will be doing for the rest of your life, so make sure that is something that you love.'"
Garza agrees that no matter how long it takes, never give up on your degree.
"It doesn't matter how long it takes. As long as you put your mind to it and work hard, it's going to pay off," she said.
Martinez Guerra and Garza will be two of more than 600 graduates walking the stage at the Brownsville commencement ceremony on Saturday, Dec. 17, on the UTRGV Brownsville Campus.
ABOUT UTRGV
The University of Texas Rio Grande Valley (UTRGV) was created by the Texas Legislature in 2013 as the first major public university of the 21st century in Texas. This transformative initiative provided the opportunity to expand educational opportunities in the Rio Grande Valley, including a new School of Medicine, and made it possible for residents of the region to benefit from the Permanent University Fund – a public endowment contributing support to the University of Texas System and other institutions.
UTRGV has campuses and off-campus research and teaching sites throughout the Rio Grande Valley including in Boca Chica Beach, Brownsville (formerly The University of Texas at Brownsville campus), Edinburg (formerly The University of Texas-Pan American campus), Harlingen, McAllen, Port Isabel, Rio Grande City, and South Padre Island. UTRGV, a comprehensive academic institution, enrolled its first class in the fall of 2015, and the School of Medicine welcomed its first class in the summer of 2016.