Wednesday, December 7, 2022
  Around Campus
By Amanda Alaniz
RIO GRANDE VALLEY, TEXAS – DEC. 7, 2022 – "We got spirit, yes we do! We got spirit, how about you!"
UTRGV students voted last year in favor of a proposal to support growing programs at the university, including women's swimming and diving, marching band, football, and expansion of the spirit program.
For the spirit program, that meant recruiting a new team of coaches to kickstart the initiative.
First up was Isela 'Sel' Gomez, a UTRGV alumna, who was welcomed back in September as the new head coach for the Spirit Program. She will lead and support Cheer, Dance and the Vaquero mascot, along with working with Rudy Mata, the new program coordinator for Spirit and Traditions.
Gomez graduated from legacy institution UTPA with a bachelor's degree in Dance with an emphasis on Ballet and Modern, and was a dedicated member of the UTPA Modern Dance Company.
Upon revisiting the dance studio, she said everything felt the same – from the look to the smells to seeing a poster of her senior project. It really felt like coming home.
"It was an instinct to come back home. To come back where my roots were, to come back where I learned a lot of the experiences in the dance world," she said. "Getting to return to campus and be part of it in a different aspect – and to be that person to give back – it really sealed the deal."
ONE. TWO. THREE.
Gomez carries a significant dance-related resume. She worked for the Mission school district for about seven years, where she helped elevate several dance programs, and took on a number of varied roles, including director of the Mission High Flyers Dance and Drill Team, director of the Mission High School Folklorico Company, and color guard instructor.
"I know the experiences I have will help when it comes to planning what we do when we have the new football team coming along," she said.
"At Mission, I did also work with the band and I hope to be able to do that here, connect that bridge. Everyone knows the band and dance teams are on the field together, or when the band is performing, the dance team is moving. I am looking forward to the collaboration."  
She also worked with members of the Dallas Cowboys Cheerleaders, San Antonio Spurs Silver Dancers, RGV Vipers Snake Charmers, and took master classes from the Houston Rockets Cheerleaders, Dallas Mavericks Cheerleader Dawn Benett, and other nationally renowned choreographers such as Sam Allen, Melissa Miles and Anthony Burrell.
Gomez currently is observing university programs and events and is taking notes in preparation for next year. As part of her duties, she will handle future performances, competitions, community and campus appearances, and camps, to list a few.
"I could go on listing everything," she said with a small laugh. "But mainly, it is to preserve the integrity of the program and promote what we do, promote school spirit and show our support of athletic teams, campus organizations and the community."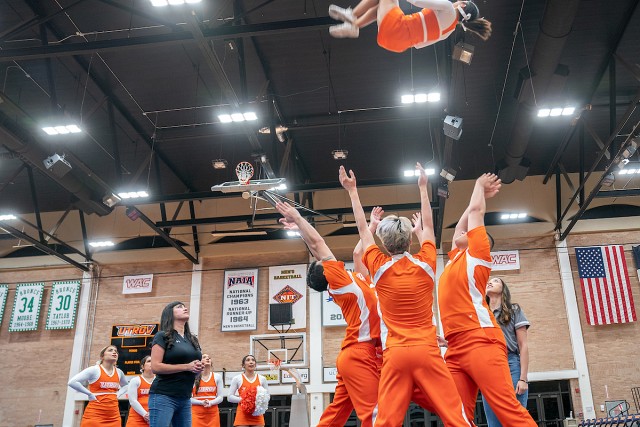 IT TAKES A TEAM
Gomez won't be alone in building up the Spirit Program. She is working alongside Lorissa Saenz, the cheer coach; Olympia De León, the dance coach; and Rudy Mata, the program coordinator. She said she looks forward to learning from each person and to learning about their specialties.
Mata was hired in early November as the Spirit and Traditions program coordinator. He will support Gomez with administrative responsibilities for the program, and will help manage requests for team appearances and performances. He also will work with Student Activities to plan campus events that incorporate the spirit program.
The Midwestern State University graduate holds a bachelor's degree in general business and a master's degree in sport administration. He also was part of the MSU Cheer Team for about three years.
A friend told him about an opening at UTRGV for the coordinator position, and after reading the description, Mata knew it was an ideal fit for him.
"It combines my love for cheerleading and my professional experience in programming and events," he said. "It is honestly a dream job, and I never thought I would ever find an opportunity to work with a college spirit program."
Mata has been involved in cheerleading for more than 15 years, as either an athlete or a coach.
He has a nearly six-year background in parks and recreation, he said, and he feels his experience helped lead him to this position.
"I am excited for the university taking such a serious approach to expanding the existing program and I'm happy to be part of this growth," he said. "The spirit program already has a great reputation as a competitive team, so I'm looking forward to the new opportunities."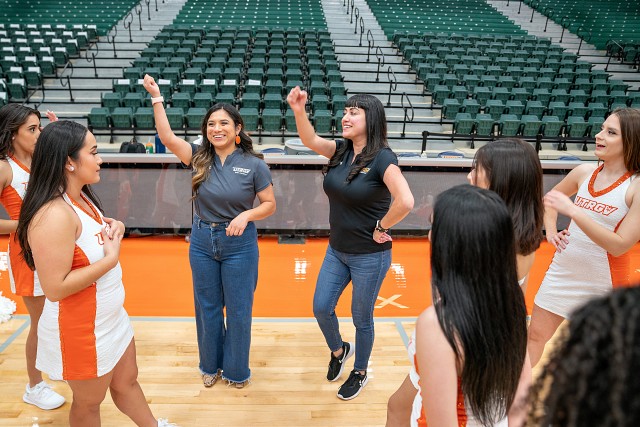 SCHOOL SPIRIT – WE GOT IT
It is no secret now. Football is coming to UTRGV. Mata and Gomez agree that the Valley is more than ready for a college football team and all that it entails.
"And the spirit program will be right there cheering them on," Mata said. "This expansion is going to add a whole new level to the overall college experience here at UTRGV."
Gomez said she already sees the talent and dedication the dance and cheer teams are bringing to events, and she wants to help foster that.
"The team is more experienced, they're more advanced, they're more mature. I am looking forward to seeing what they can do," she said. "I know the program is anticipated to grow a lot, and I'm happy to be part of this new expansion at UTRGV."
For more information about the Spirit Program, visit https://www.utrgv.edu/studentactivities/spirit-programs/index.htm and https://www.utrgv.edu/rallythevalley/.
ABOUT UTRGV
The University of Texas Rio Grande Valley (UTRGV) was created by the Texas Legislature in 2013 as the first major public university of the 21st century in Texas. This transformative initiative provided the opportunity to expand educational opportunities in the Rio Grande Valley, including a new School of Medicine, and made it possible for residents of the region to benefit from the Permanent University Fund – a public endowment contributing support to the University of Texas System and other institutions.
UTRGV has campuses and off-campus research and teaching sites throughout the Rio Grande Valley including in Boca Chica Beach, Brownsville (formerly The University of Texas at Brownsville campus), Edinburg (formerly The University of Texas-Pan American campus), Harlingen, McAllen, Port Isabel, Rio Grande City, and South Padre Island. UTRGV, a comprehensive academic institution, enrolled its first class in the fall of 2015, and the School of Medicine welcomed its first class in the summer of 2016.