Spirit Program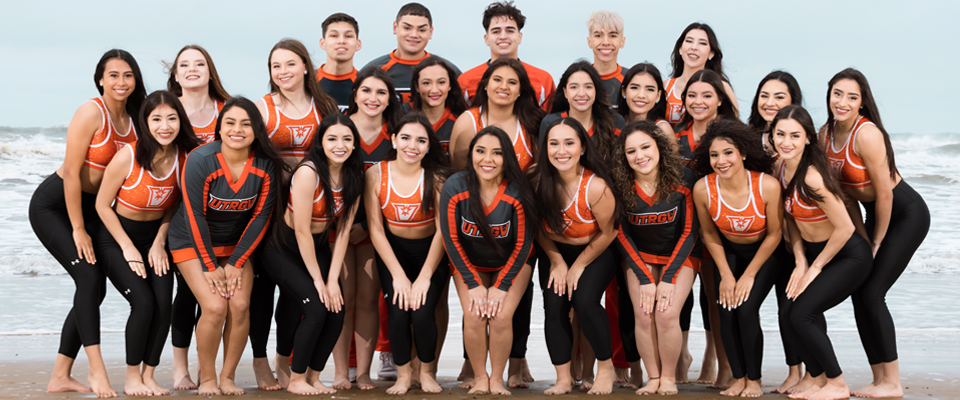 As a unified Spirit Program, UTRGV Cheer, Dance, and Mascot teams pride themselves on being the leaders of V Nation. The primary focus of the UTRGV Spirit Program is to increase the Vaquero Spirit of our campus and community by performing and cheering at athletic events while excelling as scholars. The Spirit Program strives to encourage crowd participation, focusing on student-athlete development, sportsmanship, maturity, and pride. The UTRGV Spirit Program looks forward to enhancing and creating traditions for Vaquero fans and alumni to enjoy.
Teams
List of Spirit Programs


The first column lists the teams under the spirit program. The second column provides a description of the teams.

| Name | Description |
| --- | --- |
| Coed Cheer Team | The Coed Cheer Team supports the athletic teams and represents the university at UCA College Cheerleading Competitions. Team members serve as ambassadors at various events on and off campus and throughout the community. |
| Dance Team | The UTRGV Dance Team promotes school spirit through engaging performances and appearances at athletics, campus, and community events. The Dance Team represents the university at UDA College Dance Competitions. |
| Mascot Team | The Mascot Team consists of enthusiastic students that promote school spirit among its peers and the community. They instill Vaquero pride during school and athletic team events and community functions. |

Members of the UTRGV Spirit Program practice two to three days a week, in addition to assigned appearances/games. Spirit Members attend athletic events throughout the year and make multiple appearances on and off campus. Spirit Members attend the UCA/UDA College Camp in Austin, TX in the summer and are also provided the opportunity to showcase their talents at College Nationals in Orlando, FL in January. Selected Spirit Members will travel to the WAC Basketball Tournament hosted in Las Vegas, NV in Mid-March to support Men and Women's UTRGV Basketball Teams. Spirit Members are expected to attend assigned games/appearances/practices throughout the year to maintain active status and be eligible to participate in traveling events.
Benefits of Being a Member of the Spirit Program
Sense of family
Lifelong friendships
Support system away from home
Life lessons
Learn leadership & communication skills
Priority Registration & Advisement
Scholarship opportunities
All uniforms and practice gear are provided
Participate in community service events
Networking at appearances
Travel to special athletic and university events
Travel to WAC Basketball Tournament in Las Vegas, Nevada
Ambassador for The University of Texas Rio Grande Valley
Preserve the expected graduation date
Travel opportunities
Creating and enhancing university traditions
Enhance individual mental and physical health
Gain a sense of community
Improve time management skills and responsibility
Program Requirements
Maintain a Grade Point Average of 2.5 or above
Maintain Full-Time Student Status
Complete Learning Center Hours (determined by GPA)
Provide Physical Clearance from a Physician
Attend scheduled practices/assigned events/games/appearances
Workshops:
Traditionally held in the Spring Semester, workshops are available to help candidates prepare for auditions/ tryouts. Coaches and current members will provide insight on Spirit Program requirements while providing clarity about the audition/ tryout process and team expectations.
Other Spirit Groups
List of Spirit Programs


The first column lists other spirit groups under the spirit program. The second column provides a description of the spirit groups.

| Name | Description |
| --- | --- |
| The Herd | The official student section for UTRGV Athletics. The Herd promotes Vaquero pride, values good sportsmanship, and cultivates home-court advantage. |
| UTRGV Royals | The UTRGV Royals are students selected by their peers through an election process during Homecoming to represent the University School spirit on and off campus. |