SEEDS OF CHANGE

  Tuesday, November 22, 2022
  Around Campus, Community
By News and Internal Communications
By Regina Perez and Keanna Hopkinson
RIO GRANDE VALLEY, TEXAS – NOV. 22, 2022 – UTRGV Facilities Planning and Operations, in collaboration with the Office for Sustainability, held a Texas Arbor Day celebration Nov. 14-15 to mark the university's ninth consecutive Tree Campus Higher Education designation.  
¨More than just a commemoration of Texas Arbor Day, these tree planting ceremonies, commemorate all that our facilities and grounds crews do on a day-to-day basis, throughout the year and across all campuses, ¨ said Jeremy San Miguel, program coordinator for the Office for Sustainability.
Arbor Day has been observed for more than 150 years in the United States as an official day for promoting and planting trees. Today, Arbor Day is an opportunity to represent the countless hours committed by institutions in forestry investment, maintenance, teaching and research.  
Carlos Chavez, associate director of Facilities Support Services, is witness to the multiple benefits that trees bring to the campus community.
"Trees enrich the landscape, making the spaces much more welcoming," he said, "and their impact on energy consumption is important."
This year, UTRGV brought together students, faculty, and staff to planted a new magnolia tree at the Southwick Hall lawn on the Edinburg Campus, and an anácua tree in the Pollinator Cantina Garden on the Brownsville Campus.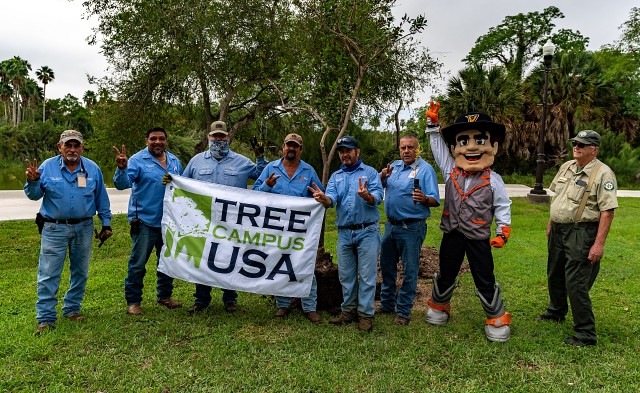 Regional forester Bill Green, UTRGV faculty and others spoke at the events, bringing their multidisciplinary experiences to the tree plantings – including Dr. Christopher Gabler, Dr. Alejandro Fierro Cabo, Dr. Alexis Racelis and Dr. Bradley Christoffersen, all of whom have encountered the challenge of local forestry loss.
Local research efforts have found that local plant species have proven to be more successful at reducing carbon levels and promote resiliency during extreme weather conditions, which makes projects like UTRGV's pollinator cantina garden on the Brownsville Campus and the native plant nursery on the Edinburg Campus an opportunity for habitat restoration.
UTRGV Chief Sustainability Officer Marianella Franklin said forestry education and research in higher education institutions can contribute to understanding sustainability.
"And when that knowledge and care is invested in grounds and facilities, universities contribute to building sustainable communities," she said. "That UTRGV continues to be recognized by Tree Campus Higher Education, a designation committed to planting more than a million trees, speaks volumes to the work of our groundskeepers."
Maintaining and growing university forestry is a continuous and laborious process. For example, the grounds crew continues to work to replace the forestry lost due to a storm last year, Chavez said. Crews also conduct monthly assessments of trees across all campuses to be sure UTRGV is sustaining a healthy forestry.
UTRGV campuses are unique in the Rio Grande Valley in that they are urban spaces with a significant concentration of trees. Therefore, they not only connect people with nature, but also serve as catalysts for increasing attention and care for community forestry, he said.
To close this year's Arbor Day events, UTRGV gave out seedlings to those who attended, on behalf of the university's Native Plant Nursery.
ABOUT UTRGV
The University of Texas Rio Grande Valley (UTRGV) was created by the Texas Legislature in 2013 as the first major public university of the 21st century in Texas. This transformative initiative provided the opportunity to expand educational opportunities in the Rio Grande Valley, including a new School of Medicine, and made it possible for residents of the region to benefit from the Permanent University Fund – a public endowment contributing support to the University of Texas System and other institutions.
UTRGV has campuses and off-campus research and teaching sites throughout the Rio Grande Valley including in Boca Chica Beach, Brownsville (formerly The University of Texas at Brownsville campus), Edinburg (formerly The University of Texas-Pan American campus), Harlingen, McAllen, Port Isabel, Rio Grande City, and South Padre Island. UTRGV, a comprehensive academic institution, enrolled its first class in the fall of 2015, and the School of Medicine welcomed its first class in the summer of 2016.