UTRGV to cover full tuition and fees for 100 employees in new MA in Higher Education Administration Program

  Tuesday, November 8, 2022
  Around Campus
By Karen Villarreal
RIO GRANDE VALLEY, TEXAS – A historic educational journey, which includes full tuition and fees covered by UTRGV, began this fall semester for more than 100 university employees selected to take part in the new Master of Arts in Higher Education Administration program.
The Master of Arts in Higher Education Administration degree, approved by the Texas Higher Education Coordinating Board in August 2022, is geared toward development of the next generation of leaders at UTRGV.
"In the larger picture, higher education has changed rapidly," UTRGV President Guy Bailey said during a program kick-off held in person and virtually so students from both the Edinburg and Brownsville campuses could attend.  "We need to adjust, as well. It's important that we have generations of leaders coming up to sustain what we're doing now. So, we're making this investment."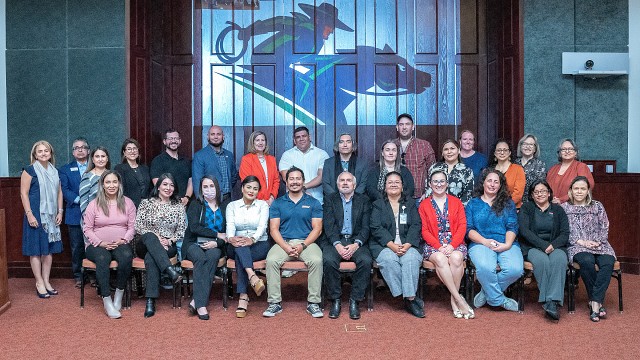 The new MA program – housed in the Department of Organizational and School Leadership within the UTRGV College of Education and P-16 Integration – will be delivered in an accelerated online format, allowing the entire program to be completed in one year by the first of two cohorts.
The first cohort of 50 began the program Oct. 26, 2022, and the second group of 50 will begin Jan. 11, 2023.
Dr. Federico Guerra, chair of the Department of Organizational and School Leadership and program coordinator for the MA in Higher Education Administration, said the program empowers graduates to be administrators at the level required in higher education.
"With a deeper understanding of how the university system functions, an employee can move from one department to another – wherever their talents and interests best align – and be highly qualified to lead," Guerra said.
NURTURING AND NETWORKING UTRGV TALENT
The program will be open to others outside of UTRGV in the future. However, the first two cohorts will be comprised exclusively of UTRGV employees from departments throughout the university.
"We want to cultivate our own talent," Bailey said. "This MA creates a path for individuals within the university who aspire to be in leadership positions at a large university like ours."
Dr. Janna Arney, UTRGV executive vice president and provost, said the initial program for UTRGV employees is unique in that it will also include an experiential learning component.
"Our employees have been admitted to the accelerated online master's degree, with the entire experience overseen by our faculty," Arney said. "However, as a scholarship recipient, they will have the additional opportunity and responsibility to participate in face-to-face sessions led by institutional leaders, where specific UTRGV topics will be discussed. These leader-led talks will help contextualize the classroom learning."
Guerra said the program will strengthen existing partnerships internally and create new opportunities for networking.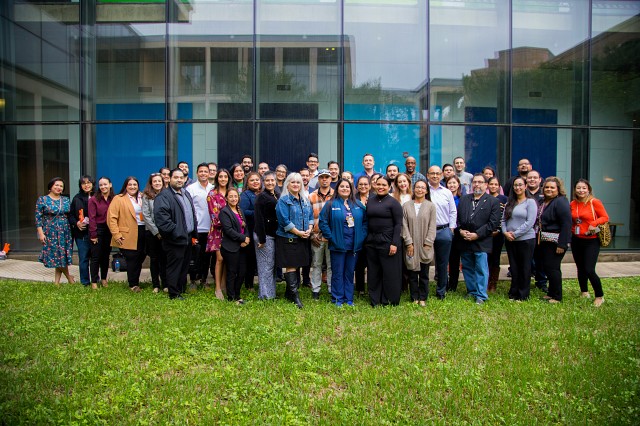 One of the courses in the degree plan is a practicum in which students go to different departments to experience how they operate – areas like student affairs, advising, recruitment and outreach, admissions and financial aid.
"We hope it gives them a larger perspective of what's going on outside of their office in the university," Guerra said. "Others' roles may be different and more exciting than what you may think."
A student of the first cohort, Glorimar Colon, J.D., said she is eager to collaborate with like-minded colleagues in areas outside of her own.
"It seems like an exciting opportunity for networking, and to be an instrument for change," said Colon, executive director of Research Compliance & Export Control within the Division of Research.
Another student accepted to the first cohort, Salvador Arellano III, said he is most excited to learn from leaders like Bailey about how educational institutions relate to state policymaking and legislation.
"It's how you make true, lasting, sustainable change," said Arellano, a research associate in the Department of Family Medicine.
Generations of his family have attained college degrees, he said, and he believes education is another key element in the success of individuals and the region. 
"By completing this degree, with the support of UTRGV, I believe I will aid in fostering this generational growth," Arellano said.
ACCELERATED PATH
The accelerated master's program divides the semester differently from traditional degrees.
While a typical semester course runs for 14 weeks, accelerated courses last seven weeks. Taking two courses per accelerated semester, or a "module," means students can complete four courses in Fall and Spring semesters, and four in the Summer. The entire 30-hour program can be completed in 11 months.
Guerra said that due to the carousel model the courses follow – offered once per year – it's important for students to keep up with their classes, so they stay with their cohort.
"It's challenging, but doable," Guerra said. "After this MA, our student-employees are prepared for the next step – to lead in this university. Or, if they so choose, they can continue with us for a terminal degree: a doctorate in educational leadership."
ABOUT UTRGV
The University of Texas Rio Grande Valley (UTRGV) was created by the Texas Legislature in 2013 as the first major public university of the 21st century in Texas. This transformative initiative provided the opportunity to expand educational opportunities in the Rio Grande Valley, including a new School of Medicine, and made it possible for residents of the region to benefit from the Permanent University Fund – a public endowment contributing support to the University of Texas System and other institutions.
UTRGV has campuses and off-campus research and teaching sites throughout the Rio Grande Valley including in Boca Chica Beach, Brownsville (formerly The University of Texas at Brownsville campus), Edinburg (formerly The University of Texas-Pan American campus), Harlingen, McAllen, Port Isabel, Rio Grande City, and South Padre Island. UTRGV, a comprehensive academic institution, enrolled its first class in the fall of 2015, and the School of Medicine welcomed its first class in the summer of 2016.