Welcome ceremony held for first DNP cohort

  Wednesday, August 31, 2022
  Around Campus
By Karen Villarreal
RIO GRANDE VALLEY, TEXAS – UTRGV welcomed the first cohort of its new Doctor of Nursing Practice (DNP) professional degree, which started online in Fall 2022.
A special ceremony was held Aug. 24 at the UTRGV Medical Education Building lobby on the Edinburg Campus, to welcome the program's first 14 DNP students.
The program makes advanced nursing degrees accessible to professionals who currently hold a nursing degree: a Master of Science in Nursing, a registered nurse (RN) license, or advanced practice registered nurse (APRN) certification.
Dr. Andrya Rivera-Burciaga, the DNP program coordinator, said a degree like this one can change the trajectory of nursing career, because the career opportunities for nurses with a DNP include clinical leadership roles in advanced practice areas, organizational leadership and influencing healthcare policy change.             
"A DNP practices at the highest level of nursing practice using evidence-based research and applying it to patient care to improve patient outcomes," Rivera-Burciaga said. "It allows you to engage in healthcare using a systems-level approach."   
DNPs also participate in research by translating science into practice.
Many nursing positions in leadership, like chief nursing officers (CNO) and nurse practitioners, require a DNP and licensure as an Advance Practice Registered Nurse (APRN).   
NEED FOR NURSES   
Dr. Linda Nelson, senior director of Clinical Operations for the UTRGV School of Medicine and UT Health RGV, holds a DNP degree.
The nursing profession is one of the most in-demand statewide, she said, and nurse practitioners with this doctoral degree are highly sought after in the Valley.
"The DNP allows us to expand our role of nursing at a more professional level," said Nelson, who is also an RN and a pediatric nurse practitioner. "To have a DNP program at UTRGV is spectacular."    
According to the Texas Workforce Commission:   
Nurse practitioners are the second-fastest growing occupation in the State of Texas, with a predicted 10-year growth rate of 47.7 percent. That tallies to 11,707 total annual jobs by 2026.   
In 2018, an estimated 404 nurse practitioners were employed in the Rio Grande Valley, and by 2028, that number is expected to increase to about 539.  
Dr. Michael B. Hocker, dean of the UTRGV School of Medicine, said this new DNP program – which is administered by the UTRGV School of Nursing – epitomizes the university's goals of enhancing student success and increasing access to quality healthcare in the Valley. 
"Nurses are an integral part of the clinical care that we provide in the field," Hocker said. "Providing this degree is a great success, as advanced professional education is crucial to our sustained growth and health as a region."
OPPORTUNITY CLOSE TO HOME
Adelina Salinas, a registered nurse who is part of the inaugural DNP cohort, grew up four blocks from the university that eventually would offer her the terminal degree of her career.
Salinas earned her BS in Nursing in 2007 from legacy institution UTPA and continued at UTRGV to earn a master's degree in nursing in 2014 and a post-graduate nurse practitioner certificate in 2016.
"UTRGV is part of my tradition," the Edinburg native said. "It's special for me and my children to see that you can be educated here and stay here in the Valley. Practicing here has always been my dream because our community needs good clinicians."
Salinas chose to continue with UTRGV for her doctoral degree because she trusts the faculty to continue to provide fair and consistent feedback. And while the undergraduate and master's programs were rigorous, she said, it was necessary to train her to be the highest-caliber nurse possible.
"I knew I was going to get a solid doctoral education because the faculty are experienced DNPs themselves," Salinas said. "In the clinical field, you can tell when someone's a graduate of UTRGV because they're very well-educated clinicians."
Her next steps after graduating are to continue to pursue certificates, such as in mental health nursing, and find avenues to disseminate health information ­focused on diabetes management.
"I'm honored and excited to be part of this inaugural DNP program," Salinas said.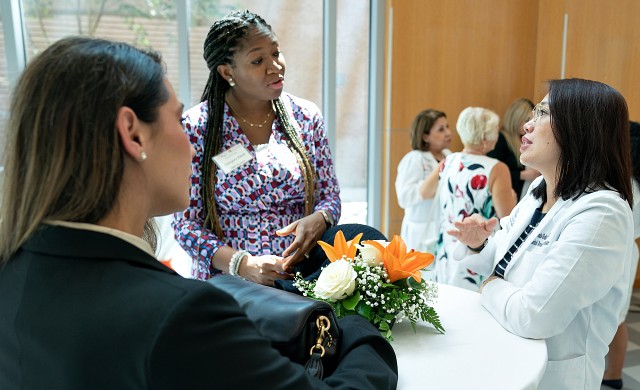 ON TRACK TO MAKE A DIFFERENCE   
The program, which launched in Fall 2022 with this first cohort, is accepting applications for next year. It is open to students who currently hold a Bachelor of Science Nursing (BSN) degree and an RN or advanced practice registered nurse (APRN) license.
The 45 credit hours will be delivered online and can be completed within 2.5 years.   
"We recognize that many of our students already are practicing in a clinical setting and don't want to leave their career for two years," Rivera-Burciaga said. "We are as flexible and accessible as we can be, while ensuring students complete the number of clinical hours required under accreditation standards."    
Rosary Muñoz, another member of the inaugural class, will be in the program part time, as she works part time at a free diabetes clinic and as a psych nurse practitioner.
And, she has four children.
"It might take me a little longer than some of my classmates, but I'm very interested to finish my degree at the highest level," she said.
Muñoz, who is from Brownsville, said her DNP scholarly project will focus on the interconnection between diabetes and depression. 
"I plan to open my own practice with a focus on psychological nursing and diabetes," she said. "The goal is to stay here in the Valley to practice."
With the DNP program, she will be able to do just that.
Rivera-Burciaga said she is excited to include curriculum that addresses the financial side of being a nurse practitioner – which enables nurses to open their own clinics. While 23 states allow nurse practitioners to practice independently, they still will need to collaborate with a physician in the 11 "restricted authority" states, which include Texas.
"The advantage is that the DNP program gives nurses the knowledge to practice to the fullest extent of their education," she said. 
PASSION FOR NURSING
Bosede Apata, a member of the inaugural cohort originally from Nigeria, flew in from Chicago to attend the DNP welcome event.
"Whatever is worth doing, is worth doing well," said Apata, who has been working on a nursing career since earning her RN in 2010. After a post-master's degree licensed her as a mental health nurse practitioner in 2020, she decided the doctoral program was her next goal.
"With nursing, the more knowledge you have, the better you're able to help patients," she said. "The DNP, while terminal, doesn't mean the end of our studies. We still have to keep up with latest research."
Working as a nurse during the COVID-19 pandemic, Apata saw a range of mental health issues and decided to make that her focus. She is working on opening a clinic, "All About Holistic Minds," and has written a book about mental health.
She hopes that by the time she has completed her DNP degree, the clinic will be ready to accept patients.
"It's a long process to do all this, but I hope to make a great impact – to save lives, and to help someone smile again," Apata said.
ABOUT UTRGV
The University of Texas Rio Grande Valley (UTRGV) was created by the Texas Legislature in 2013 as the first major public university of the 21st century in Texas. This transformative initiative provided the opportunity to expand educational opportunities in the Rio Grande Valley, including a new School of Medicine, and made it possible for residents of the region to benefit from the Permanent University Fund – a public endowment contributing support to the University of Texas System and other institutions.
UTRGV has campuses and off-campus research and teaching sites throughout the Rio Grande Valley including in Boca Chica Beach, Brownsville (formerly The University of Texas at Brownsville campus), Edinburg (formerly The University of Texas-Pan American campus), Harlingen, McAllen, Port Isabel, Rio Grande City, and South Padre Island. UTRGV, a comprehensive academic institution, enrolled its first class in the fall of 2015, and the School of Medicine welcomed its first class in the summer of 2016.