First class has 27 students, five from Valley

  Wednesday, August 3, 2022
  Around Campus
By Karen Villarreal
RIO GRANDE VALLEY, TEXAS – UTRGV's School of Podiatric Medicine – the first in Texas and one of only 10 in the country – is welcoming its very first cohort of 27 students, five of them from the Rio Grande Valley.
Orientation activities started Aug. 1, 2022, followed by a dean's reception ceremony on Tuesday, Aug. 2, at the Harlingen Convention Center.
The 27 students – 15 female and 12 male ­– were chosen from among a diverse pool of applicants and after eight admission committee review meetings.
The cohort is 85 percent Texan.
Four of the students were first-generation undergraduates, and 11 are the first in their family to go to graduate school.
Two are black, seven are Asian, and 12 are Hispanic.
Two of the students are from Brownsville and attended UTRGV's Mathematics and Science Academy.
The school obtained candidacy status on June 9, with the application process beginning June 13, 2022. Applications closed July 27, and classes will begin Aug. 8.
At orientation this week, the 27 future podiatrists were measured for their white coats, and the White Coat Ceremony is slated for October 2022.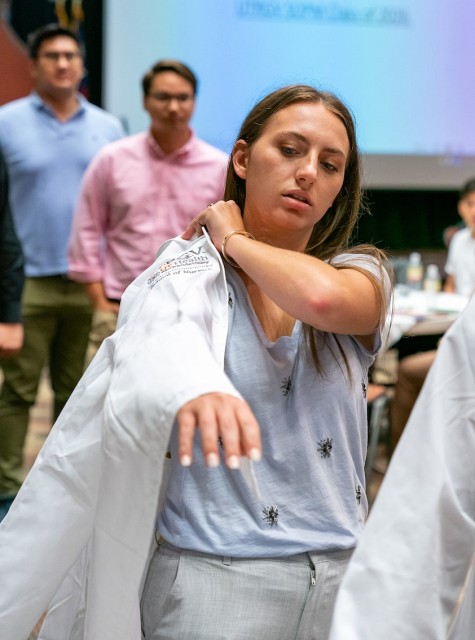 Podiatrists are experts in the diagnosis and treatment of disorders of the foot and ankle. 
UTRGV President Guy Bailey said it is inspiring and exciting to know that the School of Podiatric Medicine is now a reality and that its inaugural class has been selected.
"A team of highly dedicated and determined people came together to help bring the UTRGV School of Podiatric Medicine to the Rio Grande Valley," Bailey said. "This new school expands our university mission to increase access to quality healthcare in the Valley, where many people suffer from diabetes and require special podiatric care. Now, we will be able to meet this very specific healthcare need in South Texas." 
Dr. Javier La Fontaine, MS, DPM, MED, dean of the UTRGV School of Podiatric Medicine, said he is eager to introduce the community to the new school's faculty, inaugural class and leadership.
"The cohort of recently accepted students have GPA and MCAT scores above the average when compared to other podiatry schools," La Fontaine said. "We have enrolled high-quality students."
Each cohort is able to seat 40 students and being able to seat 27 in such a short time is indicative of high interest around the country in the UTRGV School of Podiatric Medicine, he said.
"We feel that this is a great accomplishment," La Fontaine said. "We were able to recruit and enroll so many great students for this year in about six weeks.
LOCAL REPRESENTATION
In addition to being the first in Texas, the UTRGV School of Podiatric Medicine is a state-funded school.
"One of the main reasons the Texas Legislature approved a school at UTRGV is with the hope that we train students and residents to stay in the area," La Fontaine said. "A lot of the work podiatric physicians do is related to complications of diabetes."
In the Valley, the prevalence of diabetes is approaching 30 percent.  
"If we have students who stay, they will take care of a variety of foot and ankle complications related to diabetes and other ailments," he said. "This is an opportunity for students in the area who want a career in healthcare. Now, they have they opportunity to train here and not out of state. They can stay home and do it for less cost."
The Valley is represented by five students: one each from the cities of Edinburg, Pharr and San Juan, and two from Brownsville.
"We are a school that values inclusion and diversity," La Fontaine said, "and we take pride in that."
PLANNING FOR GROWTH
La Fontaine predicts that next year's cohort will be larger ­– and more competitive – as news gets out about the availability of the podiatric program at UTRGV.
"We already have 111 applications as of Aug. 1, 2022, for next year," he said. "We were approved for 40 students per cohort, so we will have a huge pool for next year."
The growth is on track with the area's demand not only for diabetic care, but also for the needs of children, elderly patients and a growing athletics community.
"We have sports events and a semiprofessional basketball league, among many other programs, that will open opportunities for foot and ankle care, as well as high school students and younger athletes who unfortunately may get injured while training and playing sports," La Fontaine said.
FINAL STEPS FOR PODIATRISTS
The inaugural cohort faces four years of podiatry school, after which they get a doctoral diploma.
In order to practice and qualify for a podiatrist's license, they must complete three years of residency training. They can apply to seven residency programs in Texas that offer 20-30 residency slots.
La Fontaine said that, as part of the developing DPM program, UTRGV is in the process of partnering with area hospitals to develop those residencies locally.
"Taking care of the students from beginning to end is the idea," he said.
Students who have completed at least 90 credit hours of undergraduate studies are eligible to apply to enter the DPM program upon graduation. The program entails four years of medical education at the UTRGV School of Podiatric Medicine, followed by three years of hospital-based post-graduate residency training.  
Students interested in applying can do so online and email DPMAdmissions@utrgv.edu for more information.  
The UTRGV School of Podiatric Medicine is located in Harlingen, within UT Health RGV at 2102 Treasure Hills Blvd.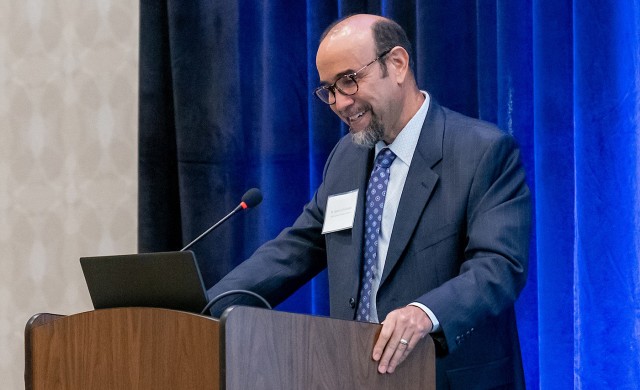 ABOUT UTRGV
The University of Texas Rio Grande Valley (UTRGV) was created by the Texas Legislature in 2013 as the first major public university of the 21st century in Texas. This transformative initiative provided the opportunity to expand educational opportunities in the Rio Grande Valley, including a new School of Medicine, and made it possible for residents of the region to benefit from the Permanent University Fund – a public endowment contributing support to the University of Texas System and other institutions.
UTRGV has campuses and off-campus research and teaching sites throughout the Rio Grande Valley including in Boca Chica Beach, Brownsville (formerly The University of Texas at Brownsville campus), Edinburg (formerly The University of Texas-Pan American campus), Harlingen, McAllen, Port Isabel, Rio Grande City, and South Padre Island. UTRGV, a comprehensive academic institution, enrolled its first class in the fall of 2015, and the School of Medicine welcomed its first class in the summer of 2016.