Tuesday, May 10, 2022
  Around Campus, Student Life
By Amanda A. Taylor-Uchoa
RIO GRANDE VALLEY, TEXAS – Overcoming a traumatic life event can sometimes change people for the worse.
But Victoria (Tori) Lozano used hardship as a tool to refocus her future.
The former UTRGV Student Government Association (SGA) president and resident assistant (RA) at UTRGV U Central was in a devastating car accident in 2018, during her second semester as a freshman, that almost ended her life. Instead of giving up, she used the event as a wake-up call to start living her life to the fullest.
"I had always kind of lived my life isolated and sad," she recalled. "But after the accident, I thought I didn't want my life to have ended without having anything to show for myself. I replay that day over and over in my head because I thought it was going to be my last."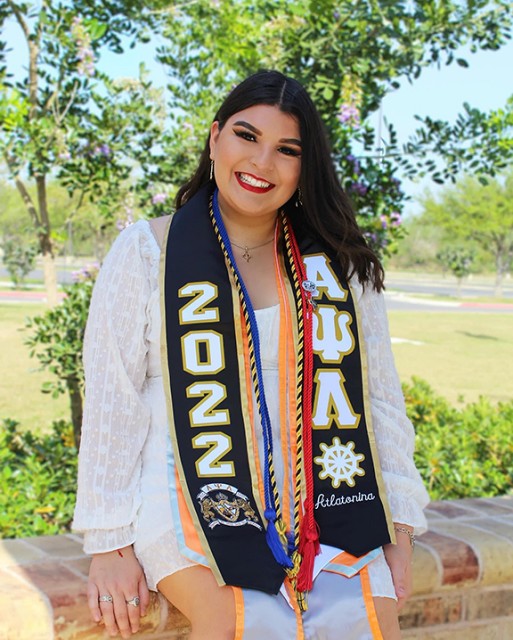 Lozano now is ready to cross the stage to accept her diploma on Friday in Brownsville, during the Spring 2022 Commencement ceremonies. She is graduating with a degree in political science from the UTRGV College of Liberal Arts.
The Rio Hondo native is widely known for her communication with students via social media platforms – Facebook, Instagram and Twitter. Her role as SGA president and resident assistant were to keep students informed, especially through the worst of the COVID-19 pandemic.
She took on her duties as SGA president in February 2020 – just a month before pandemic lockdowns began.
"It was kind of terrifying because we had to quickly switch to all online," she said. "It was scary, but I worked with such a great team and advisors that we were able to navigate everything efficiently and streamline communication between departments."
Lozano felt a strong responsibility to keep her student body informed, and she quickly became a valued source of information to her peers. She would update all social media accounts and student groups with links to information as she received them herself.
"I put myself into communication with students because, during that time, it was essential that we had a direct line of information. For me, that was through our UTRGV social media accounts. As soon as I'd get word of an update, I'd immediately share it because, at that point, all new information was essential," she said.
It was through this unique experience that Lozano found her passion for student support. She was balancing her roles as SGA president and resident assistant, while being a full-time student herself. Even though living through the pandemic was stressful, she said, she thinks it made her a better student overall.
"The pandemic made me take the initiative on scheduling time to study or scheduling time to work," she said. "In the past, I used to procrastinate. But having to balance my work and school responsibilities, I made an Excel spreadsheet with deadlines. Somehow, I still managed to get all A's."
After graduating this weekend, Lozano won't have much down time as she immediately starts work on a master's degree in Public Affairs at UTRGV on May 18.
She said her time at UTRGV, both as a student and an employee, has made her want to pursue a career in higher education.
"When I started at UTRGV, I was so lost. After my accident and all these years in college have been incredible," she said.
"It made me want to make sure that no student ever feels lost or alone like I had. After I earn my master's degree, I plan to work in higher education, because that is where I was the most impacted and that's where I can make a difference," she said.
Though Lozano sees graduation as bittersweet, she is excited to continue as a resident assistant in Brownsville while she pursues her master's degree.
She said UTRGV gave her all the resources she needed to be successful in her academic career.
"I feel like I truly made the best out of my university experience, and UTRGV really gave me all the tools to be successful," she said. "I owe all my thanks to my UTRGV family. It's been a crazy time, but I did it – I finally made it to the end."
Brownsville ceremonies for Spring 2022 Commencement start at 4 p.m. and 7 p.m. on Friday, May 13, on the Main Lawn on the Brownville Campus.
For more information on Spring 2022 Commencement or to view the complete schedule, visit the website.
ABOUT UTRGV
The University of Texas Rio Grande Valley (UTRGV) was created by the Texas Legislature in 2013 as the first major public university of the 21st century in Texas. This transformative initiative provided the opportunity to expand educational opportunities in the Rio Grande Valley, including a new School of Medicine, and made it possible for residents of the region to benefit from the Permanent University Fund – a public endowment contributing support to the University of Texas System and other institutions.
UTRGV has campuses and off-campus research and teaching sites throughout the Rio Grande Valley including in Boca Chica Beach, Brownsville (formerly The University of Texas at Brownsville campus), Edinburg (formerly The University of Texas-Pan American campus), Harlingen, McAllen, Port Isabel, Rio Grande City, and South Padre Island. UTRGV, a comprehensive academic institution, enrolled its first class in the fall of 2015, and the School of Medicine welcomed its first class in the summer of 2016.