Saturday, May 7, 2022
  Around Campus
By Saira Cabrera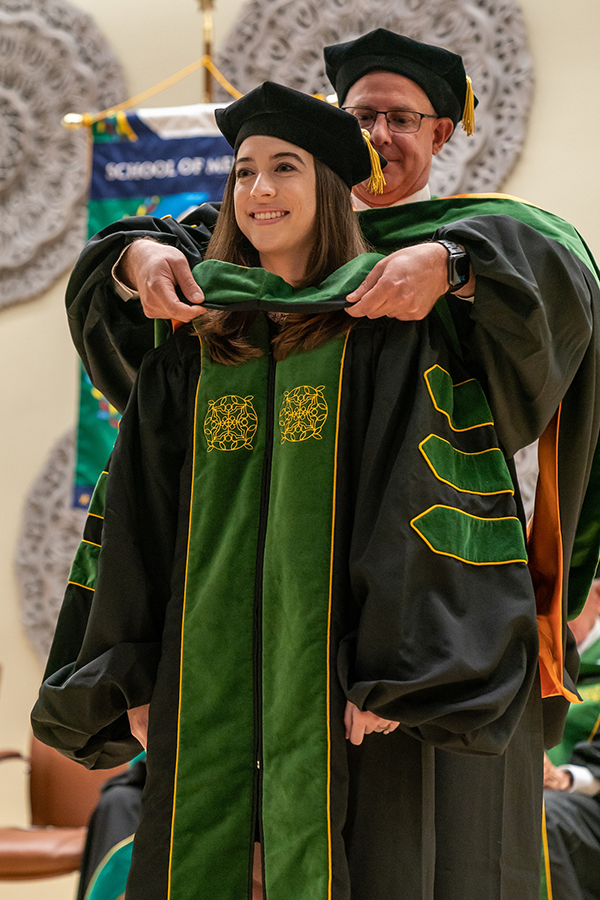 RIO GRANDE VALLEY, TEXAS – Shortly after midday Saturday, May 7, the UTRGV School of Medicine's Class of 2022 celebrated commencement at the Region One Education Service Center in Edinburg. 
After four challenging years of medical education, labs, research and hospital rotations – and more than a year of COVID-19 restrictions – 51 medical students worked through obstacles to reunite in person at their commencement and accept their degrees from the UTRGV School of Medicine.
This is the third group of medical graduates from the School of Medicine since it was established in 2013. To this day, the Class of 2022 has been the most diverse class yet.
Fourth-year medical graduate Unyime-Abasi Eyobio said working toward her medical degree has been a challenging yet rewarding experience, one that deepened her purpose to serve.
"My journey to becoming a physician has been a very unconventional one and many years in the making," Eyobio said. "I believe that the twists and turns in my path deepened my faith in God and my conviction of my purpose to serve and care for my future patients as a physician."
Eyobio is bound for the East Coast, where she'll be joining the internal medicine residency program at Massachusetts General Hospital - Harvard Medical School. She said she and her classmates have overcome unique challenges, many brought on by the pandemic, to make it to commencement day.
"One of my favorite phrases from 'Romeo and Juliet' is 'Parting is such sweet sorrow.' This line exemplifies how most of us feel today at graduation," Eyobio said. "I have created some strong bonds and learned so much in the past four years which I am hesitant to let go of. Nevertheless, I am looking forward to what lies ahead with anticipation and excitement."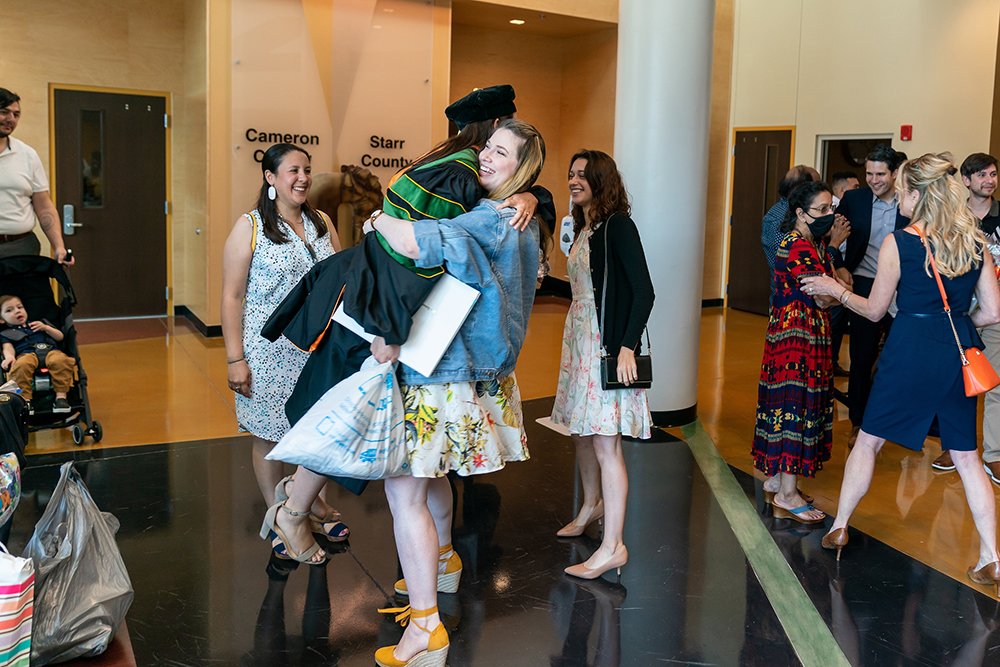 In his remarks to the Class of 2022, Dr. Michael B. Hocker, dean of the UTRGV School of Medicine and senior vice president for UT Health RGV, said medical school graduation is a momentous accomplishment for aspiring medical professionals, and he is proud of all the UTRGV Class of 2022 medical graduates for their hard work and dedication.
"Class of 2022, you bring so much pride to our UTRGV School of Medicine. You are testament to our promise to train diverse and talented physician scientists for the benefit of the Rio Grande Valley and beyond," Hocker said. "As you graduate from our UTRGV School of Medicine, you can take pride in knowing that you are now part of an extensive generation of physicians who, like you, have answered the call to serve others with dedication and compassion.
"A big congratulations to not only you – but to your friends, family, and all the champions who have helped you in your journey as a medical student," he said.
Dr. Alma Rodriguez, M.D., M.A.C.P., professor of medicine for the Department of Lymphoma/Myeloma in the Division of Cancer Medicine and medical director for the MD Anderson Survivorship Program at The University of Texas MD Anderson Cancer Center, was keynote speaker at this year's commencement ceremony. She offered words of encouragement to the new doctors, some of whom will remain in the Valley to serve the community.
"Graduates of the University of Texas Rio Grande Valley Medical School Class of 2022, congratulations! You have not only come through the academic demands of medical education, but you have lived the experience of clinical service through the COVID pandemic," Rodriguez said. "You have my deepest respect and admiration because you did not give up, you stayed the course, and you are here today. Congratulations, and my very best wishes to you. The world needs you."
Dr. Leonel Vela, the School of Medicine's senior associate dean for Educational Resources and senior associate vice president for Education, applauded the Class of 2022's dedication and the School of Medicine's educational community for its time and efforts to prepare graduates for the next phase of medical training.
"The entire School of Medicine community applauds you in achieving this significant milestone as you pursue your journey toward practicing the art and science of medicine as compassionate physicians," Vela said. "It brings such a great sense of fulfillment as we see you transition into your residency programs. We are so proud of all you have accomplished."
The graduates now will head to their respective residency programs, including Dr. Khairiya Haj-yahya, now a resident physician whose medical career started in the Valley.
"Living in the Valley for so many years has given me a deeper understanding of our community and its unique needs," Haj-yahya said. "I am grateful to have been given such a unique opportunity to attend medical school in the community where I grew up. As a newer medical school, UTRGV provided the perfect platform for students to grow and develop."
Haj-yahya will stay in Valley to join UTRGV's internal medicine residency program at Doctors Hospital at Renaissance – DHR Health. She said she and her classmates have overcome unique and personal challenges.
"I'm so proud of my classmates. It's been a pleasure to see each person grow into themselves and their current roles. I can't wait to see what the future has in store for all of us," Haj-yahya said as she took pictures with her classmates. "Congratulations, Class of 2022!"
ABOUT UTRGV
The University of Texas Rio Grande Valley (UTRGV) was created by the Texas Legislature in 2013 as the first major public university of the 21st century in Texas. This transformative initiative provided the opportunity to expand educational opportunities in the Rio Grande Valley, including a new School of Medicine, and made it possible for residents of the region to benefit from the Permanent University Fund – a public endowment contributing support to the University of Texas System and other institutions.
UTRGV has campuses and off-campus research and teaching sites throughout the Rio Grande Valley including in Boca Chica Beach, Brownsville (formerly The University of Texas at Brownsville campus), Edinburg (formerly The University of Texas-Pan American campus), Harlingen, McAllen, Port Isabel, Rio Grande City, and South Padre Island. UTRGV, a comprehensive academic institution, enrolled its first class in the fall of 2015, and the School of Medicine welcomed its first class in the summer of 2016.