2022 Keynote Speaker
Alma Rodriguez, M.D., M.A.C.P.
Professor of Medicine
Department of Lymphoma/Myeloma; Division of Cancer Medicine
Medical Director, M.D. Anderson Survivorship Program
University of Texas M.D. Anderson Cancer Center
Dr. Maria Alma Rodriguez received her medical degree from UT Medical School at Houston where she was an Alpha Omega Alpha Honors graduate. She completed her residency in Internal Medicine at the UT Health Sciences Center in San Antonio, Texas, and a fellowship in Hematology/Oncology at the University of Arizona Cancer Center in Tucson, Arizona.
Dr. Rodriguez is currently Professor of Medicine in the Department of Lymphoma/Myeloma, Division of Cancer Medicine, at the University of Texas M.D. Anderson Cancer Center. Dr. Rodriguez has published extensively in the specialty of Oncology, including over 200 articles in peer-reviewed journals, 25 book chapters, and four books, in addition to publishing or presenting over 190 abstracts. She has been a highly sought national and international speaker on the diagnosis and treatment of lymphomas, cancer outcomes, and health care of cancer survivors. Dr. Rodriguez has been a funded researcher by the National Institutes of Health and the Cancer Prevention & Research Institute of Texas (CPRIT).
At M. D. Anderson, Dr. Rodriguez has served as Vice-President for Medical Affairs and Physician-in-Chief. She completed a Fellowship with the National Association of Public Hospitals, named Fellow in Clinical Safety & Effectiveness at MD Anderson, and selected as a Master Member of the American College of Physicians. She has previously served on the Oncology Drugs Advisory Committee for the U.S. Food and Drug Administration, the Ethics Committee of the American Society of Clinical Oncology (ASCO), and the Survivorship and Education Committees of ASCO. Dr. Rodriguez is board certified by the American Board of Internal Medicine and the American Board of Medical Oncology, and she has continually been selected among the "Best Doctors in America" since 2007. Dr. Rodriguez received the "Distinguished Alumna Award" from The University of Texas Medical School at Houston.
Presently, Dr. Rodriguez is a member of the National Comprehensive Cancer Network (NCCN) Survivorship Guidelines Workgroup. She has been the Medical Director of MD Anderson's Survivorship Program since its inception in 2008. In this role, she has provided leadership, management, and advocacy in the development, growth, and sustainability of the Program's clinical, educational and research components. She has led in the development and implementation of 11 disease-specific survivorship clinics and is working with staff to develop additional site-specific clinics. She has directed successful initiatives for the financial, operational, and institutional support for building the infrastructure of the program. In fiscal year 2021, more than 10,000 cancer survivors received care in the Survivorship Care Clinics.
Message from the Dean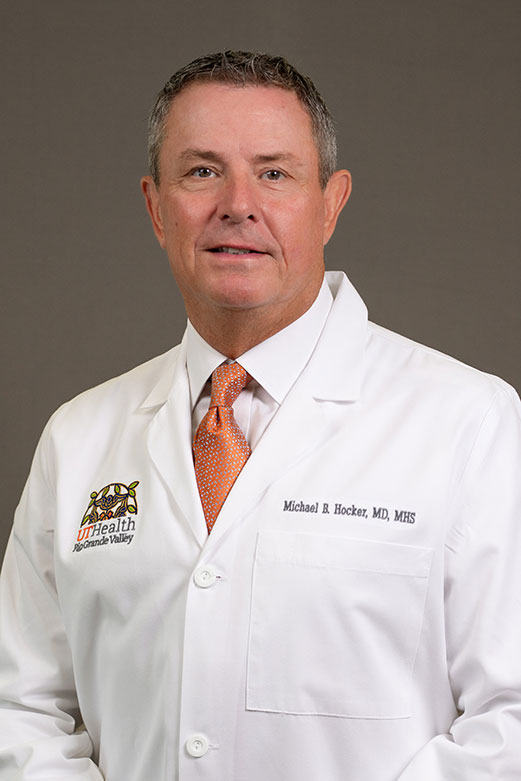 Michael B. Hocker, M.D., M.H.S.
Dean, UTRGV School of Medicine
Senior Vice President, UT Health RGV
2022 Keynote Speaker

Alma Rodriguez, M.D., M.A.C.P.
Professor of Medicine
Department of Lymphoma/Myeloma; Division of Cancer Medicine
Medical Director, M.D. Anderson Survivorship Program
University of Texas M.D. Anderson Cancer Center