Wednesday, April 6, 2022
  Awards and Recognitions, Community
By Amanda Alaniz
RIO GRANDE VALLEY, TEXAS – AACSB International (AACSB) announced UTRGV's Robert C. Vackar College of Business and Entrepreneurship among 24 business schools highlighted in its Innovations That Inspire member spotlight program.
The annual program recognizes institutions from around the world that serve as champions of change in the business education landscape.
UTRGV RCVCOBE was recognized for Enactus's Sustainable Opportunities for Advancement and Recruiting (SOAR) project. The SOAR Project is a program that prepares young adults with autism for professional careers in business.
"Progress toward more welcoming, inclusive spaces requires action, and UTRGV's Enactus Chapter demonstrates leadership in this important effort," said Caryn Beck-Dudley, AACSB president and CEO. "Through collaborations—among business schools, businesses, and communities—we will create a strong global society and equip leaders for positive impact."
The students of the UTRGV Enactus Chapter are dedicated to creating an inclusive business environment. The student organization noticed that one group in the Rio Grande Valley that needed amplified attention were young adults with autism. The chapter sought to address this by creating a professional development and training program for this special population.
Enactus built the initiative in partnership with Texas Workforce Solutions and Team Mario, a local organization that educates, supports and advocates for children and families affected by autism spectrum disorder (ASD), with funding provided by the UTRGV Office for Sustainability. Together, they curated a curriculum with the aim of helping a cohort of autistic young adults find employment and internship opportunities.
Overall, the program is designed to instill career readiness training and sustainable practices within the group that will help them become socially and financially responsible citizens and employees.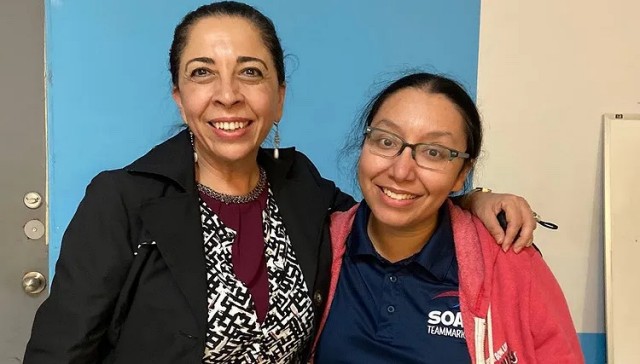 All 13 autistic students in the first cohort secured internships after completing the SOAR program.
"We don't want the community, both the business community and society at large, to see the university as an abstract concept. We want them to know what we are doing here, faculty, staff and students, has value and meaning to the lives of people in the community," said Enactus faculty advisor Maria Leonard, a UTRGV Robert C. Vackar College of Business and Entrepreneurship assistant professor of practice.
"Enactus is a great way to engage our students with other business leaders and community members that have the same mentality of advancing progress and meeting society's needs through talents and skills that we are getting our students ready for." 
Leonard said some of the Enactus students are currently certified through Workforce Solutions as trainers. There are approximately 22 UTRGV students from various disciplines who actively act as mentors to 12 young adults with autism.
Now in its seventh year, the Innovations That Inspire initiative has highlighted nearly 200 business school efforts that exemplify forward-looking approaches to education, research, community engagement or outreach, entrepreneurship, and leadership. Support for the 2022 Innovations That Inspire member spotlight program is provided by the Graduate Management Admission Council (GMAC).
For more information about the recognition, visit aacsb.edu/innovations-that-inspire.
Students interested in learning about the organization can contact Leonard at maria.leonard@utrgv.edu or visit Enactus RGV on Instagram. 
About AACSB International
Established in 1916, AACSB International (AACSB) is the world's largest business education alliance, connecting educators, learners, and business to create the next generation of great leaders. With a presence in more than 100 countries and territories, AACSB fosters engagement, accelerates innovation, and amplifies impact in business education. Learn how AACSB is transforming business education for a better society at aacsb.edu.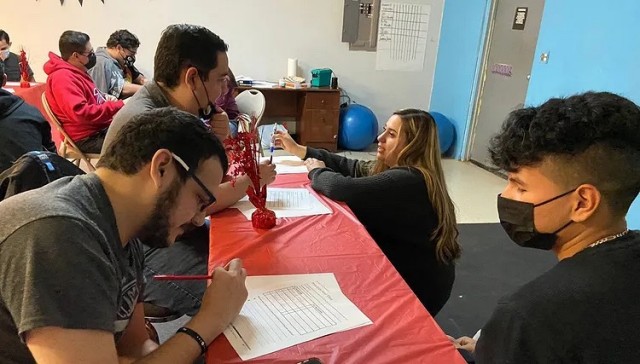 ABOUT UTRGV
The University of Texas Rio Grande Valley (UTRGV) was created by the Texas Legislature in 2013 as the first major public university of the 21st century in Texas. This transformative initiative provided the opportunity to expand educational opportunities in the Rio Grande Valley, including a new School of Medicine, and made it possible for residents of the region to benefit from the Permanent University Fund – a public endowment contributing support to the University of Texas System and other institutions.
UTRGV has campuses and off-campus research and teaching sites throughout the Rio Grande Valley including in Boca Chica Beach, Brownsville (formerly The University of Texas at Brownsville campus), Edinburg (formerly The University of Texas-Pan American campus), Harlingen, McAllen, Port Isabel, Rio Grande City, and South Padre Island. UTRGV, a comprehensive academic institution, enrolled its first class in the fall of 2015, and the School of Medicine welcomed its first class in the summer of 2016.