Friday, April 1, 2022
  Around Campus
By Victoria Brito Morales
RIO GRANDE VALLEY, TEXAS – The UTRGV Chess Team wants to elevate women in the chess world, so on Sunday, March 27, it hosted the second annual Shining Chess Jewels Top Four Tournament.
The UTRGV Women's Team came in second overall in this women-only event.  
Originally scheduled for in-person competition, it was moved to a virtual format using the lichess.org platform. Along with UTRGV, three other universities participated. The other university women's teams were St. Louis University, University of Missouri and Texas Tech University.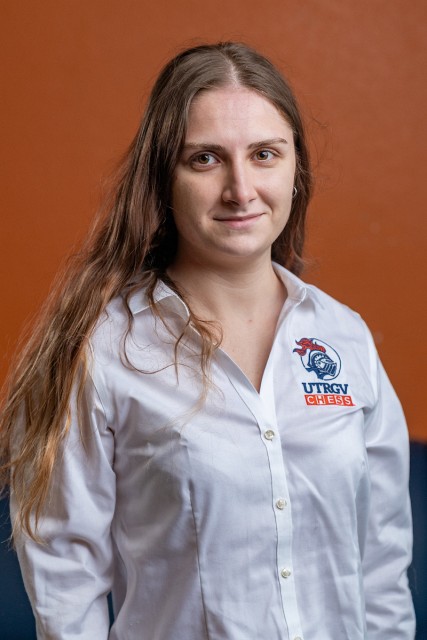 Each team consisted of three women representing each university. The teams competed in three rounds of competition with three pairings each round. The winner was decided by the highest point tally: two points for a win, one point for a draw and zero points for a loss.   
St. Louis University pulled ahead with five points for the win. UTRGV came in second with four points, Missouri finished third with three points, and Texas Tech had zero points.   
Alex Mista, UTRGV Chess Program manager, said there are no other tournaments for women only.    
"Women can participate in open tournaments, but it makes it harder for them to receive chess scholarships," Mista said. "We want to develop women's chess and also offer scholarships for more females players in the future, and also encourage other teams to start building their women's teams and have regular women-only competitions."  
SHINING JEWELS   
Ana Shamatava, a UTRGV fine arts major from Tbilisi, Georgia, who competed in last year's tournament, said this year's brought a more competitive group of women.   
"We played a really strong tournament, almost all the girls playing were titled players," Shamatava said "Every game was tough, but we managed to get on top of the tournament. I am happy with our result. Last round, we faced higher-rated players than us, so we lost only the last match.   
"It was exciting seeing so many strong women playing in the tournament that UTRGV organized," she said.  
First-time competitor Maria Malicka, a UTRGV computer science major from Warsaw, Poland, agreed with Shamatava that the competition was fierce.  
"This is the first college tournament of this kind that I have had the opportunity to play, because unfortunately there is usually only an open group for women and men together," Malicka said. "I think such tournaments should be the standard, as it is in chess all over the world. Girls play chess much less than boys, which is why this discipline is dominated by men, so we should have a chance to compete, as well."  
Another first-time competitor, Maili Jade Ouellet, a UTRGV management major from Quebec, Canada, said tournaments like this are a steppingstone to promoting and encouraging women in chess. 
"Women have the same potential to be good in chess as men; the issue is that they do not have access to the same opportunities," Ouellet said. "Tournaments exclusively for women can promote chess for women, which is what UTRGV is trying to do."  
For more information on the UTRGV Chess Team, visit utrgv.edu/chess.  
ABOUT UTRGV
The University of Texas Rio Grande Valley (UTRGV) was created by the Texas Legislature in 2013 as the first major public university of the 21st century in Texas. This transformative initiative provided the opportunity to expand educational opportunities in the Rio Grande Valley, including a new School of Medicine, and made it possible for residents of the region to benefit from the Permanent University Fund – a public endowment contributing support to the University of Texas System and other institutions.
UTRGV has campuses and off-campus research and teaching sites throughout the Rio Grande Valley including in Boca Chica Beach, Brownsville (formerly The University of Texas at Brownsville campus), Edinburg (formerly The University of Texas-Pan American campus), Harlingen, McAllen, Port Isabel, Rio Grande City, and South Padre Island. UTRGV, a comprehensive academic institution, enrolled its first class in the fall of 2015, and the School of Medicine welcomed its first class in the summer of 2016.